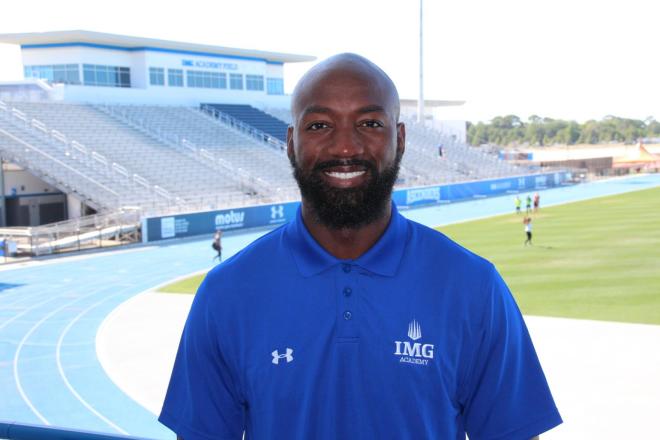 Don't miss out on any of our exclusive football, basketball and recruiting coverage. Click here to get your 30-day free trial!
Chances are there will never be a younger Notre Dame football player to grace the cover of Sports Illustrated than Maurice Stovall.
The Sept. 30, 2002, issue featured the freshman Stovall — who turned only 17 the previous February — snagging a 15-yard touchdown pass in the 21-17 win at Michigan State and it highlighted the "return to glory" theme under first-year head coach Tyrone Willingham during a surprising 8-0 start after a 5-6 record the year prior.
The week before the cover shot, the freshman sensation Stovall — who had been a USA Today first-team All-America selection — grabbed a 41-yard pass on the second play of the game from quarterback Carlyle Holiday to set up a touchdown in the 25-23 victory versus Michigan. The dramatic start to Stovall's career had him repeating a mantra he learned from his parents:
"Talent is God-given: Be humble.
"Fame is man-given: Be thankful.
"Conceit is self-given: Be careful."
It took several days before Stovall even was aware about the SI cover, and that came by accident.
"My personality always has been about staying humble," Stovall recalled. "I was sitting in the locker room after a practice and it was [receiver] Ronnie Rodamer who dropped the cover on my lap, and my jaw dropped.
"I actually felt more embarrassed about it because there were so many older guys on the team who helped make it possible."
The 6-5 Stovall was the breakthrough recruit at Notre Dame that would usher in a more pass-oriented attack at the school this century.
Two-time All-American Jeff Samardzija was added the next season, future Biletnikoff Award winner Golden Tate in 2007, then first-round selections Michael Floyd (2008) and Will Fuller (2013) … all the way up to the plethora of rangy wideouts, led by 6-5 Equanimeous St. Brown, on the current Notre Dame roster.
Stovall's freshman season, a 10-3 campaign, ended with his 18 catches averaging 17.3 yards, with three touchdowns. Above all, there was a feeling of peace that he had made the right selection of where to attend college. Virginia and Michigan also had been in his top three. Again, parents Maurice Sr. and Cynthia provided a guiding light.
"They said, 'Maurice, here's what you need to look for when you're looking at schools: Don't get caught up with how cute the girls are, how nice the uniforms look, and don't get caught up with how many people are in the stadium,' " Stovall recalled. "'You need to worry about having an opportunity to play as a freshman, but you should look at the academic support first. And above all, if you were to break your neck the first day of football as a freshman, where would you want to earn your degree from the most?'
"That's what got me, and then it was almost like a spiritual experience stepping on to the campus. A lot of schools can offer you a nice education and a nice football program — that's why they compete against one another — and the resources and facilities are great pretty much everywhere.
"But how does it make me feel when I step on campus? I just felt like I belonged. It was almost like a vocation."
Senior Surge
Despite the auspicious start in the first month of his college football career, Stovall's next two campaigns yielded huge disappointment on the field with 5-7 and 6-6 records as a team, his share of nagging injuries, plus a gnawing feeling of underachievement.
Through three seasons, Stovall had grabbed 61 passes for 1,046 and seven touchdowns — numbers he was projected to produce in one season alone, like other elite receiver recruits. He did not have more than 22 receptions in any of his first three years.
When Willingham was fired and New England Patriots offensive coordinator Charlie Weis arrived with his pro-style passing scheme, it was the ideal union for Stovall, who exploded with 69 catches for 1,149 yards (16.7 yards per catch) and 11 touchdowns, highlighted by single-game school records of 14 catches and four touchdowns against a Brigham Young team that had defeated the Irish the previous season. All of his numbers surpassed the previous three years combined en route to becoming a third-round pick in the NFL Draft.
"It was me reaching my maturity as a collegiate player combined with a pro-style offense that was suited to my style and caliber of play — being a downfield receiver, going up and catching," reflected Stovall of his stellar season. "Coach Weis did a great job of using my talent. My senior season it just seemed like everything came together, just having everything in the right place. Plus, I was playing with more passion."
He remembered how the disappointing seasons his sophomore and junior years hurt the morale on campus, and he admitted he didn't push himself the way he needed.
"I kept thinking I don't want to go out like that, I want to change," said Stovall, who fulfilled Weis' order to shed at least 15 pounds. "I spent time in the weight room after practice, worked harder, catching balls even after every practice.
"When I graduate, I want to at least say I gave it everything I had. I didn't want to leave anything on the field, and it paid off."
Stovall still recalls with a chuckle Weis' initial meeting with the team that lasted "about three minutes."
"He said, 'I'm not here to be your friend. I'm going to treat you like men until you show me you need to be treated like children,'" Stovall relayed. "'I'm here to win and I don't care if you like me or not.'"
With a plethora of veterans returning in Weis' first season — most notably quarterback Brady Quinn — that approach worked as Notre Dame finished in the Associated Press top 10 (No. 9) for the first time in 12 years, and only the second time during the past 23.
"Our team was a product of his personality and his approach to the game," Stovall said of the 2005 campaign.
Shortly after his senior season when so many of his dreams were coming to fruition, Stovall learned in February 2006 that his mother was diagnosed with ovarian cancer, which would take her life that May 24, three days after his graduation.
"It was a highly emotional time," Stovall said. "I didn't go to my graduation because she couldn't make it, and my father was taking care of her as well. It just didn't feel right her not being there."
His solace was her knowing that his multiple degrees in sociology and computer applications had been achieved, and that she realized her son was fulfilling his own potential as a man.
Beyond Notre Dame
Stovall played seven years in the NFL, his first five at Tampa Bay, then Detroit and Jacksonville before recognizing that his playing days were finished. He developed interest in the financial industry and joined the financial firm Primerica. However, what he especially enjoyed in his spare time was working with other players either in the NFL or trying to make it there as free agents.
"I put them through every drill I used to better myself as a player, and they would tell me how much they improved and how they learned things they didn't even know about at wide receiver," Stovall said. "It seems that all players say to themselves, 'Man, I'm not coaching when I get done,' because they see the amount of time they put in and the stress that comes with the job.
"But when I get done playing, my wife [Laura] said, 'Hey, Maurice, you should coach!'"
In 2016, Stovall interviewed for and accepted a job as the wide receivers coach at superpower IMG Academy in Bradenton, Fla., not far from Tampa Bay, and where Stovall himself used to train.
IMG already has sent sophomore running back Tony Jones Jr. and freshman offensive tackle Robert Hainsey to Notre Dame the past two years, plus associate strength and conditioning coach Dave Ballou. (Sophomore rover Spencer Perry, also from IMG, is transferring after this semester.)
"Coach [Brian] Kelly's been here and I had a nice conversation with him," said the 32-year-old Stovall, who has a 4-year-old daughter (Tamaro) and 3-year-old son (Maurice). "I'd love to coach there one day if I ever have the opportunity."
Someday, Stovall just might be re-recruited by the Fighting Irish.
Air Raid At Notre Dame
Until 2005, there were only two times a Notre Dame player caught 60 passes in a season: 60 by Jack Snow in 1964, and 79 (including the Cotton Bowl) by Thom Gatewood in 1970. Seldom was 50 reached.
That all changed in 2005 when Maurice Stovall snared 69 for 1,149 yards and 11 touchdowns — yet was second on the team to Jeff Samardzija's 77 for 1,249 yards and 12 scores.
Here are the three seasons in which two Fighting Irish receivers each caught at least 60 passes:
1. 163 in 2011 — Michael Floyd (100) and Tyler Eifert (63)
2. 146 in 2005 — Jeff Samardzija (77) and Maurice Stovall (69)
3. 145 in 2006 — Samardzija (78) and Rhema McKnight (67)
Note: The 2,398 yards Stovall and Samardzija amassed in 2005 easily are the most, eclipsing the 1,950 total by Floyd-Eifert in 2011 (14 touchdowns) and the 2006 sum of 1,924 by Samardzija-McKnight (27 scores).
----
• Talk about it inside Rockne's Roundtable
• Subscribe to our podcast on iTunes
• Learn more about our print and digital publication, Blue & Gold Illustrated.
• Follow us on Twitter: @BGINews, @BGI_LouSomogyi, @BGI_CoachD,
@BGI_MattJones, @BGI_DMcKinney and @BGI_CoreyBodden.
• Like us on Facebook