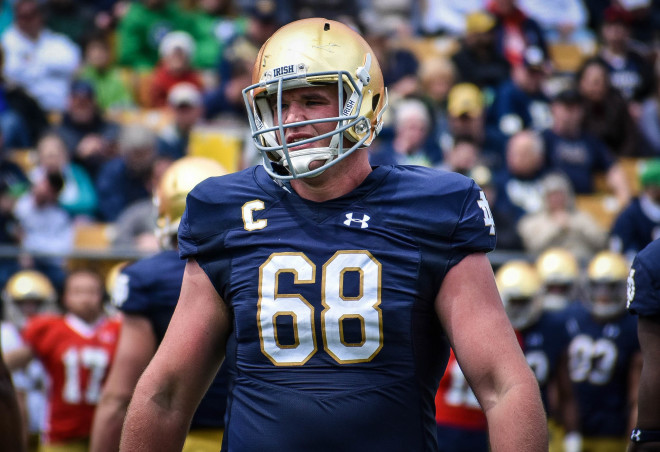 The 2017 NFL Draft was not kind to Notre Dame, with just quarterback DeShone Kizer and defensive lineman Isaac Rochell being taken.
The 2018 draft, however, could feature several Irish players in the first round.
Here's a look at where various mock drafts have Notre Dame players being taken:
MIKE MCGLINCHEY, OT
McGlinchey, a 6-foot-8, 312-pound offensive tackle, elected to return for a fifth year with Notre Dame.
That decision figures to be beneficial for McGlinchey, who struggled with his transition from right to left tackle as a senior. Despite his subpar showing in 2016, he could very easily be picked very near the top of the first round.
Cleveland.com's Matt Goul has McGlinchey going third overall to the Los Angeles Rams, the highest among mock drafts.
"L.A. signed Andrew Whitworth in the offseason from Cincinnati, but the left tackle is 35 years old," Goul writes. "McGlinchey, at 6-7 and 310 pounds, received a first-round grade this year but decided to return to South Bend."
Dieter Kurtenbach of Fox Sports also has McGlinchey near the top of the first round, forecasting him to go fifth overall to the Chicago Bears.
"The Bears have their quarterback. Now they protect him," Kurtenbach writes. "McGlinchey has franchise left tackle written all over him, and was only passed on by the Browns, Rams, and 49ers because they already have great left tackles."
Jason McIntrye of The Big Lead is also high on McGlinchey, projecting him to be selected sixth overall by the Buffalo Bills.
Walter Football projects that McGlinchey will go seventh overall to the Cincinnati Bengals.
"Mike McGlinchey would probably be the top tackle chosen in the 2017 NFL Draft if he were to declare," the site writes, "but he announced that he would be returning to school."
USA Today has McGlinchey going 10th overall to his hometown Philadelphia Eagles.
"He could have been the first offensive tackle drafted this year, but McGlinchey is heading back to South Bend for his senior year. He could be Jason Peters' replacement next April," USA Today writes.
Bleacher Report's Matt Miller has McGlinchey going No. 13 overall to the Miami Dolphins.
"Laremy Tunsil looks to be the long-term left tackle for the Miami Dolphins," Miller writes, "which opens up a hole at right tackle that Notre Dame's Mike McGlinchey is perfectly suited to fill."
"This need could shift to guard, depending on how 2014 first-rounder Ja'Wuan James plays and if he's starting at right tackle, but on paper, it makes sense to kick James inside to guard and draft a high-caliber tackle like McGlinchey for the right side."
Eric Galko of the Sporting News has McGlinchey being selected with the 15th pick of the 2018 draft by the Tampa Bay Buccaneers.
"McGlinchey offers a pro-readiness that the 2017 draft class missed in its offensive linemen," Galko writes. "He'll enter the season as the offensive lineman every team covets as a safe, reliable left tackle prospect."

QUENTON NELSON, OG
Nelson had an opportunity to enter the NFL Draft early as well, but passed it up to return to Notre Dame for his senior year.
Like McGlinchey, that could pay-off big time for the 6-5, 329-pound Nelson.
Walter Football has Nelson going 18th to the New York Giants, the team he rooted for growing up.
Fox Sports also has Nelson going 18th, to the Denver Broncos.
"The Broncos' need to improve on the offensive line carries over into 2018 — Denver sticks with Paxton Lynch and hopes some additional protection that could come from the best guard in this draft class," Kurtenbach writes.
Miller has Nelson going 26th overall to the Atlanta Falcons
"Nelson was rumored to come out this season, according to NFL scouts, but wanted to return to school and improve his play. He's already showing exceptional awareness and power at the guard position. He's a natural mover and can play with the power to kick defenders out in the run game. His feet are also a great fit for Atlanta."
McIntyre has Nelson going No. 23 overall to Indianapolis.
Cleveland.com has Nelson being taken by the Green Bay Packers at 30th overall.
"Nelson sent paperwork this year to the NFL Draft advisory board for an evaluation," Goul writes. "The 6-5, 329-pounder opted to return to Notre Dame with tackle Mike McGlinchey. If DeShone Kizer misses Notre Dame, it's because of those two."
USA Today also has Nelson going No. 30 overall to the Packers.
JERRY TILLERY, DL
Fox Sports is the only mock draft with Tillery on the board. Kurtenbach has Tillery going 37th overall to the Chicago Bears.
Tillery, a rising junior, has had an up-and-down first two seasons with the Irish. While he has immense potential, he has yet to be a consistent run stopper or pass rusher for Notre Dame.