Don't miss out on any of our exclusive football, basketball and recruiting coverage. Click here to get your 30-day free trial!
Last year Notre Dame played 13 freshmen from a 23-man group that was ranked No. 12 by Rivals.com. The number of rookies who participated in 2016 represented the most in head coach Brian Kelly's seven seasons with the Fighting Irish.
Such a large volume of freshmen inserted into action usually is an either/or proposition: Either the class is replete with future stars who needed to get on the field as soon as possible, or there was an acute need of young bodies to fill vacated positions because options were limited.
Unfortunately, it was more the latter than former for Notre Dame amidst the throes of a 4-8 campaign.
Nine of the 13 frosh who played were either defensive backs (6) or receivers (3) — two positions that were the heaviest hit by attrition following the 10-3 finish in 2015.
In the defensive backfield, Notre Dame had lost two prime safeties — Matthias Farley and Elijah Shumate — to graduation. A third, senior Max Redfield, was dismissed from the school because of a disciplinary issue prior to the season.
Meanwhile, the Irish also lost four of their top five cornerbacks: one to graduation (KeiVarae Russell) and three to season-ending injuries (Nick Watkins, Shaun Crawford and Devin Butler). Plus, Watkins was the lone corner signed in 2014, while current captain Drue Tranquill was the one safety inked in that same class.
Likewise at receiver, the Irish lost three starters (Will Fuller, Chris Brown and Amir Carlisle), and they had signed only one wideout in 2014, Corey Holmes, who had not caught a pass his first two years and is transferring to Purdue this August.
That's not to impugn the capability/potential of the 2016 freshman class. Rather, it's to throw caution to the wind that extended playing time as a rookie does not necessarily correlate to future stardom. Sometimes, inserting a freshman is your only alternative.
It is always premature to rate a recruiting class predicated on what happened solely in their freshman year, and that is especially true with the 2016 haul.
This was the original 23-man group:
Quarterback: Ian Book
Running Backs: Tony Jones Jr., Deon McIntosh
Receivers: Chase Claypool, Javon McKinley, Kevin Stepherson
Offensive Line: Parker Boudreaux, Liam Eichenberg, Tommy Kraemer
Defensive Line: Daelin Hayes, Khalid Kareem, Ade Ogundeji, Julian Okwara
Linebackers: Jamir Jones, Jonathan Jones
Cornerbacks: Julian Love, Troy Pride Jr., Donte Vaughn
Safety: Jalen Elliott, D.J. Morgan, Spencer Perry (transferring at the end of spring semester), Devin Studstill
Long-snapper: John Shannon
Here are the top 3 storylines of this class:
1. This was the largest group of defensive backs signed in one recruiting class at Notre Dame since 1990.
That class from more than a quarter century ago also had seven, although one would transfer — just like one did this spring in Perry, who was uncomfortable with the switch to the rover position in new coordinator Mike Elko's 4-2-5 look.
The 1990 haul in the secondary featured two future first-round selections in Jeff Burris (originally a running back) and Tom Carter (a high school quarterback), plus a couple of other pros in Willie Clark and John Covington, and a multi-year starter in corner Greg Lane.
The abundance of recruits in the 2016 secondary was necessitated by the shortages in the previous harvests, plus the need for more bodies in the back end to combat the myriad spread offenses faced today.
All three Irish frosh cornerbacks started multiple games last year, led by Love's eight — playing corner, nickel and then even lining up at safety versus triple-option foes — while unofficially recording 562 snaps and 45 tackles. Vaughn had only 296 snaps in comparison, yet tied for the team lead in passes broken up with six.
At safety, Studstill started nine games last season (562 snaps) and Elliott (117 snaps) also was inserted on occasion, while Perry played special teams.
Defensive backs coach Todd Lyght wanted to get safety Morgan into the fray as well because he believed he was ready, but was vetoed by Kelly, who wanted to preserve a fifth year for at least one of the seven defensive backs. The secondary is the top position group in the class based on quantity. Ideally, the quality will become even more recognized down the road.
The three players in this class who had the top freshman campaigns in 2016 based on playing time and stats were Love, Studstill and wideout Stepherson.
Yet Love, who has future captain written all over him, is not as rangy as Vaughn or fast as Pride, while Studstill — an early entrant last year — was working more with the second unit this spring.
Finally, Stepherson, who had one of the best half dozen seasons ever by a Note Dame freshman receiver (25 receptions, 18.5 yards per catch and five TDs), was reportedly slowed by a hamstring injury this spring and also found himself needing to work more on personal habits to regain and then retain the trust of the staff.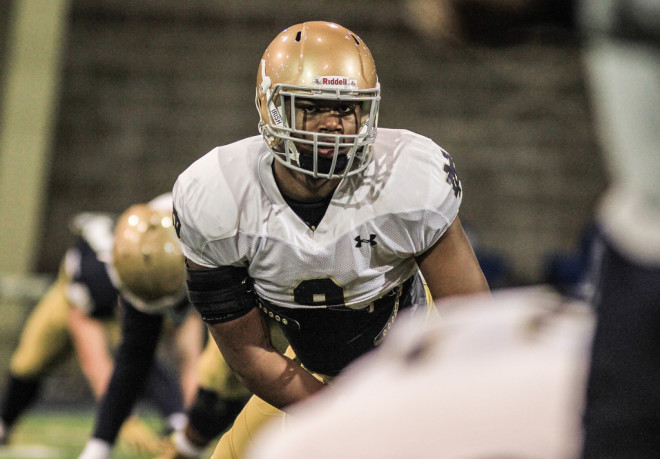 2. At least three members of this class beyond the defensive backfield and receiver need to have a significant impact in 2017 for Notre Dame to return to Playoff conversation.
The first is drop end Hayes, the lone five-star recruit in the past three recruiting cycles from 2015-17. He underwent a huge learning curve last season (155 snaps) after three previous shoulder surgeries and missing much football action, but this spring his explosiveness off the edge was more on display, especially in the Blue-Gold Game, where he was credited with three sacks and consistently applied strong pressure.
The pass rush has been an Achilles heel for the Irish, and Hayes is viewed potentially as the prime elixir.
Second is right tackle Kraemer, who held the No. 1 spot all spring as the lone new starter along the line. Another top-50 caliber recruit, Kraemer's burgeoning talent prompted the move of senior Alex Bars from right tackle to right guard. At times, Kraemer did not look like a natural in space at tackle, and a shift to guard wouldn't come as a surprise. One way or another, Kraemer will be expected to fit in with the veteran line, much like Quenton Nelson did as a sophomore in 2015 with four returning offensive line starters from the Music City Bowl win versus LSU. Kraemer and classmate Eichenberg both will be expected to be mainstays by 2018.
Third, 224-pound running back Jones Jr.'s impact might not be needed as much this year like Hayes' and Kraemer's, but a strong spring from him whetted the appetite of the staff to get him more involved in the backfield rotation as a runner, receiver and blocker.
Similar to Eichenberg, 6-4, 224-pound wideout Claypool might be a year away from a feature role, but his skill sets and physicality will make him a regular in the 2017 rotation, and a likely centerpiece on special teams.
3. The class balance eventually will better determine how impactful it was.
It's clear that the early strength of this group is in the secondary and at wideout. That ties in with a popular (although maybe not always accurate) theory that "the farther away you line up away from the ball, the easier it is to play as a freshman."
Book demonstrated signs this spring that he can be a competent backup for Brandon Wimbush at quarterback. Shannon is slated to take over as the starting long-snapper the next four years. Augmenting Hayes along the defensive line is the trio of Kareem, Okwara and Ogundeji, edge players that are always such a precious commodity in recruiting. Both Jones' at linebacker likely will need to cut their teeth on special teams first in 2017, as will receiver McKinley, who played there last season before suffering a broken fibula in late October.
A year from now, this class might have the most starters represented on the Irish. The foundation to reach such a level will be defined in great part by how they progress this season.
----
• Talk about it inside Rockne's Roundtable
• Subscribe to our podcast on iTunes
• Learn more about our print and digital publication, Blue & Gold Illustrated.
• Follow us on Twitter: @BGINews, @BGI_LouSomogyi, @BGI_CoachD,
@BGI_MattJones, @BGI_DMcKinney and @BGI_CoreyBodden.
• Like us on Facebook