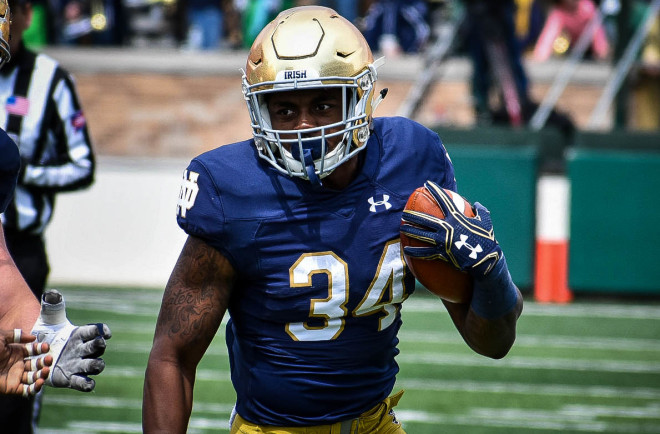 Tony Jones Jr.'s greatest skill is his versatility.
Ask the 5-foot-11, 224-pound Notre Dame sophomore to run between the tackles and he's more than capable of breaking off a long run.
Ask Jones to catch the ball out of the backfield and he'll put his receiving skills to work, something he learned as a prep star at IMG Academy.
Ask him to protect the passer and he can do that too, something he learned as a youngster playing Little League fullback for his dad.
Put it all together, and the Irish have another potential star in an already deep backfield rotation.
"He definitely adds another element to the group because he's a big, powerful back," junior running back Dexter Williams said of Jones. "He's a physical back. Also if you put the ball in his hands he can make amazing plays."
During the limited times the media viewed spring practice, or when Notre Dame athletics released a short video of workouts, Jones — who redshirted during his first year on campus — was often among the highlights.
Those small snippets were evidently an example of the skills he showed the coaching staff all spring.
"He is a guy if at any time we wanted to call him a No. 1, we could call him the No. 1," Irish head coach Brian Kelly said of Jones. "He's done all the things to build that trust with us in terms of protections, catching the ball out of the backfield. He's earned that through his work this spring and quite frankly the time that he's been here."
How the running back pecking order plays out is still to be determined.
Josh Adams returns for his junior season after two strong years as the Irish workhorse back. He's rushed for 1,768 yards and 11 touchdowns on 275 carries, and has rightly earned the No. 1 designation at running back.
Behind Adams, Williams and Jones are the two most likely candidates for major roles. Williams played sparingly as a freshman, rushing for 81 yards and a touchdown on 21 carries. Last year, despite limited playing time, Williams provided a spark when he did get the ball. He finished the season with 39 carries for 200 yards and three touchdowns.
Add Jones to the mix and Notre Dame has one of the deepest and most-talented backfields in recent history.
"They're all pushing each other — they're pushing Josh too," running backs coach Autry Denson said. "Nobody is set … you have to come to work every day. I made that very clear. That's the expectation. We don't have a starter. We're going out and we're competing to see who's going to be the guy that earns the most playing time."
Freshman C.J. Holmes and sophomore Deon McIntosh — who split time at receiver this spring — will enter preseason practice behind Adams, Williams and Jones.
Jones, a St. Petersburg, Fla., native, and three-star recruit by Rivals, chose Notre Dame over offers from North Carolina, Ole Miss, Kentucky, South Carolina and Florida. Playing for the star-laden Ascenders, Jones rushed for 1,285 yards on 44 carries and 23 touchdowns over his final two seasons.
Despite his productive high school career, Jones had to wait his turn at Notre Dame. Kelly said this spring that he had to make the conscious decision not to burn Jones' redshirt in 2016, preferring to save a year of eligibility rather than play a minor role.
Like most college players who redshirt, Jones had to make an adjustment to not playing last fall.
"I just learned from Josh and (Tarean Folston) and Dex and just learned from their mistakes and learned what they did good," Jones said. "Just took advice from everybody and learned what college is really like.
"At first it was tough. I talked to my family and stuff, so I just started to wait and just believed that God has a plan for me."
Williams said Jones handled the redshirt year well.
"It gave him a chance to learn the system," Williams said. "Even though we're in a new system now, he still picked up on that system just sitting out a year gave him a year to get bigger, faster, stronger.
"He's one of a kind. He also pushes me, Josh and Deon as well. He's a great dude. He brings a lot to the table. He's working extremely hard."