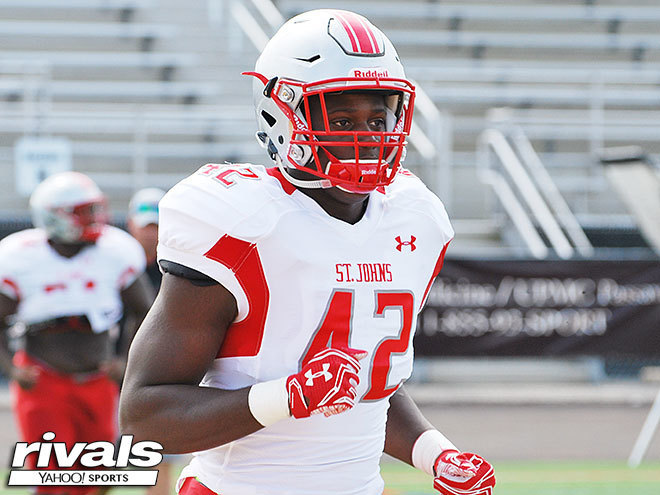 Washington (D.C.) St. John's senior defensive end Kofi Wardlow committed to Maryland this past December, but it was only just the beginning.
Notre Dame offered Wardlow about a month following his commitment to the Terrapins and that is where the three-star's life became a little more complicated.
"It was intense," Wardlow said of the last month of his recruitment. "I was still getting a lot of love from Maryland. With them being in the area they could see me anytime they wanted and I could do the same with them.
"Then Notre Dame came into the picture and I asked my parents about visiting because it was a serious offer. Academics have always been a priority for me and family. So, I went on the visit and seeing the campus, talking with the coaches…I felt really comfortable. That's why on Signing Day I had to flip."
Notre Dame
Washington
RR: 5.6
Ht: 6'3.0"
Wt: 230.0
Class: 2017
Wardlow took a visit to Notre Dame shortly after receiving the offer. But, a final decision didn't come until February 1.
"It was kind of funny," Wardlow explained. "On my way to school I was thinking about it after having conversations with my parents about it the night before. That morning I was like 'what school is going to make me better?' Notre Dame was that school.
"It was a big load off me because of my parents asked about it, friends and family. It's always good to have a lot of people in your court but it was good to get it off my chest."
The 6-foot-3, 230-pounder has been prepping himself for his arrival in South Bend especially after receiving his playbook and workout regimen.
"Lately I've been working two or three times a day," Wardlow said. "I know when I get there I'm going to be trying my best. It's a lot, but I'm getting it."
"[The workouts are] hard. It's rigorous and it's a lot….I'm excited and I'm trying to prepare myself for it."
Wardlow returned to Notre Dame a couple weeks ago for the Blue-Gold Game. It was a chance to see how he would potentially be used.
"The drop end spot," Wardlow said of what position the staff pitched him. "I'll drop back in space, rush the quarterback. Kind of that hybrid…I don't see myself as down all the time defensive end. I see myself dropping back into coverage, getting after the quarterback and covering running backs, etc.
"They're not really happy with the sack total from last year and I know when I get there they are going to push me and make me a better player."
Sophomore defensive end Daelin Hayes and Wardlow have built a good relationship in recent months and his spring game performance caught the attention of the Irish signee.
"Kind of a mentor type," Wardlow said of his relationship with Hayes. "He'll be my teammate, but I look up to him a lot. We're pretty much the same size and he's basically what I'm going to be when I get there.
"I was really happy for him. I'm looking forward to getting in there and competing with him because he'll make me better and I'll make him better. I'm really excited."
As a senior, Wardlow compiled 84 total stops, 28 tackles for loss, 9.5 sacks and 17 quarterback hurries in just his second year of football.