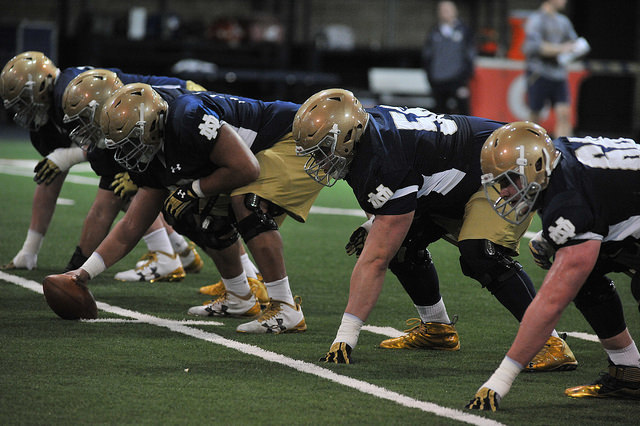 Don't miss out on any of our exclusive football, basketball and recruiting coverage. Click here to get your 30-day free trial!
Football begins with line play. From that perspective, there might be reason to be encouraged about Notre Dame bouncing back in 2017. Among the nine position groups on the team, the top two with the most experience are the offensive line and defensive line.
One stat we do like to point out on occasion: Notre Dame's most recent national champs in 1988 had four career starts returning along the offensive line and none along the defensive line.
Regardless, for whatever it will be worth, here are the most career starts entering 2017, by position.
1. Offensive Line: 76 — Mike McGlinchey (26), Quenton Nelson (23), Alex Bars (14), Sam Mustipher (12), Hunter Bivin (1)
What a dramatic change from last year, when this crew had only 27 after right guard Steve Elmer — who had 30 career starts — opted to graduate following his junior year and move on to the business world.
Now, with four starters returning, this unit is projected to be the team strength just like in 2015. That year it also featured four returning starters, led by future first-round pick Ronnie Stanley and future second-round selection Nick Martin. It could have two high draft selections again in McGlinchey and Nelson.
2. Defensive Line: 38 — Jerry Tillery (15), Daniel Cage (11), Andrew Trumbetti (11), Jonathan Bonner (1)
This group has twice the fewer career starts than the offensive line, yet is No. 2 despite the graduation of Isaac Rochell (38 starts) and Jarron Jones (18). The crucial X-factor is sophomore drop end Daelin Hayes, a former five-star recruit whose explosiveness off the edge, showcased in the spring game, might help generate a significantly improved pass rush that saw the line record only three sacks last season, the fewest among the 65 Power 5 Conference teams.
3. Linebackers: 35 — Nyles Morgan (16), Greer Martini (10), Te'von Coney (9)
The law-firm sounding Morgan and Martini tandem were selected as team captains. Martini and Coney both play the Buck position, but Martini's performance this spring was particularly noteworthy to earn him the No. 1 slot.
4. Safety/Rover: 27 —Drue Tranquill (16), Devin Studstill (9), Nick Coleman (2)
Another captain, Tranquill, established himself well at rover this spring in new coordinator Mike Elko's attack in the 4-2-5 alignment, with former linebacker Asmar Bilal also stationed there. Tranquill continued to cross-train at safety in case he will be needed.
Studstill started as a freshman after having the advantage of enrolling as a 2016 early entrant (plus the dismissal of incumbent Max Redfield), but classmate Jalen Elliott worked himself into the No. 1 role at free safety this spring. Meanwhile, Coleman, who struggled at cornerback last season, emerged as one of the top surprises this spring by working ahead of Studstill at strong safety. It might prove to be a crucial position change.
5. Tight End: 23 — Durham Smythe (15), Alize Mack (5), Nic Weishar (3)
Incumbent Smythe started all 12 contests last year. Mack was academically ineligible in 2016 but started five times as a 2015 freshman (13 catches, 190 yards) when Smythe missed most of the season because of shoulder and knee injuries. Both are projected to see extended action in the double-tight end alignment.

6. Receivers: 22 — Equanimeous St. Brown (12), CJ Sanders (7), Kevin Stepherson (3)
This was the least experienced unit entering last year with one career start (by the graduated Torii Hunter Jr.). St. Brown exploded on to the scene as a 2016 sophomore with 58 catches that averaged 16.6 yards and included nine TDs. Sanders and Stepherson combined for 49 catches that averaged 15.4 yards with seven more scores.
Junior Miles Boykin and sophomore Chase Claypool performed at a level this spring that will have them much more involved in the rotation, while junior Chris Finke closed strong last year with scores against Virginia Tech and USC. Javon McKinley, who could partake in some work this spring after suffering a broken fibula last season, and Michigan graduate transfer Freddy Canteen also will vie to find a niche
7. Cornerbacks: 18 —Julian Love (8), Donte Vaughn (4), Troy Pride (3), Shaun Crawford (2), Nick Watkins (1)
Interestingly, the standout this spring was Watkins, who has the fewest starts among the five scholarship corners, mainly because a broken arm sidelined him all of 2016. The attrition at corner, including Crawford missing a second straight year with a season ending injury early in game 2, forced the top three freshmen into the lineup before their time.
8. Running Backs: 12 — Josh Adams (12)
With 1,768 yards rushing in his career (the fourth most by an Irish running back entering his junior year), it's hard to believe Adams has only 12 starts, but in a regular rotation of backs in the past with players such as C.J. Prosise or Tarean Folston, it's not really about "starts" but snap counts, a la receiver.
Junior Dexter Williams and sophomore Tony Jones Jr., redshirted last year, will be in the 2017 rotation as well.
9. Quarterback: 0
The last time Notre Dame didn't have a single start returning at the quarterback position was Kelly's first season in 2010, when he had Dayne Crist succeeding three-year starter Jimmy Clausen, with former preferred walk-on Nate Montana and freshman Tommy Rees, the current QB coach, behind him.
Junior starter Brandon Wimbush and sophomore backup Ian Book both redshirted last season.
----
• Talk about it inside Rockne's Roundtable
• Subscribe to our podcast on iTunes
• Learn more about our print and digital publication, Blue & Gold Illustrated.
• Follow us on Twitter: @BGINews, @BGI_LouSomogyi, @BGI_CoachD,
@BGI_MattJones, @BGI_DMcKinney and @BGI_CoreyBodden.
• Like us on Facebook