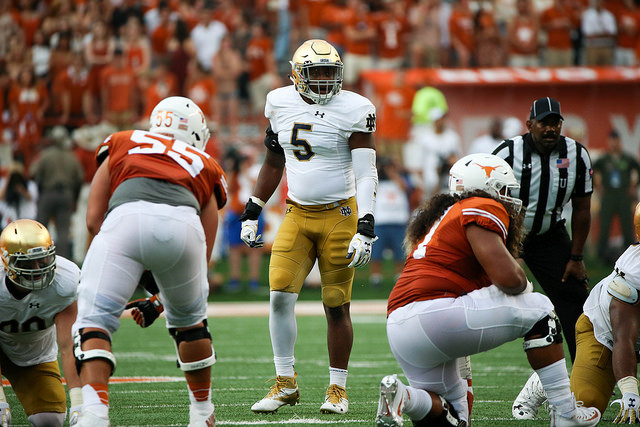 Notre Dame had just two players selected in the 2017 NFL Draft, though its 2018 class figures to be much larger.
The Irish could have multiple first-round picks and a handful of early-round selections next April.
In the first of a two-part series, Blue & Gold Illustrated takes a look at which players might headline the 2018 NFL Draft. Today, we examine the defense.
Nick Watkins, CB
Watkins was poised for a big 2016 season, but various injuries derailed those hopes and sidelined him for the entire year. The Desoto, Texas, native, has the size (6-1, 203 pounds) that NFL teams covet in modern, versatile cornerbacks, which he hopes to show off during his senior season at Notre Dame.
Watkins is eligible for a fifth season in 2018 if he chooses to return, though his injury history, combined with NFL opportunities, have that in question.
Nyles Morgan, LB
The most productive player on Notre Dame's porous 2016 defense, Morgan registered 94 total tackles and four sacks in 12 starts for the Irish.
Though slightly undersized at 6-1 and 238 pounds, the native of Crete, Ill., could do even more at Notre Dame under new defensive coordinator Mike Elko. Morgan has rarely been asked to attack the line of scrimmage with the Irish, but will likely do more of that in 2017, which will make him even more attractive to NFL teams.
"He really interests me. He has a chance, and he's already been productive, but he could go to another level this year in that new defense," Scott Wright of DraftCountdown.com said. "He's got a chance to be a relatively early pick at his position.
"The problem is inside linebackers aren't the most valuable position in the draft. Positional value is going to affect him, and I don't know if he's going to work out particularly well. I know he's a good athlete, but I don't know that he's going to be a workout warrior."
Jerry Tillery, DT
While it's difficult to envision Tillery as an early-round pick after what he's shown his first two seasons at Notre Dame, there's no denying his physical abilities.

At 6-6, 308 pounds with good feet and strength, Tillery could put himself on the NFL's radar with a standout junior season.
"He's a guy that looks the part. He's got that big frame and he can do a lot for you," Wright said. "You can play him as a nose, you can play him as a three technique, you can maybe play him as a defensive end in a 3-4 scheme. He's got talent.
"It's similar in some ways to Jarron Jones in that it's not based on talent. It's going to be based on intangibles. How much does he want it? Tillery has a lot to prove, but he probably has as much upside potential on that defense as anybody draft-wise."