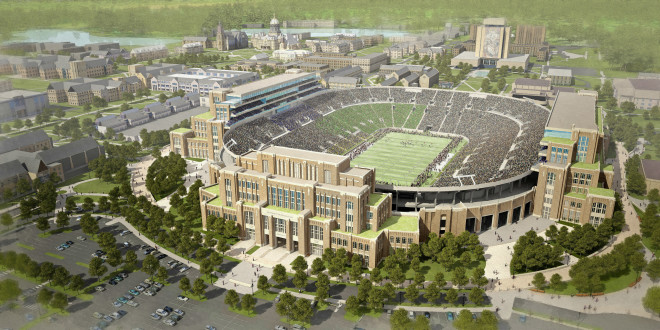 Don't miss out on any of our exclusive football, basketball and recruiting coverage. Click here to get your 30-day free trial!
20 Years since Notre Dame last had a dramatic makeover of its stadium — until this year's Campus Crossroads debut in the opener versus Temple. In 1997 the refurbished and expanded edifice coincided with the start of the Bob Davie era, and the Irish are 150-99 since then for a .602 winning percentage. Nine of those 20 seasons had a minimum of six losses (and three others had five). Prior to 1997, Fighting Irish football had six football seasons with at least six defeats (1956, 1960, 1963, 1981, 1985 and 1986).
Will the new renovation help change fortunes on the field?
19 Notre Dame was 19-0 in head coach Brian Kelly's first six seasons (2010-15) when it did not commit a turnover. Last year it was 0-3 in such contests, losing 50-47 in double-overtime to Texas, 28-27 to Navy and 34-31 to Virginia Tech. It was yet another example of collapse in just about every facet possible during a 4-8 campaign.
18 Games played by Notre Dame the past three years (six per season) in which the outcome was decided by seven points or less. The Irish are 7-11 in such contests — most notably 1-6 last year.
From 2012 until the controversial loss at Florida State in 2014, Kelly's Notre Dame squads were 12-2 in games decided by seven points or less, including a 10-game winning streak at one point. Overall, he is 22-19 in those type of outcomes (and 2-4 in overtime).

17 Bowl victories in Notre Dame history (17-18), but only four since 1994 because of the 4-12 record since then in the postseason (with no major bowl victories among them). At the end of 1993, the Irish were 13-6 in bowls, owning the best winning percentage (.684) in the country among teams that had played in at least 15 bowls. This year they will attempt to avoid becoming the first Irish teams since 1985-86 to not appear in a bowl two years in a row.
16 Red-zone turnovers by Notre Dame the past three seasons. The good news is there were only two last year (at North Carolina State and versus Army) after leading the nation in that dubious category the past two seasons with 14 — six in 2014 and eight in 2015.

Tomorrow: 15 to 11.
----
• Talk about it inside Rockne's Roundtable
• Subscribe to our podcast on iTunes
• Learn more about our print and digital publication, Blue & Gold Illustrated.
• Follow us on Twitter: @BGINews, @BGI_LouSomogyi, @BGI_CoachD,
@BGI_MattJones, @BGI_DMcKinney and @BGI_CoreyBodden.
• Like us on Facebook