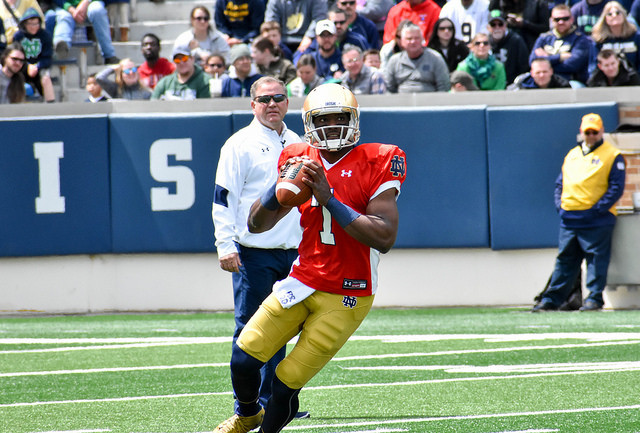 Don't miss out on any of our exclusive football, basketball and recruiting coverage. Click here to get your 30-day free trial!
10 Notre Dame was one of only 10 teams in the Football Bowl Subdivision entering the 2016 season that had won a minimum of eight games in the six seasons under head coach Brian Kelly from 2010-15. Now there are only seven (Alabama, Boise State, Florida State, LSU, Oklahoma, Stanford and Wisconsin).
While an eight-win bar still is going to remain low to the average Notre Dame fan, that stat does demonstrate it's not as easy as it might sound.
9 Games won by first-year Notre Dame head coach Ara Parseghian in 1964 during a 9-1 campaign — a seven-game improvement in victories from the previous year's 2-7 mark. That remains the school's standard for best single-season upgrade in wins from one season to the next (Kelly would have to win 11 in 2017 to tie the mark). The most by the same coach at the helm was five by Terry Brennan, going from 2-8 in 1956 to 7-3 and a No. 10 Associated Press finish in 1957, highlighted by ending Oklahoma's NCAA record 47-game winning streak.
8 The 2016 campaign will be Kelly's eighth at Notre Dame. Of the 15 full-time or non-interim coaches hired since 1913, Kelly is only the fifth to reach his eighth season. The other four were the coaching Mount Rushmore of the school: Knute Rockne with 13 (1918-30), and Frank Leahy (1941-43, 1946-53), Parseghian (1964-74) and Lou Holtz (1986-96) with 11 apiece.
Elmer Layden (1934-40) who won 77 percent of his games, lasted seven years, while Dan Devine (1975-80), the head coach of the 1977 national champions, stepped down after six. For a spell at the end of last season, there was plenty of speculation on whether Kelly would be back for year 8.

7 This will be the seventh straight season under Kelly that Notre Dame will have a different starting QB in the opener from the previous year: Dayne Crist in 2011, Everett Golson in 2012, current quarterbacks coach Tom Rees in 2013, Golson again in 2014, Malik Zaire in 2015, DeShone Kizer in 2016 and now junior Brandon Wimbush in 2017.
Kelly has been at his best with QBs taking over without any previous starting experience. As a 2010 true freshman, Rees finished 4-0 in his four starts, Golson won his first 10 starts as a redshirt freshman, Zaire was the Music City Bowl MVP in his first career start as a redshirt freshman (a win over LSU), and Kizer was 8-1 in his first nine starts as a redshirt freshman. Wimbush was redshirted last season and is a junior, but it's the "first time" aspect that is appealing.
6 New on-field assistant coaching hires made this winter, the most ever by an incumbent head coach at Notre Dame, not even including a new strength and conditioning staff. The six are Rees (quarterbacks), offensive coordinator/tight ends Chip Long, receivers coach Del Alexander, defensive coordinator Mike Elko, linebackers coach Clark Lea and special teams coordinator Brian Polian.

Kelly had his two best seasons at Notre Dame — 12-1 in 2012 and 10-3 in 2015 — after reshuffling or hiring at least four job assignments before each of those campaigns.
Tomorrow: 10 to 6.
----
• Talk about it inside Rockne's Roundtable
• Subscribe to our podcast on iTunes
• Learn more about our print and digital publication, Blue & Gold Illustrated.
• Follow us on Twitter: @BGINews, @BGI_LouSomogyi, @BGI_CoachD,
@BGI_MattJones, @BGI_DMcKinney and @BGI_CoreyBodden.
• Like us on Facebook