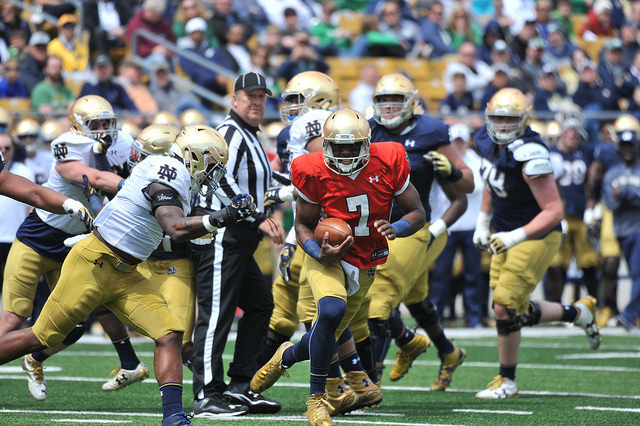 Don't miss out on any of our exclusive football, basketball and recruiting coverage. Click here to get your 30-day free trial!
Scholarship Players (4)
Listed after the class year is the years of eligibility remaining.
7 Brandon Wimbush (6-2, 226), Jr./3
12 Ian Book (6-0, 205), So./4
4 Montgomery VanGorder (6-1, 217), Sr./2
Avery Davis (5-11, 185), Fr./4
Walk On: Nolan Henry (17, junior)
Career Statistics
Wimbush: 3-of-5 passing, 17 yards, zero interceptions, zero TDs
Rushing: 7 times for 96 yards, (13.7 yards per carry), one TD
The Coach
Former Notre Dame quarterback Tom Rees (2010-13), who started 31 games in his career, is the sixth coach at his position group in the past nine years, and the fifth under Brian Kelly in eight years: Charley Molnar (2010-11), Chuck Martin (2012-13), Matt LaFleur (2014), Mike Sanford (2015-16) and now Rees.
Shortly after Rees' final game at Notre Dame in 2013, Kelly prophesied the coach's son/football junkie Rees becoming an assistant for him. It came perhaps sooner than expected after working as a graduate assistant at Northwestern and then with the NFL's San Diego Chargers.
Rees, who turns 25 on May 22, is the youngest on-the-field, full-time staff member hired at Notre Dame since fellow Notre Dame graduate and 23-year-old Gene Smith as the junior varsity coach in 1978. Smith — now the athletics director at Ohio State — had been a grad assistant for the 1977 national champs.
The closest to Rees' age since then was another Notre Dame grad, 26-year-old Skip Holtz (head coach at Louisiana Tech), who in 1990 was hired as receivers coach by his father Lou.
Feature Point
There is nothing more overrated in the seven-year Kelly era than the need of an experienced quarterback. Kelly is 23-4 (.851) when he starts a true freshman or red-shirt freshman at QB. There are two parts to that.
One, the team was able to thrive collectively because it was experienced with a lot of proven talen on offense or defense, if not both. That will be the case on offense again in 2017, especially with a line that returns four starters and 76 career starts (compared to 27 last year).
Two, when the offense focuses on "basic tenets" and doesn't put too much on the quarterback's plate that can create a paralysis by analysis situation, the unit plays better.
In the spring of 2015 under new QBs coach Sanford, Kelly emphasized that too much attention the prior year (8-5 finish) was devoted to scheme and not to sound technique and fundamentals. The exact same verbiage was used this spring.
Wimbush isn't a true or red-shirt freshman, although it might feel like it. What is crucial is he has a veteran supporting case around him where the onus won't be placed so much on him like it was for second-round NFL pick DeShone Kizer last year during the 4-8 fiasco.
Conspicuous Stat Needing Improvement
According to the Football Outsiders advanced metric S&P, the 2016 Notre Dame first-quarter offense was No. 1 in the country, but No. 56 in both the second and third quarter — and No. 96 in the fourth quarter. That helps explain losing five games last year while leading in the final quarter, and falling in a sixth when the score was tied.
Last year, Kizer was phenomenal in the first quarter with a 72.3 completion percentage and a whopping 10.89 yards per pass attempt. By the second quarter the numbers fell to 57.9 percent and 7.97 yards per attempt, 57.0 percent and 7.73 in the third quarter — and 48.2 percent and a paltry 5.74 yards per attempt (nearly half less than the first quarter) in the fourth. In the first he completed 64.0 percent at 9.20 yards per attempt. In the second the numbers fell precipitously to 52.4 percent and 6.78 yards per attempt.
Potential Freshman Impact
Unless there is a transfer, ineligibility and a major injury or two, we foresee Davis becoming the sixth Fighting Irish QB recruit in the past seven years to red-shirt. He would join Golson (2011), Gunner Kiel (2012, and then transferred to Cincinnati), Malik Zaire (2013), DeShone Kizer (2014) and Book (2016).
Wimbush in 2015 was the exception, but that was because starting QB Zaire suffered a season ending injury in game 2, and the staff was forced to get Wimbush ready at No. 2, behind Kizer, "just in case." Thus, with Kizer and Zaire both back in 2016, the red-shirt season then was used on Wimbush.
The purpose of preserving a fifth year at Notre Dame for a QB is debatable. Either he is good enough by then to move on to the NFL (Kizer), or he finds himself in a backup or sharing role, which leads him to believe his talents could be showcased better at another school in his fifth season (Golson at Florida State, or Zaire still to be determined).
On Paper Pre-Season Rating Scale 1-10
1-2 — Near The Bottom In College Football
3-5 — Questions About Proven Ability, Game Experience & Depth
6-8 — Major Bowl Contender Level (6) to Major Bowl Winner (8)
9-10 — Football Playoff Level (9) To Champion (10)
Only one quarterback recruited under Kelly enrolled with a higher rating than Wimbush, the No. 60 player overall nationally on Rivals.com in 2015. That was Kiel at No. 20 in 2012, but he submitted his transfer papers before the end of his freshman year. The only players on the 2017 roster who arrived with a higher ranking that Wimbush were senior offensive guard Quenton Nelson (No. 29 in 2014), sophomore defensive end Daelin Hayes (No. 31 in 2016) and sophomore offensive lineman Tommy Kraemer (No. 41).
While Wimbush might possess the best combination of physical assets — powerful arm, maneuverability, size and speed — at quarterback in the Kelly era, it can't be overlooked that through his first two years he's had only two appearances in mop-up roles while biding his time behind the Zaire/Kizer tandem.
No one behind Wimbush has taken a collegiate snap at QB either, with VanGorder's starting role coming as the holder on placekicks. Book did make a good impression in the Blue-Gold Game, completing 17 of his 22 passes for 277 yards and a score, although mainly against a reserve defense.
On paper, one can't give this a higher rating than 5. Looks can be deceiving, though. Last year at this time the 1-2 punch of Kizer and Zaire was heralded as maybe the best and more proven going into a season at Notre Dame in 50 years, or since 1967 when Terry Hanratty and Coley O'Brien returned after helpin lead the Irish to the 1966 national title. A lot of good that did in 2016, although it's certainly not all on the QB.
A significant plus in 2017 is the rest of the offense is replete with veterans to where the QB doesn't have to put it all on his shoulder, much like 2015 with the newbie Kizer en route to a 10-1 start and leading an 88-yard touchdown drive to take a 36-35 lead at Stanford with 30 seconds left in game 12.
Likewise, with good health and a veteran supporting cast, this rating should climb appreciably during the season.
----
• Talk about it inside Rockne's Roundtable
• Subscribe to our podcast on iTunes
• Learn more about our print and digital publication, Blue & Gold Illustrated.
• Follow us on Twitter: @BGINews, @BGI_LouSomogyi, @BGI_CoachD,
@BGI_MattJones, @BGI_DMcKinney and @BGI_CoreyBodden.
• Like us on Facebook