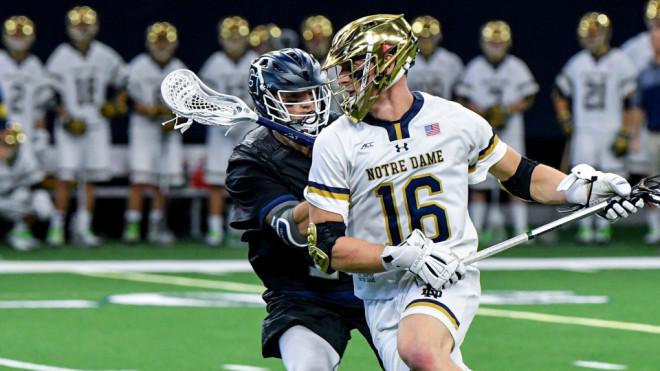 Don't miss out on any of our exclusive football, basketball and recruiting coverage. Click here to get your 30-day free trial!
Through the fall and winter sports seasons, Notre Dame ranked No. 10 in the Learfield Directors Cup among 245 schools that have scored points in NCAA Division I competition.
Whether it can maintain such a lofty perch depends on how it performs in the spring events. So far:
• In women's tennis, Notre Dame defeated Kansas in the first round NCAA Championship action, but the No. 32 Irish were shut out by No. 2 Ohio State in the second round to finish 18-10.
• Men's tennis finished 13-13 and did not receive a bid.
• In women's lacrosse, the No. 15 Irish lost in first round NCAA Championship play with a 12-7 setback to No. 12 Cornell. Notre Dame finished 11-8 after its sixth straight appearance in postseason action.
• Baseball is wrapping up its regular season with a three-game series at Boston College this weekend. The Irish lost the opener on Thursday 6-2 to drop to 26-28 overall and 10-18 in the ACC.
After stumbling out of the gates with a 1-8 start, Notre Dame has flirted in recent weeks to reach .500, but will need to win the next two games at BC to do so. Notre Dame's is sixth in the seven-team Atlantic Division, one game ahead of the 9-19 Eagles.
Twelve of the 14 ACC teams make the conference tournament, and the Irish need at least one win to assure itself a spot.
Since the departure after the 2006 season of former head coach Paul Mainieri to LSU, Notre Dame has made it to only one NCAA Tournament (2015) from 2007-16 after a string of eight straight from 1999-2006, highlighted by the 2002 College World Series. The Irish were 27-27 last year, and this season against the ranked ACC quintet of Clemson, Florida State, Wake Forest, Virginia and Louisville they are 1-14.
Here are the three spring sports where Notre Dame is currently or next involved in NCAA Championship action.
Men's Lacrosse
No. 7 Notre Dame (9-5) takes on No. 5 Denver (12-3) in the NCAA Championship quarterfinals this Saturday at Shuart Stadium on the Hofstra campus in Hempstead, New York.
The game is scheduled to begin at 2:30 p.m. ET and will be broadcast live on ESPNU. On March 12, home team Denver defeated Notre Dame 11-10 by scoring the game-winning goal as time elapsed. Five of the last seven meetings between the Irish and Pioneers have gone into at least one overtime session, while seven of the last eight meetings were decided by one goal. This includes Denver winning in the 2015 NCAA semifinals in overtime by the familiar 11-10 score despite five fourth-quarter goals by then Notre Dame sophomore Sergio Perkovic to help send the game into overtime.
The most recent Irish victory in the series came in 2013 (13-12 in OT).
Perkovic and junior Mikey Wynne achieved the 100-career goals milestone this year, the first time the Irish have had two 100-game scorers on the same roster. Sophomore Brendan Gleason, meanwhile, has recorded a hat trick in each of the last three games with three, four and five goals.
Eight of Notre Dame's 14 games this year against an outstanding schedule were decided by one goal, including four of six in ACC competition. The Irish are 5-3 in such contests, highlighted by a 5-4 decision against current No. 1 Maryland.
Notre Dame is 8-1 when holding a lead after the opening 15 minutes of play — and 9-0 when ahead at halftime.
Notre Dame and No. 1 Maryland (13-3) are the only two programs to earn a spot in the NCAA Championship field each of the last 12 seasons, and head coach Kevin Corrigan's Irish are the lone program to advance to the quarterfinals of the NCAA Championship in each of the last eight campaigns.
Notre Dame advanced to the NCAA Championship final weekend in 2001, 2010, 2012, 2014 and 2015, and played in the title game in 2010 and 2014.

Women's Softball
The 64-team NCAA Championship begins Friday afternoon (May 19) for Notre Dame at the Auburn Regional.
The 33-21 Irish are the No. 3 seed in the four-team regional and will play No. 2 seed Cal (30-22). The second game has No. 1 seed Auburn (46-10) — the No. 7 national seed — versus No. 4 seed ETSU (29-24).
The double-elimination format also has the Irish playing Saturday and Sunday (if necessary).
Notre Dame was one of only three ACC teams to receive a bid to the NCAA Division I Softball Championship, joining national No. 4 seed Florida State and North Carolina. The Irish also are one of just eight Division I teams nationally invited each May since 1999. The others are Alabama, Arizona, UL-Lafayette, Michigan, Oklahoma, UCLA and Washington.
Four Irish received All-ACC honors: Sisters Ali Wester and Karley Wester were named to the first team, and Morgan Reed and Melissa Rochford were on the second team.
Karley Wester is the active hits leader in NCAA Division I softball with 320 and holds the Notre Dame career records for runs scored (225) and stolen bases (128).
Women's Rowing
Notre Dame will compete at the 2017 NCAA Rowing Championships at Mercer Lake in West Windsor, New Jersey. The regatta will begin Friday, May 26 and conclude two days later. It is the fifth time in the last six seasons it has earned an at-large bid.
The Irish have finished as high as ninth overall as a team (2014, 2006), while the Varsity Four's eighth overall finish in 2012 marks the high point for a single boat in the competition.
----
• Talk about it inside Rockne's Roundtable
• Subscribe to our podcast on iTunes
• Learn more about our print and digital publication, Blue & Gold Illustrated.
• Follow us on Twitter: @BGINews, @BGI_LouSomogyi, @BGI_CoachD,
@BGI_MattJones, @BGI_DMcKinney and @BGI_CoreyBodden.
• Like us on Facebook