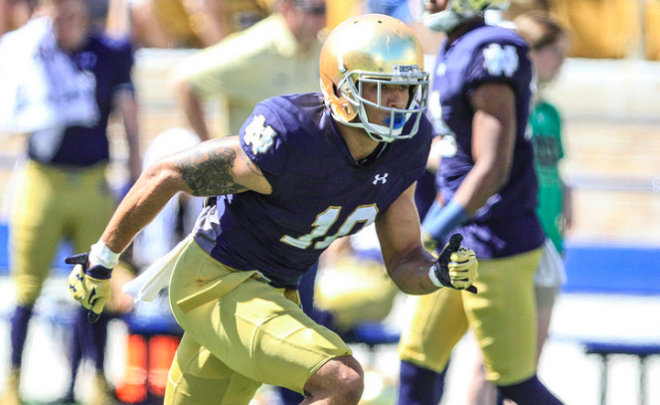 Notre Dame will get what essentially turns out to be a five-star recruit in the offense in 2017 as junior tight end Alizé Mack is set to return.
Mack was the nation's top tight end in the 2015 class and he was poised to become arguably the top weapon on the Irish offense in 2016 before he was lost to a suspension.
Notre Dame greatly missed his presence in 2016 but his return gives the Irish a major shot in the arm.
BIO
SIZE: 6-4½, 245
CLASS/ELIGIBILITY: Junior / Sophomore
HOMETOWN: Las Vegas, Nev.
HIGH SCHOOL: Bishop Gorman
PREP RANKINGS
Rivals: 4-star – No. 133 overall – No. 4 TE
ESPN: 4-star – No. 52 overall – No. 1 TE
Scout: 5-star – No. 32 overall – No. 2 TE
247Sports: 4-star – No. 101 overall – No. 1 TE
2015 STATISTICS
13 receptions, 190 yards, 14.6 avg., 0 TD's, long 45
2016 RECAP
During his freshman campaign Mack – then known as Alizé Jones – led all Notre Dame tight ends with 13 receptions for 190 yards. It was the most receptions for a Notre Dame freshman tight end since Kyle Rudolph hauled in 29 passes in 2008.
Mack hauled in two key receptions that season. His 35-yard reception against USC set up Notre Dame's go-ahead and ultimately game-winning touchdown in its 41-31 victory over the Trojans. Two weeks later Mack hauled in a 45-yard reception on Notre Dame's final drive, setting up Will Fuller's game winning-touchdown reception in Notre Dame's 24-20 victory over the Owls.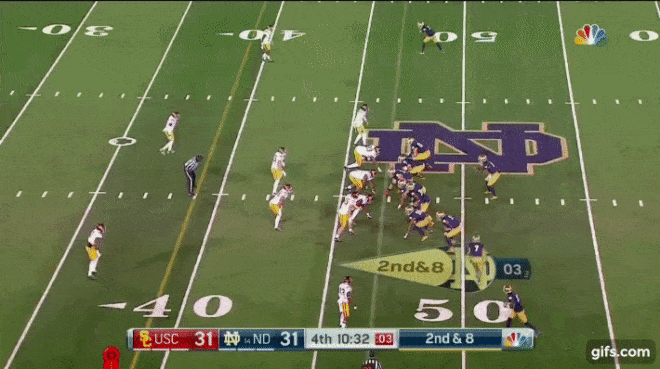 He was unable to build on his quality freshman campaign, missing all of the 2016 season due to an academic suspension.
2017 EXPECTATIONS
Mack still has a lot to prove at Notre Dame. His talent has never been in question. In 2015 he lacked experience and strength, and his lack of attention in the classroom kept him from making an impact as a sophomore.
There are no excuses for Mack now. He is eligible for the fall and he was able to participate in every spring practice. Being able to practice in 2016 will help him shake off the rust much faster than most suspended players.
When the offensive coordinator is the tight ends coach it is safe to assume that Notre Dame will look to get the tight end position back to being a highly productive one in the offense. Mack's talent combined with Long's desire to have the tight ends more active should result in a highly productive season.
Mack will work from both an attached and flexed position in the offense. In both positions he'll be used effectively as a chain mover with the quick game.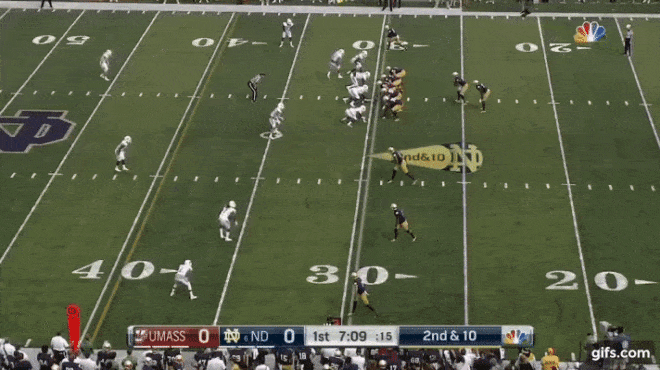 Even as a freshman Mack showed a knack for quickly getting open in the quick game. He has some ability to pick up extra yards after the catch, which should make him extra effective in the quick game.
Mack is good enough with the ball that designing the occasional screen throw to him is certainly not out of the question.
Long likes to get his inside receivers and tight ends heavily involved on routes that take them across the field. Notre Dame's previous offensive system used those routes but it seemed they were rarely the key read, or at least the quarterbacks didn't look for them with much frequency.
That should change under Long and Mack should be a primary beneficiary.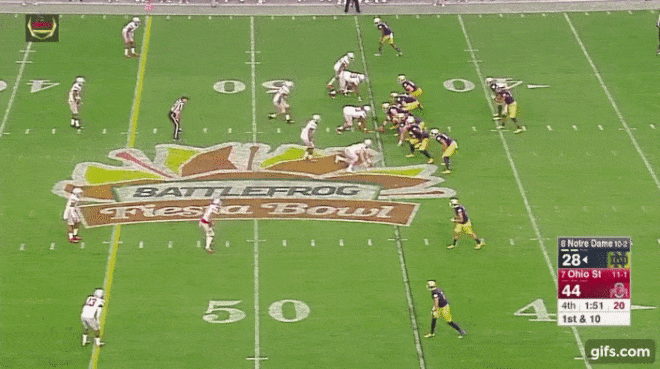 This is an example of Mack getting open and making a grab on the type of route I just discussed.
Mack will be expected to work the seams and add a vertical dimension from the inside that the offense has severely lacked the last three seasons. We saw Mack's downfield ability as a freshman, and now that he's two years stronger his vertical skills should only be enhanced.
What Mack showed in high school but not as a freshman is the ability to make tough catches. Not just in-traffic throws, but more importantly the ability to go up and out-play defenders for the ball on downfield throws.
Mack made an impressive catch during the spring that reminded observers of why he was such a highly coveted recruit and such an important pickup for Notre Dame.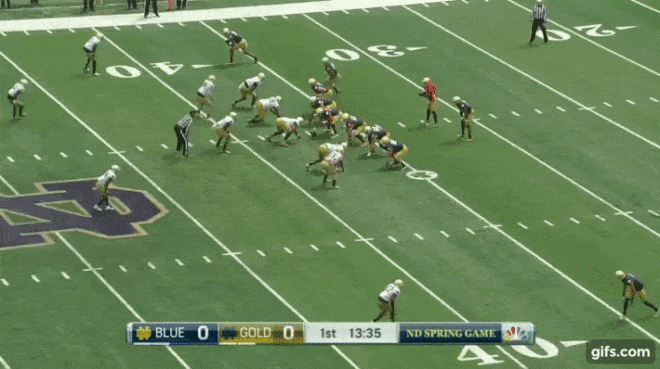 If Mack can add plays like this to his repertoire he'll be an especially dangerous weapon.
The key for Mack is that he stay focused and continue to develop as a player. He doesn't always attack the ball and isn't always locked in with the ball is in the air. An example is the first interception thrown by quarterback Brandon Wimbush.
Wimbush was late with his throw, but Mack compounded that error with one of his own, which was to let the ball get into his body instead of reaching out and snatching it out of the air. The two mistakes resulted in the ball bouncing up in the air and into the arms of a defender.
Mack was used as an outside receiver at times during the 2016 spring, but it remains to be seen how much he'll be used outside in the new offense. His blocking was average as a freshman, but Mack showed this spring he's bigger, stronger and more prepared to handle himself well in the run game.
A GOOD SEASON FOR MACK WOULD BE ...
One in which he becomes the big-time weapon Notre Dame fans have hoped he would be ever since he signed in February of 2015. Mack has all the tools to be a great player, but he hasn't come close to proving himself to be that effective.
Junior receiver Equanimeous St. Brown will be a key cog in the offense, but he didn't have a trustworthy pass game partner in 2016. Mack emerging as a legitimate force in the offense will make life much easier for St. Brown, and it will make the Notre Dame offense incredibly difficult to defend.
A good season for Mack will also be one that includes him becoming a solid force in the run game. If Notre Dame can line up him in an attached position or wing position and run the ball effectively it will make Long's play-action packages far more effective. Mack could be the offense's biggest beneficiary of the play-action game, but it will only work if team's have to worry about his run game ability.
PREVIOUS PROJECTIONS
QB Brandon Wimbush
QB Ian Book
RB Josh Adams
RB Dexter Williams
RB Tony Jones Jr.
WR Equanimeous St. Brown
WR Kevin Stepherson
WR C.J. Sanders
WR Chase Claypool
WR Miles Boykin