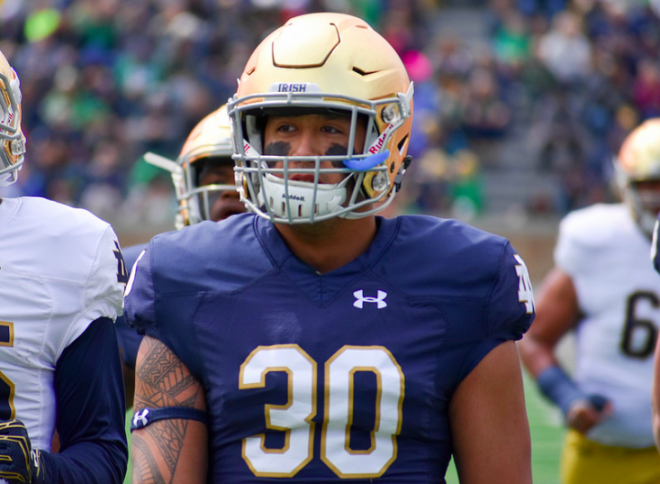 Notre Dame linebacker Josh Barajas has announced his intentions to transfer, with the junior announcing he will be heading to Illinois State for his final three seasons of eligibility. By transferring to a FCS program Barajas will be eligible immediately.
Barajas came to Notre Dame as one of the most highly coveted members of the 2015 recruiting class. The native of Valparaiso, Ind. was ranked as the No. 180 player in the country according to Rivals, the No. 13 linebacker in the land and the No. 2 player in the state of Indiana. He was ranked as high as No. 51 in the country according to Scout and No. 108 by 247Sports.
Help us welcome the newest addition to the roster LB Josh Barajas (@ScoopNScore11) 🙌

📰: https://t.co/gDo8drZcNz pic.twitter.com/I0rpdU7ssh

— Illinois State FB (@RedbirdFB) May 31, 2017
An Army All-American, Barajas could never crack the lineup in his first two seasons in South Bend. A natural edge player who battled injuries his first two college seasons, Barajas never got comfortable playing inside and he was quickly passed up by classmates Te'von Coney and Asmar Bilal.
With Barajas leaving Notre Dame is now at the 85-scholarship limit. Notre Dame will have seven scholarship inside linebackers on the roster next season, although Bilal could easily slide inside should the need arise.
Had Barajas stayed and panned out he would have given Notre Dame a veteran presence to compete for a starting in 2018 after seniors Nyles Morgan and Greer Martini graduated. Sophomore Jamir Jones is currently playing inside and competing for a spot in the two-deep at Mike linebacker, but his future could very well be at the drop end spot.
That leaves Notre Dame a bit short on numbers moving forward.
Incoming freshmen David Adams and Drew White combine with sophomore Jonathan Jones to give the Irish three talented young players with four seasons of eligibility, which helps soften the blow of Barajas leaving. Jones did not play in 2016 so he keeps all of his eligibility heading into 2017.

Notre Dame does have a commitment from Erie (Pa.) Cathedral Prep linebacker Bo Bauer. The four-star linebacker is ranked as the No. 129 player in the country by Rivals and provides much-needed physicality and depth inside.
Farmington Hills (Mich.) Harrison linebacker Ovie Oghoufo could also play inside at the Buck linebacker spot, but he's a versatile athlete that could also end up being a hybrid Buck/Rover like Bilal.
Even before Barajas announced his decision to leave the Notre Dame staff was working to add another inside linebacker to the 2018 class. A top target for Notre Dame is another in-state player, Indianapolis Lawrence Central four-star backer Cameron McGrone.
Westlake Village (Calif.) Oaks Christian four-star linebacker Bo Calvert, Portland (Ore.) Central Catholic four-star standout Eli'Jah Winston and Rivals100 linebacker Jack Lamb of Temecula (Calif.) Great Oak are also high on Notre Dame's list, although each could also eventually grow into the drop end position.
From a pure recruiting standpoint the loss of Barajas means one more available scholarship for what was anticipated to be a smaller 2018 class.