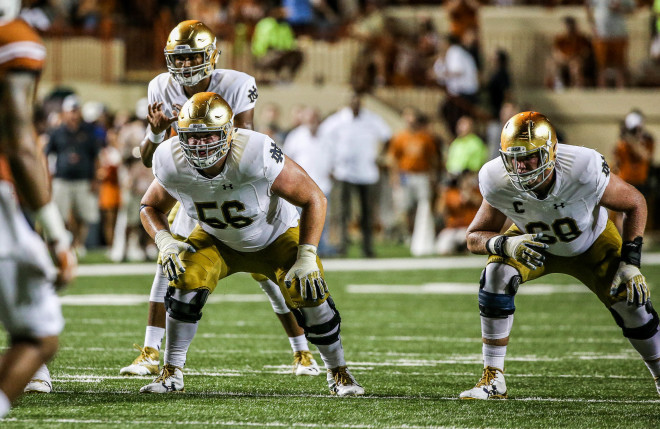 Don't miss out on any of our exclusive football, basketball and recruiting coverage. Click here to get your 30-day free trial!
Lindy's Sports joined Athlon Sports and Street & Smith on the newsstands this week previewing the 2017 college football season.
While Athlon has Notre Dame at No. 20 despite last year's 4-8 finish, Street & Smith labeled the Fighting Irish "overrated" — even though it did not rank them in the Top 25.
Meanwhile, Lindy's has Notre Dame No. 28 among the 130 Football Bowl Subdivision teams after placing the Irish No. 11 a year earlier.
Among the 2017 Fighting Irish opponents, USC leads the way at No. 2 and is projected to play No. 1 Alabama for the national title. The Trojans are followed by Georgia (No. 12), Stanford (18) and Miami (19).
The other eight 2017 foes behind Notre Dame are: North Carolina (45), North Carolina State (47), Michigan State (48), Navy (50), Temple (55), Wake Forest (73), Boston College (84) and Miami (Ohio) (99).
Here was other information pertaining to Notre Dame:
• Brian Kelly is the No. 1 "Hot Seat Coach,"ahead of UCLA's Jim Mora and Texas A&M's Kevin Sumlin.
• On the "5 New Coordinators In Key Positions" list, OC Chip Long is No. 4, although DC Mike Elko could have been just as easily there given the woes on that side of the ball the past several years.
• With regard to "Top 5 College Football Stadiums," Notre Dame Stadium is No. 4, with the top 3 comprised of the Rose Bowl, Michigan Stadium and Ohio Stadium.
• In the "Top 10 Non-Conference Games," Georgia at Notre Dame on Sept. 9 is No. 5, while USC at Notre Dame on Oct. 21 is No. 9.
• Among "Top 10 Dynamic Duos" the left side of Notre Dame's offensive line with tackle Mike McGlinchey and guard Quenton Nelson is No. 7. Among Irish opponents, only USC with QB Sam Darnold and RB Ronald Jones II is higher (No. 3).
• In "Top 10 Storylines," No. 8 is entitled "Notre Change," noting six new on-field assistants for Kelly following last year's 4-8 nightmare.
• There were 20 "Remember These Guys?" figures, or players who missed all or most of 2016 but are considered potential game-changers. Notre Dame joined Oklahoma as the only teams with two: junior tight end Alize Mack (No. 7) and junior cornerback Shaun Crawford (No. 11).
• Nelson is on the publication's first-team All-American (No. 2 guard overall nationally) list, while McGlinchey and receiver Equanimeous St. Brown are second-team All-Americans. McGlinchey is ranked the No. 3 tackle overall and St. Brown the No. 4 wideout.
• In other position group ratings, junior Josh Adams is the No. 16 running back, Mack the No. 3 tight end and senior Nyles Morgan the No. 6 inside linebacker.
• In the Top 10 position group ratings, the Irish are No. 3 along the offensive line (behind Oklahoma and Alabama) and No. 4 at receiver (including the tight ends).