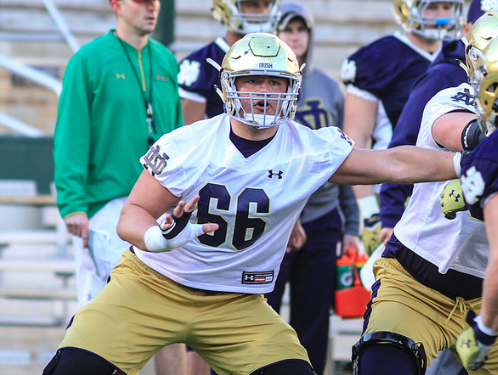 After failing to unseat starting center Sam Mustipher, rising junior center Tristen Hoge has announced his intention to transfer to Brigham Young University.
Hoge was a highly regarded and heavily recruited prospect that was a consensus Top 150 player and ranked as high as No. 48 nationally according to one national recruiting service.
Despite committing to Notre Dame in December of his junior year Hoge garnered offers from Florida, LSU, Stanford, UCLA, Utah, Washington, North Carolina and Penn State among many others.
The Army All-American battled with Sam Mustipher for the starting center position last fall but Mustipher quickly won the job. Hoge hoped to compete with Mustipher again this spring but it was obvious that Mustipher was the far superior player.
With Mustipher having two years of eligibility remaining it would appear that Hoge wanted a chance to play sooner than he would have at Notre Dame, barring injury of course.
With Hoge out of the lineup Notre Dame must find an answer at center behind Mustipher, both in the short term and long term. Senior right guard Alex Bars could be the emergency center, but the departure of Hoge means line coach Harry Hiestand will have to get sophomore Parker Boudreaux ready to go a little faster than anticipated.
Another option is to move another veteran permanently to center, with junior Trevor Ruhland or possibly senior Jimmy Byrne being possible candidates.
Freshman Robert Hainsey played center during the Nike Football The Opening Finals in Beaverton, Ore. last summer, but he has never played it in games. Hainsey is a player the Notre Dame staff wants to find a home for, but he looked very good at left tackle in the spring.
Hoge will have to sit out the 2017 season and will have two years of eligibility remaining beginning in 2018.
Welcome to the Family Tristen Hoge!!https://t.co/bo2lz2akQg#BYUFOOTBALL #GoCougs pic.twitter.com/BJtBeBbyAH

— BYU Football (@BYUfootball) June 5, 2017