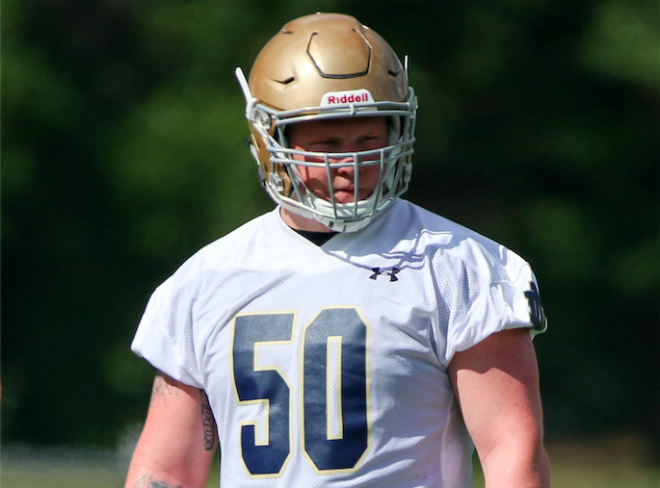 For the second time in three days Notre Dame is losing a backup center. This time it is rising sophomore Parker Boudreaux who has decided to leave the program.
"We thank Parker for his work, dedication and commitment to our program over the last year and wish him nothing but the best moving forward," Notre Dame head coach Brian Kelly said in a statement.
Boudreaux's departure comes just two days after rising junior Tristen Hoge announced he was leaving the program. Hoge is headed to Brigham Young University but as of right now Boudreaux has not made, or at least announced, a decision.
June 7, 2017
Notre Dame landed Boudreaux, an unranked four-star lineman, in the same class at Tommy Kraemer and Liam Eichenberg. The latter two players are competing for the starting right tackle spot while Boudreaux was the third-team center during the spring. The departure of Hoge gave Boudreaux an opportunity to move up the depth chart, but he chose to leave the program.

Boudreaux made a name for himself as a prep player, where he was big on Twitter, and when he announced his decision to attend Notre Dame in a Bleacher Report video where he pulled a school bus a distance between announcing his decision to play for the Irish. He chose the Irish over Oklahoma and Clemson.
With Boudreaux and Hoge both gone Notre Dame will have to do some reshifting of its offensive line, as it now has just one center on the roster, returning starter Sam Mustipher, a senior with two years of eligibility remaining.
One good option is junior Trevor Ruhland, a quality athlete and a tough player that is buried at guard behind a number of other talented players. Ruhland has the talent to start at Notre Dame, and center could give him the opportunity to make that happen that he lacks at guard. Ruhland missed a good chunk of the spring with an upper body injury, so him moving would be dependent on how quickly he is healing and able to get ready for the season.
Another option is senior Jimmy Byrne, who has played guard and tackle during his Notre Dame career.
Incoming freshman Dillan Gibbons could be a center option, although that is more geared towards the future. Freshman Robert Hainsey played some center last summer at the Nike Football The Opening Finals in Beaverton, Ore. Hainsey handled himself well at the event, but he has spent his entire career at left tackle and he is currently Notre Dame's top backup at that spot after a strong spring.