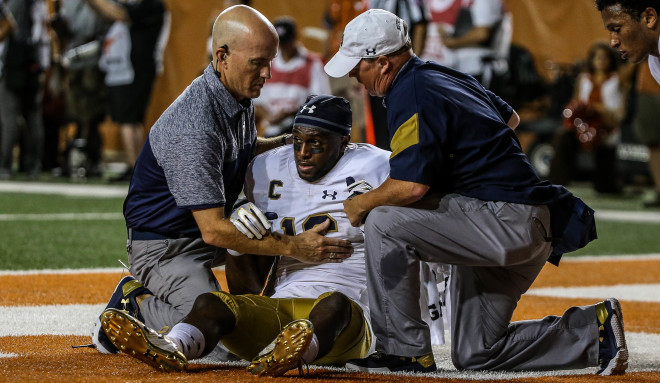 Don't miss out on any of our exclusive football, basketball and recruiting coverage. Click here to get your 30-day free trial!
Attrition is a natural part of collegiate athletics, and it generally takes four forms: a transfer for a better opportunity to play/fit elsewhere (now including a fifth season at other schools), academic, disciplinary or medical.
For more than 30 years at Blue & Gold Illustrated, we've had a basic one-third rule about any recruiting class: one third will be multiple-year starters or bona fide NFL prospects (if not both), one-third will be role/backup/special team players, and one-third will be involved in the various forms of attrition that inevitably occur.
There can be cross-over, too. For example, 2010 outside linebacker recruit Danny Spond was a major contributor to the fabulous 2012 Notre Dame defense that led the team to the BCS Championship game, but health issues sidelined him for good in 2013.
Wide receiver Corey Robinson was a regular from 2013-15, but concussion issues prompted him to leave football his senior year in 2016 while serving as the school's student body president and earning an NCAA postgraduate scholarship.
More than ever, recent studies on head trauma/concussions have created greater awareness on the perils that can come with the game. The most recent case at Notre Dame was senior tight end Tyler Luatua. Past concussion issues have led him to depart from football as Robinson did, but Luatua can still finish his undergraduate degree on a general University funding while allowing the football operation to use his grant-in-aid scholarship on another prospect due to his medical disqualification.
Under eighth-year head coach Brian Kelly, Luatua is the 10th player to undergo this process. Here is the breakdown.
2010 Recruiting Class
The 23-man harvest had three ruled out medically: Running back Cameron Robinson, offensive tackle Tate Nichols and the aforementioned Spond. With Nichols and Robinson it occurred earlier, before they ever had a chance to see game action.
That's not including starting offensive tackle Christian Lombard, whose football career days ended midway through his senior year in 2013 because of back surgery, prompting him not to return for a fifth season in 2014.
2011 Recruiting Class
Another 23-man class in 2011 saw two medical casualties whose careers ended after their sophomore years: offensive lineman Brad Carrico and defensive lineman Tony Springmann, a top reserve on the 2012 team.
More indirectly, linebackers Jarrett Grace and Ben Councell suffered major injuries that significantly stifled their careers, center Matt Hegarty suffered a stroke during a 2012 practice (although he would return and even play his fifth year at Oregon in 2015), and defensive lineman Chase Hounshell missed two full seasons because of a torn labrum.
Finally, offensive lineman Conor Hanratty opted not to return for a fifth season because of multiple concussions, but served as an aide for the coaching staff.
2012 Recruiting Class
Only 17 players signed. Four left school before their sophomore season, most notably quarterback Gunner Kiel (Cincinnati) and receiver Davonte Neal (Arizona).
The main medical casualty was safety Nicky Baratti, who played as a freshman reserve in 2012 but then underwent three shoulder surgeries, leading him to miss 2013 and virtually all of 2014. A fifth season was not really an option for health reasons.
Nose guard Jarron Jones also endured various ailments that sidelined him in 2014 (Lisfranc) and 99.9 percent of 2015 (MCL tear), leading to more caution last year.
2013 Recruiting Class
Kelly's highest ranked group was the 24-man class in 2013 (No. 3 in Rivals), but this haul was the most ravaged with injuries. Wide receiver Robinson, tight end Mike Heuerman, defensive end Doug Randolph and linebacker Michael Deeb all had their football playing days ended because of major medical issues.
Running back Tarean Folston and quarterback Malik Zaire also had promising careers sidetracked in 2015 because of injuries, although Zaire will use his fifth season at Florida in 2017.
Receiver Torii Hunter Jr., after having his leg shattered prior to his freshman year in an all-star practice, took a vicious hit to the head in the 2016 opener. Although he had a fifth season available this season, he opted to pursue a baseball career instead.
Butkus Award winner Jaylon Smith incurred a severe knee injury during the 2016 Fiesta Bowl that dropped his NFL draft stock. It was maybe the most sobering reminder of all to any current football player — Notre Dame or elsewhere — about how fragile a football career can be, and to take advantage of the first opportunity to cash in financially.
2014 Recruiting Class
The 23-man class, this year's seniors, had Luatua as its first medical casualty, although running back receiver Justin Brent had a litany of medical problems, including a Lisfranc injury that sidelined him all of 2016. He has opted to transfer this summer after receiving his undergraduate degree.
Current captain Drue Tranquill suffered torn ACL injuries in 2014 and 2015, but started every game last year. Cornerback Nick Watkins returns after arm surgery in 2016 shelved him the entire season. Nose guard Daniel Cage also had to be monitored closely after sitting out all of last November because of a concussion.
Among current players most watched medically include junior cornerback Shaun Crawford (played one full game his first two seasons because of torn ACL and torn Achilles), junior defensive tackle Elijah Taylor (Lisfranc) and sophomore drop end Daelin Hayes (three shoulder surgeries in the past).