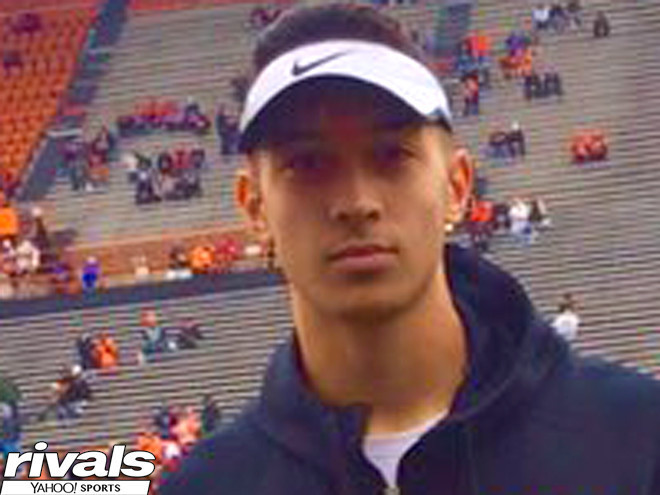 Corvallis (Ore.) Crescent Valley athlete Talanoa Hufanga included Notre Dame in his top 10 on June 1 along with Utah, Oregon, Alabama, Washington, USC, Michigan, Oregon State, UCLA and Nebraska.
Hufanga, the No. 6 athlete in the class of 2018 and No. 112 overall player in the country, is being recruited by Notre Dame as a safety and said even though he's yet to visit South Bend, the Irish made the cut because of the way the coaching staff has approached his recruitment.
"Since they offered I've been talking with Coach Elko and Coach Polian and learning a little more about the defense," Hufanga said. "That's what kind of separated them from other schools and go them in my top 10."
Polian and Hufanga have bonded during that process, and the four-star said he's been impressed with Polian's coach style and overall approach.
"He's a great coach," Hufanga said. "He's a player's coach and he knows what he's talking about. He's a great fit for what that school is trying to do and that's definitely helping them."

Ht: 6'1.0"
Wt: 194.0
Class: 2018
Commitment status:
undecided
Hufanga likes Notre Dame, no question, but before things can move forward seriously, he'll have to make a trip to South Bend.
The safety prospect said that will likely happen in an official capacity in the fall.
"I just want to see that the vibe is out there," Hufanga said. "I've never seen it in person, so I just want to see what it's like."
Even though he hasn't been to Notre Dame, Hufanga did say it's a place he feels like he could see himself down the road.
"Definitely," Hufanga said. "That's why they made it in my top 10. I'm undecided right now so I'm still trying to take a look and find that perfect fit, but I'd say right now they have a great chance."