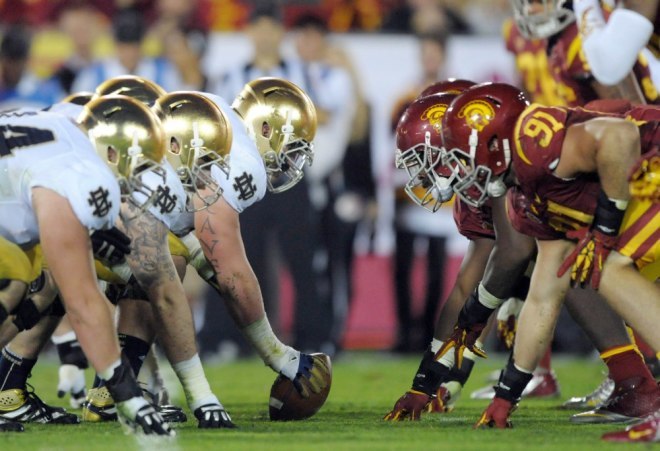 Don't miss out on any of our exclusive football, basketball and recruiting coverage. Click here to get your 30-day free trial!
By now, most Notre Dame followers are aware of the dubious record the Fighting Irish achieved last year in the fourth quarter.
Head coach Brian Kelly's troops lost a school-record five games — Texas, Duke, Stanford, Navy and Virginia Tech — in which they held a fourth-quarter lead. In a sixth contest, at North Carolina State, the game was tied 3-3 before the Wolfpack tallied the game winning touchdown off a blocked punt.
The natural reaction to such consistent complications is two-fold. Either the team is lacking in physical conditioning, or it lacks mental toughness/resolve while possessing too much of a "here we go again" demeanor.
What can be easily overlooked in that the previous six seasons from 2010-15, Notre Dame was No. 1 in the Football Bowl Subdivision with 13 victories after trailing in the fourth quarter. Prior to last year's meltdown, just one year earlier the Irish were exceptional at rallying in the fourth quarter:
• Notre Dame trailed 27-26 at Virginia when reserve quarterback DeShone Kizer connected with Will Fuller on a 39-yard score with 12 seconds left.
• USC held a 31-24 advantage going into the fourth quarter before the Irish won the fourth quarter 17-0 that featured 90- and 91-yard touchdown drives.
"Our theme all week was the mental toughness that we wanted to exhibit today, it was the one question we wanted to answer," Kelly said afterwards.
• A week later at Temple, another Kizer to Fuller TD pass with just over a minute left culminated a 75-yard drive in the 24-20 win.
• In the regular season finale at Stanford, the 10-1 Irish drove 88 yards for a touchdown with 30 seconds left to take a 36-35 lead. Alas, Stanford won 38-36, which might have precipitated the downward spiral in 2016.
In 2014, Notre Dame had three victories again in the fourth quarter when it made such late rallies against Stanford (17-14), North Carolina (50-43) and Navy (49-39).
The 9-4 team in 2013 that finished No. 20 had to stage fourth-quarter rallies versus Purdue (31-24) and Navy (38-34), with the latter a game that saw a Notre Dame school record nine lead changes. More notable is it defeated both Michigan State — the lone loss for the 13-1 Spartans — and Arizona State when the score was tied in the fourth quarter.
When Notre Dame reached the BCS Championship in 2012, it was 5-0 during the regular season in games decided by seven points or less. Against Stanford (20-13 in overtime), BYU (17-14), and Pitt (29-26, triple OT), it trailed in the fourth quarter, including 20-6 versus the Panthers.
In Kelly's first two seasons, there was one fourth-quarter rally to victory in both 2011 (15-12 at Pitt) and in 2010 (20-16 at USC).
The moral of the story is the 2016 problems in the fourth quarter were not endemic from previous seasons. In fact, Notre Dame usually had been proficient and resilient in the fourth quarter.
Much can change from one year to the next — as 2016 certainly proved. It can reverse course just as well in 2017.