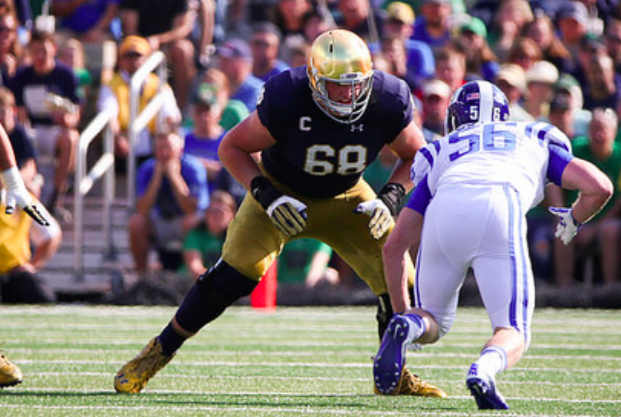 Sports Illustrated continues its countdown to releasing the top college football players in the country for the 2017 season. In its latest release Notre Dame senior left tackle Mike McGlinchey checked in as the No. 47 player in the land.
McGlinchey enters the season with 26 career starts, earning third-team Associated Press All-American honors after last season. Pro Football Focus graded McGlinchey as the fourth best returning run blocking offensive tackle in the entire country.
Sports Illustrated had this to say about McGlinchey:
"When McGlinchey said midway through last season that he intended to return to Notre Dame as a senior instead of leaving school early for the NFL draft, it seemed too good to be true for the Fighting Irish. But McGlinchey followed through on that declaration, and the result should be a boon both for him and Notre Dame.
McGlinchey could settle the debate over college football's best offensive tackle in his favor, and his bruising work up front will pave the way for an improved running game following a season in which the Irish registered an average of only 4.47 yards per rush, good for 62nd nationally."
Notre Dame junior wide receiver Equanimeous St. Brown was ranked as the nation's 85th best player in the first release of the rankings. Expect senior left guard Quenton Nelson to be the last Notre Dame player to make the list, although his ranking has yet to be revealed.
Sports Illustrated has released its ranking for players 40 to 100. For the full list to date click HERE.