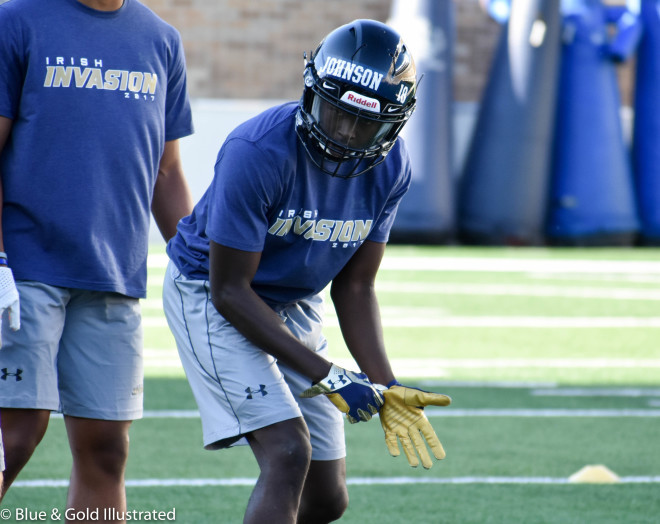 Notre Dame's need for cornerbacks in the 2018 class has been well documented after the Irish struck out at the position in the previous cycle.
The Irish are in position to potentially land a talented player in Indianapolis North Central product D.J. Johnson who is down to Notre Dame and Iowa in his recruitment.
Johnson made it to both programs this past month with South Bend being on the schedule for Irish Invasion. The 6-foot, 170-pounder worked out in front of the Irish staff and toughed through an ankle injury.
All glory to god! #swarm18 🐧 #GoIrish 🍀 pic.twitter.com/LRbGtbTk3S

— DJ JOHNSON (@DjJohnson1127) June 26, 2017
For Johnson, the latest trip to Notre Dame was about building relationships with the Irish staff which was accomplished. He also spent time around Irish commits who attended the event as well including fellow Indianapolis product Markese Stepp and Jayson Ademilola and Justin Ademilola. For more on Johnson's visit CLICK HERE.
Notre Dame did well during Johnson's latest visit and will continue to battle the relationships Johnson has built with the Iowa staff. That was the sticking point for Johnson upon receiving his Irish offer after contact between the two sides fell off last fall. Those relationships appear to be growing with defensive coordinator Mike Elko and defensive backs coach Todd Lyght following the visit.
Johnson would be a welcomed addition to the Notre Dame 2018 class according to Blue & Gold Illustrated football analyst Bryan Driskell.
"The state of Indiana doesn't produce cornerbacks like D.J. Johnson very often, and Notre Dame is working hard to keep him in state," Driskell explained. "Johnson is a good size corner (6-0) with long arms, and he's a physical tackler. He's an instinctive player that uses his quickness and football IQ to get his hands on a lot of passes.
"He will be a force in the run game, but he handles himself well in coverage. Johnson is a nimble athlete that stays light on his feet and transitions well on vertical routes. The North Central defender is effective playing off coverages but also has the quickness and physicality to come up and press."
Johnson recently told HawkeyeReport.com after a visit to Iowa that a decision could possibly occur at the end of the summer. Johnson is ranked as the No. 5 player in Indiana.