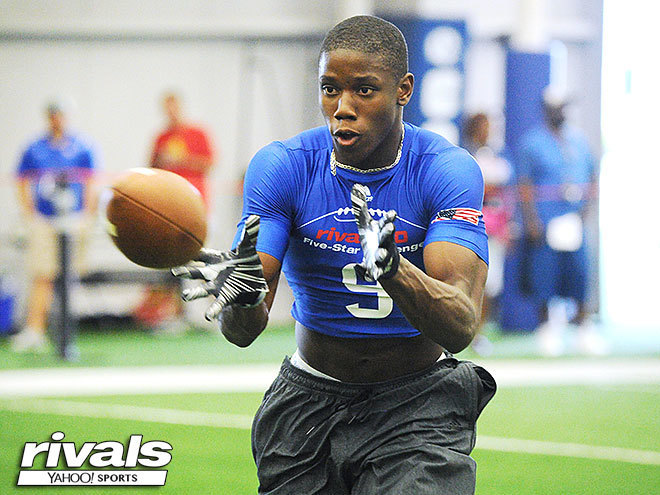 Coconut Creek (Fla.) North Broward Prep wide receiver Kevin Austin doesn't have much left to prove.
Austin is already regarded as one of the best players in the country, rated by Rivals as the No. 28 receiver in the class of 2018 and No. 141 overall player in the nation.
Austin will have an opportunity to show why he deserves those rankings this week when he heads to Beaverton, Ore. to compete in Nike Football's The Opening Finals.
The four-star is a big-time competitor, and is looking forward to another opportunity to put his skills on display.
"I'm very excited," Austin said. "I just want to go out there and show that I can compete with the best of the best."
Coming from Florida, Austin is certainly used to facing off against some of the nation's top high school football talent.
That experience, Austin said, will help him tremendously when he arrives in Oregon.
"Down in Florida, I feel like we have the best talent," Austin said. "Competing against guys from other states will be really good. It's going to be great, and it's going to help me get better."

Ht: 6'3.0"
Wt: 185.0
Class: 2018
Commitment status:
undecided
Events like The Opening and the Rivals Five-Star Challenge are a blast for recruits to attend, but when it comes down to it, Austin said it's all about business.
"I want to work on my technique that I've been training throughout the season and the summer," Austin said. "And go out and dominate."
Austin snagged his invite to the event after a strong showing at the Miami Regional. Getting invited, Austin said, was a lifelong goal.
"All the hard work that I put on throughout the year was able to get me to this stage," Austin said. "I've been wanting to go to The Opening since I was younger and watching it on TV."
Players from all over the country will attend the event, and states like Florida, California, Texas and the other fertile recruiting grounds will be well represented.
However, Austin said he knows which state will look the best coming out of the event.
"Florida," Austin said. "All the way."