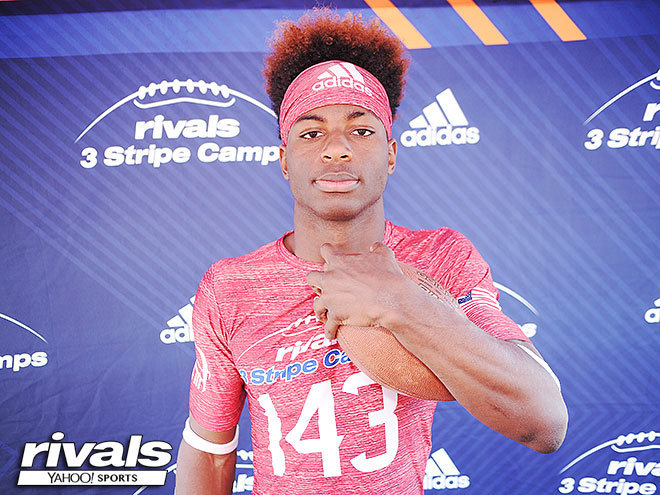 Notre Dame hosted its Lineman's Challenge camp this past Saturday and welcomed some of the nation's top offensive and defensive linemen to South Bend for the opportunity to work out in front of the Irish coaching staff.
Some players earned offers following the camp including talented 2019 prospects Rodas Johnson out of Lewis Center (Ohio) St. Francis DeSales and Metuchen (N.J.) St. Joseph's four-star offensive tackle John Olmstead.
Other players hope to parlay their performance into an offer down the line which includes Fishers (Ind.) Hamilton Southeastern defensive end Madison Norris.
"It was great," Norris said of the camp. "I dominated all of the 1-on-1s. I was able to show off my hand technique, speed and explosiveness during the camp."
The 6-foot-5, 200-pounder has been to Notre Dame before, but this trip was different.
"I had something to prove at the camp," Norris explained. "I wanted to prove to them I am the best weakside defensive and worthy of my ranking in Indiana. I am not the traditional big defensive lineman, but with my track speed and strength I can my own against the best."

Ht: 6'5.0"
Wt: 200.0
Class: 2018
Commitment status:
undecided
Norris was able to talk with defensive line coach Mike Elston following the camp. His performance piqued the interest of the Irish staff.
"They said they loved my performance," Norris said. "They are very interested and said they are going to keep in touch."
The process with the Irish will continue to Norris as he heads toward his senior season. He plans to return to Notre Dame this fall for a game.
"I want to see the campus more," Norris said of his next trip to South Bend. "I haven't seen much, so I want to see it more."
Notre Dame would jump right into the mix for the talented edge rusher if an offer came his way. As a junior, Norris recorded 67 total tackles (42 solo) including 10 tackles for loss and eight sacks. He also scored a touchdown on a fumble recovery.
"I think it's a very prestigious school and a school I'd really like an offer from," Norris explained to Blue & Gold recently. "An offer would mean a lot. It's a great school and a great football program."
Louisville, Tennessee, NC State, Pittsburgh, Minnesota, Illinois, Indiana, Purdue, Missouri, Rutgers and Cincinnati are among the offers for the rising senior. He mentioned recently that Indiana, Purdue, Missouri, Cincinnati and Rutgers as the programs recruiting him the hardest.
Norris is ranked as the No. 31 weakside defensive end in the 2018 class and the No. 10 player in Indiana.