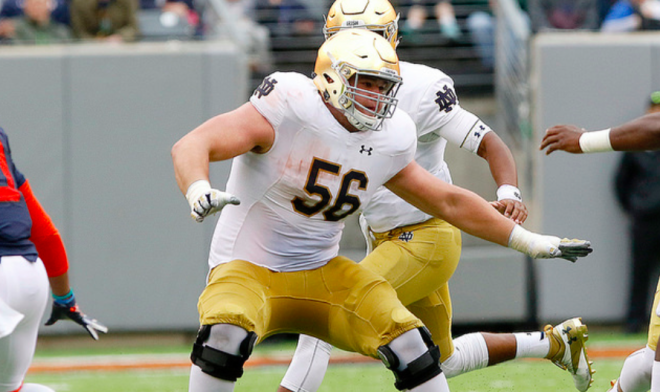 Notre Dame has its third player in the Sports Illustrated Top 100 as left guard Quenton Nelson has checked in as the nation's No. 27 player.
Nelson was named a second team All-American by Sports Illustrated following the 2016 season, so it's no surprise he is held in such high regard entering the 2017 season.
The 6-5, 329-pound senior emerged as a dominant run blocker in 2016, and his pass blocking continues to improve. With 23 starts under his belt the expectation is that Nelson should be one of the top linemen in the country this fall.
Here is what Sports Illustrated had to say about the Irish big man:
"Nelson is one of two offensive linemen projected as early-round picks in next year's draft who decided to return to Notre Dame for another season instead of jumping to the NFL. With Chip Long replacing Mike Sanford at offensive coordinator, the details of Nelson's responsibilities on a down-to-down basis could change somewhat, but his basic charge remains the same, and it's one Nelson has shown he can do with remarkable effectiveness: knocking back defensive linemen at the line of scrimmage.
"The Fighting Irish will rely on Nelson's interior mashing to keep new starting quarterback Brandon Wimbush's pocket clean and pave the way for a rushing attack that dipped to 62nd nationally in yards per carry last season from eighth in 2015."
Nelson was joined in the Top 100 by the man who will line up to his left this season, senior left tackle Mike McGlinchey, who was rated the No. 47 player. Junior wide receiver Equanimeous St. Brown checked in at No. 85 after leading the Irish in catches (58), receiving yards (961) and receiving touchdowns (9) last season.