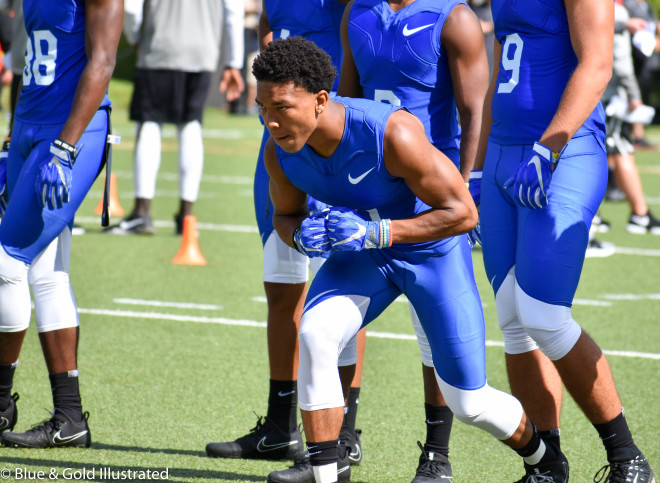 There have been three practices so in the 2017 Opening Finals, and two of them have been open to the media.
BGI is in Beaverton, Ore. to cover the event, and attended practices on Thursday and Friday.
The two practices have featured participants at the quarterback, wide receiver and tight end position, and several Notre Dame targets have stood out among the crowd.

Notre Dame
Naples
RR: 5.8
Ht: 6'6.0"
Wt: 235.0
Class: 2018
The Irish commit moved well during the first two practices opened to the media. Though against air, Takacs ran routes better than expected given his size at 6-foot-6, 235 pounds. He is a massive target in the middle of the field and can work underneath zones, but could also stretch the field vertically some and win jump balls.
Takacs is more of a traditional tight end and will likely continue to grow into a frame which should allow him to gain 15 pounds or so as he enters Notre Dame's strength and conditioning program. The Rivals250 talent said Notre Dame is the place to be for tight ends.

Ht: 6'1.0"
Wt: 187.0
Class: 2018
Commitment status:
undecided
Santa Ana (Calif.) Mater Dei wide receiver Amon-Ra St. Brown is arguably the best wide receiver at the event, and could very well be the best player at The Opening.
St. Brown is more than deserving of his five-star status. The nation's No. 1 wide receiver and No. 4 overall player runs crisp, clean routes, and makes acrobatic catches effortlessly.
The five-star lacks ideal size, but still manages to grab the ball at it's highest point. St. Brown is a fierce competitor and a natural-born football player, which is why he's a five-star and why he is Blue And Gold's No. 1 receiver in 2018.
Notre Dame will likely get an official from St. Brown, which will be an important step in his Irish recruitment.

Ht: 6'3.0"
Wt: 185.0
Class: 2018
Commitment status:
undecided

Ht: 6'5.0"
Wt: 185.0
Class: 2018
Commitment status:
undecided
Another big-bodied receiver at the event with some Notre Dame buzz surrounding him is four-star Tommy Bush of Schertz (Texas) Clemens.
Bush, the No. 2 receiver on BGI's big-board, is a huge target 6-foot-5, 185 pounds, who also possesses outstanding speed. Bush has looked solid in practice so far, and should have a big weekend of 70n7 ahead.
During the first two days of practice, BGI was able to collect VIP recruiting nuggets on both Bush and Austin, both of whom have Notre Dame in the mix.

Ht: 6'6.0"
Wt: 225.0
Class: 2018
Commitment status:
undecided
Ruckert has been the top tight end at the event through the first two sessions open to the media. Takacs is likely No. 2, but everyone is chasing Ruckert for top spot at the position.
The Long Island product is quite the athlete at the position and possesses great body control for somone his size. It's easy to see why he is regarded as one of the top players in the country at the position even though he is still maturing. Ruckert also has great ball skills and will be a very nice weapon for whichever program he ultimately chooses. Ohio State is the perceived favorite.

Ht: 6'1.0"
Wt: 175.0
Class: 2018
Commitment status:
undecided
Babb is another player who has performed well in the time Blue & Gold has been able to see the wide receivers perform during early practices. At 6-foot-1, 175-pounds, Babb is much more physically imposing in person and on the field.
The St. Louis product is very explosive which makes him difficult to guard one-on-one and in open space. That explosiveness is part of why he is regarded as one of the top wide receivers in the country and goes well with his solid size.
Notre Dame continues to push and Babb is considering taking an official visit to South Bend and the Irish will need that visit to try and overcome Ohio State, the perceived leader).