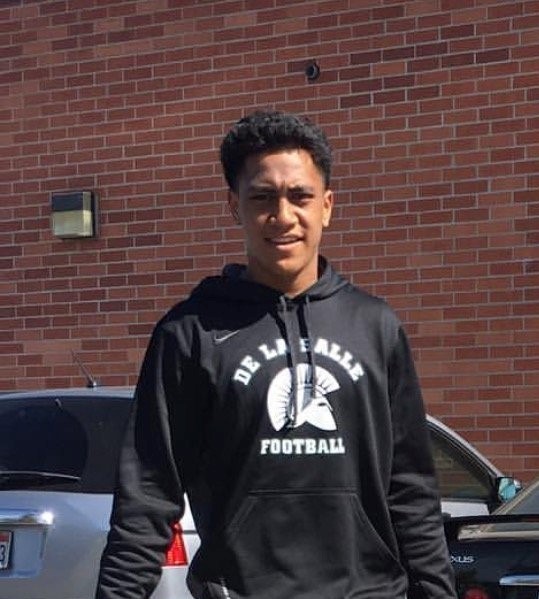 Concord (Calif.) De La Salle 2019 linebacker Henry To'oto'o is plenty familiar with Notre Dame.
To'oto'o, a four-star prospect who picked up an offer from Notre Dame earlier this month, said one particular former Irish player came to mind when he started hearing from the coaching staff.
"The biggest thing for me is Manti Te'o," To'oto'o said, adding that he's well aware of the academic prowess at Notre Dame. "I also know they're one of the best schools in the country."
The 6-foot-2, 210-pound To'oto'o said he's been communicating with Notre Dame for a while, and was just waiting on the offer to eventually come.
When that finally happened, the young four-star said he was elated to add it to his list.
"Coach (Brian) Polian came to De La Salle and sort of talked about an offer," To'oto'o said. "I want to say it was expected, but it still came as a total blessing."
With the offer, Notre Dame joins a long list of schools that are already going hard after To'oto'o.
Ht: 6'2.0"
Wt: 210.0
Class: 2019
Commitment status:
undecided
Arizona, California, Colorado, Oregon, UCLA, Washington and Washington State have all offered, but To'oto'o said the Notre Dame offer is truly special.
"That's probably the biggest school I've gotten so far," To'oto'o said. "It's pretty great to know that one of the top schools in the country is actually taking the time to look at me."
Going forward, To'oto'o will undoubtedly be one of the most highly recruited linebacker prospects in the coutry.
Even so, To'oto'o is staying humble, and admitted that the simple fact that Notre Dame is interested in him is huge.
"It's crazy," To'oto'o said. "It's truly a blessing. I know the atmosphere there is live and stuff like that. It's just truly a blessing."