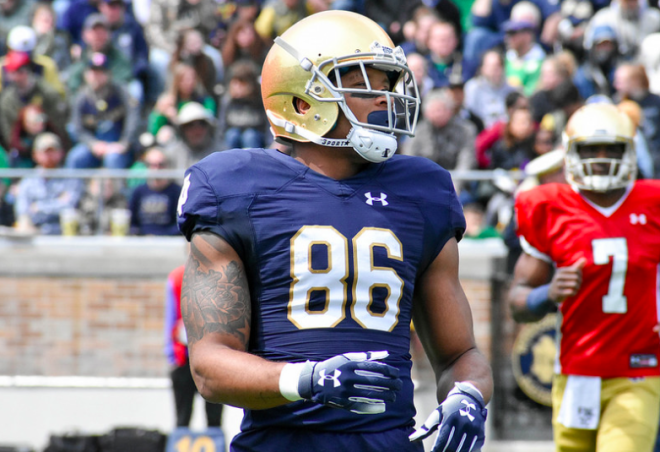 In head coach Brian Kelly's first four years at Notre Dame the tight end position was a key component in the offense. Production has faded in recent seasons but expectations are that Notre Dame's tight end position will bounce back in a big way in 2017.
Despite producing just 12 catches in 2016 the Fighting Irish have two tight ends on The Mackey Award Watch List. The Mackey Award is named after former Syracuse and Baltimore Colts Hall of Fame tight end John Mackey and is given to the nation's top tight end.
Notre Dame senior Durham Smythe and junior Alizé Mack were both named to the 2017 watch list. It is the second time Mack has been named to the list and the first time for Smythe.
Mack hauled in 13 passes for 190 yards as a true freshman in 2015, showing the potential to eventually develop into one of the nation's top tight ends. After having the pass game built around his skills in the spring of 2016, Mack was suspended in the fall.
The Las Vegas native came back in the spring with a positive attitude and a much-improved game. Mack was a matchup nightmare for the Irish defenders and projects to be the same for opponents this season.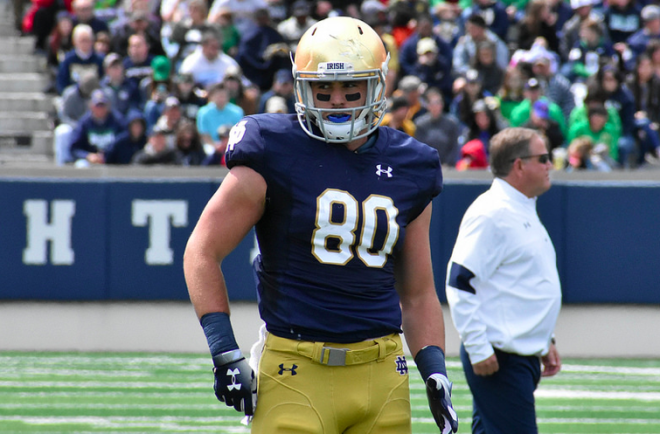 Smythe has just 13 career receptions but like Mack a strong spring has him poised for a potential breakout. Smythe isn't as explosive or dynamic as Mack, but he's a solid all-around player that can handle himself on the edge in the run game and can split out wide in the pass game.
The Mackey Award was first presented in 2000, and former Irish standout Tyler Eifert became the first and only Notre Dame player to win the award, which he did after the 2012 season.
Notre Dame is one of only four schools to have two tight ends on the list. Louisville, Minnesota and Wisconsin also had two players named to the Watch List.
Nine Notre Dame opponents were named to The Mackey Award Watch List. Tommy Sweeney of Boston College, Isaac Nauta of Georgia, Christopher Herndon IV of Miami (Fla.), Ryan Smith of Miami (Ohio), Cole Cook of NC State, Brandon Fritts of North Carolina, Dalton Schultz of Stanford, Daniel Imatorbhebhe of USC and Cam Serigne of Wake Forest were all named to the list.