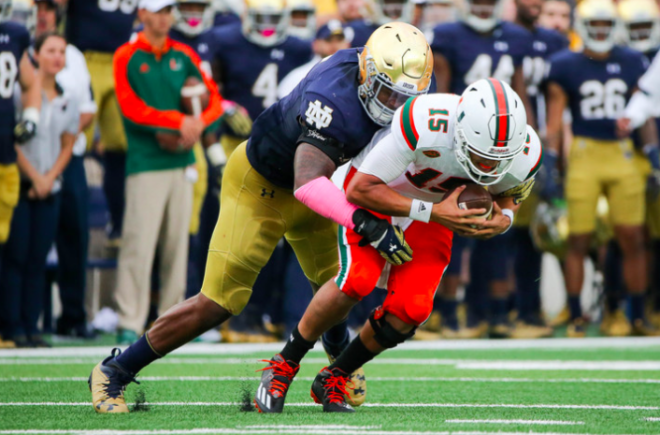 Notre Dame senior linebacker and captain Nyles Morgan is expected to have a strong final campaign in South Bend, and he continues to find himself on the preseason watch list for some of the nation's top defensive honors.
The most recent is the 2017 Bronco Nagurski Trophy, which goes to the nation's best defensive player. Morgan is one of 103 players on the list for the award, which was named after former University of Minnesota and Chicago Bears standout Bronco Nagurski, a member of the College and Pro Football Halls of Fame.
Morgan was recently nominated for the Bednarik Award for the third time, but this is the first time he was on the watch list for the Nagurski Award, which has been given out annually since 1993. It is expected that he will build on his team-leading 90 tackles and four sacks from 2016.
Former Notre Dame great Manti Te'o won the award in 2012 and is the only Irish player to earn the honor. Past winners include all-time greats like defensive tackle Warren Sapp (Miami, Fla.), cornerback Charles Woodson (Michigan), cornerback Champ Bailey (Georgia), defensive end Terrell Suggs (Arizona State), defensive tackle Ndamukong Suh (Nebraska), linebacker Luke Kuechley (Boston College) and defensive tackle Aaron Donald (Pittsburgh).
Last year's winner was Alabama defensive tackle Jonathan Allen, who went on to be selected by the Washington Redskins in the first round of the 2017 NFL Draft.
Fifteen players on Notre Dame's 2017 schedule also made the list. USC had three selections; linebacker Cameron Smith, cornerback Iman Marshall and defensive tackle Rasheem Green. Miami (Fla.) also had three selections; defensive tackle Kendrick Norton, linebacker Shaquille Quarterman and defensive end Chad Thomas.
NC State had two selections up front, with end Bradley Chubb and defensive tackle B.J. Hill earning nominations to the watch list. Also on the list was Boston College end Harold Landry, Stanford cornerback Quenton Meeks, Temple cornerback Sean Chandler, Wake Forest end Duke Ejiofor, Navy linebacker Micah Thomas, Miami (Ohio) cornerback Heath Harding and Georgia defensive tackle Trent Thompson.
The ACC led all conferences with 20 selections. There were 30 defensive backs, 29 linebackers, 25 defensive ends and 19 defensive tackles on the list.
Former Notre Dame great Ross Browner, a defensive end that was a two-time All-American for the Irish (1976-77) will be honored at the ceremony recognizing the 2017 winner of the Nagurski Trophy.