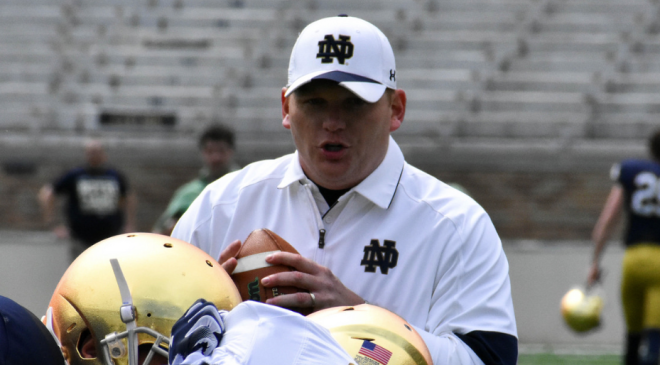 During the glory days of Notre Dame football it was the run game that fueled offensive success. That might be why Notre Dame fans hoping the program ends its 28-year championship drought seem to obsess over the run game more than most.
They aren't the only ones who love a good run game. Add Notre Dame offensive coordinator Chip Long to that list. From the moment he was hired by head coach Brian Kelly, the 34-year old coach has done nothing but talk about his talented offensive line, deep stable of tight ends and desire to run the ball.
When Blue & Gold Illustrated sat down with Long this summer to talk about the upcoming season for the 2017 Football Preview, it's no surprise that Long continued to make the run game a hot topic. So was the quarterback position.
Here's just some of what Long discussed:
Blue & Gold Illustrated: If you were giving a clinic talk and had to explain your core offensive philosophy, what would you say?
Long: "We're going to be a pro-style, run, play-action team. I'm a firm believer in getting the ball in our best playmakers' hands, and how many that might be I don't know. But the guys making plays are going to get the ball in their hands in whatever ways we have to do it, and we're going to do it.
"Everything starts with our quarterback and then our offensive line and then everybody else, but we're going to do what our quarterback does well and put him in position early to have some success so he can go out there and put on a show.
"Very aggressive and we're going to play at tempo, but we're going to run the ball, be a very physical team and then be aggressive when it comes to shots and going down field."
BGI: You've talked in the past about establishing the run game; why is it so important to run the football effectively?
Long: "It sets up everything. Obviously by being able to play tempo and you're able to run the ball, it's that many more plays we can force our physicality on the defense, wear the defensive line down, force them to bring the safeties up, maybe get them into more man coverage by adding a guy into the box.
"We want teams to play us man; if I'm a wide receiver I want man, because it gives me an opportunity for big plays. Teams might want to pressure us more — which is great, bring it on — it's a chance for us to make even more plays.
"It's a mentality that when it's third-and-short, game on the line, big games, we know we can do it. We're not having to get into a whole brand new formation we don't practice every day to get a third-and-one.
"… If you can run your first-and-10 offense on third downs you're going to be a lot more efficient on third down. That's the mentality we want to have on offense."
BGI: The last time we saw Brandon Wimbush take a meaningful snap he was winning a state high school championship in New Jersey. How has he progressed as the lead man?
Long: "I've seen great growth in Brandon. Before he tried to please everybody, but we told him we have enough veteran leadership you focus on being the best that Brandon Wimbush can be, and I think that calmed him down.
"In the spring game we wanted it as much like a game as possible, that's why I tried to throw it every down, because he needed that experience. He needed to get out there and quite frankly to get humbled so he could come out this summer and really kick it into another gear, which he has.
"That's what I'm really excited about because he's more confident, he's bouncing around better, really doing well in competition drills, taking his game to another level.
"Win the team over with your work ethic, we don't need you to be a rah rah guy — that can come with time — and I think he's embraced that and doing a really good job with that.
"We're going to be able to do a lot of things with him. He's a great young man. I'm really excited to see what all he does."
That is just a sample of what Long had to say, as there were several more questions that were asked and the Irish offensive coordinator was very candid in his responses.
We talked more about the run game, the offensive line and Wimbush. Other topics included the loaded tight end position, his up-tempo offensive philosophy, the wide receivers and how important matchups are to an offense.
To read the rest of the interview be sure to get the 2017 Football Preview.
To order a hard copy of the magazine through the mail CLICK HERE.
For a digital version that will arrive in your email immediately, CLICK HERE.