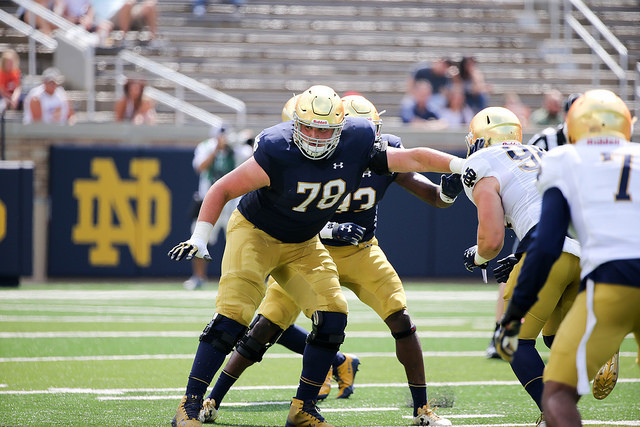 Don't miss out on any of our exclusive football, basketball and recruiting coverage. Click here to get your 30-day free trial!
Offensive linemen tend to get overshadowed when it comes to publicity. For Notre Dame sophomore right tackle Tommy Kraemer, that relative anonymity has reached an even higher level.
Among the 22 projected Fighting Irish starters on offense and defense for this Saturday's opener against Temple, 21 have met with the media this month, as have several others who will have extensive reserve roles.
The lone wolf who has not is Kraemer, who also was not made available this spring while vying for the one offensive line position that was up for grabs against Liam Eichenberg, his classmate.
When Kraemer seized control of the starting spot earlier this month, Eichenberg was shifted to left tackle to begin grooming as the potential 2018 heir to fifth-year senior Mike McGlinchey.
Everyone else along the No. 1 offensive line started at least all 12 games last season, leaving Kraemer again as the proverbial lone wolf or the perceived "weak link" along a front wall that has been ranked among the nation's top 10, and even No. 3 by Lindy's, behind only Alabama and Oklahoma.
In addition, unless sophomore running back Tony Jones Jr. is inserted as a starter in a two-man backfield (as was the case in the Aug. 20 open scrimmage at Notre Dame Stadium), Kraemer will be the lone starter on offense or defense for Notre Dame this Saturday who has yet to take a single snap in a college football game.
Fortunately, the track record under head coach Brian Kelly for such offensive linemen — redshirted as freshmen and an opening-game starter as a sophomore —has been extraordinary.
• In Kelly's first season (2010), Zack Martin went from redshirt freshman in 2009 to No. 1 left tackle, and started there a school record 52 straight games. The first-round selection has been in the Pro Bowl all three seasons in the NFL — and All-Pro twice.
• In 2013, Ronnie Stanley stepped in at right tackle for the opener after redshirting as a freshman. He would start every game the next three seasons and, like Martin, become a first-round pick.
• In 2015, sophomore guard Quenton Nelson won the vacated left guard spot over classmate Alex Bars (much like the Kraemer-Eichenberg competition this year at right tackle), and now he is projected on many an NFL Draft board or mock drafts as the nation's No. 1 guard.
Next to Nelson, nobody on the 2017 Notre Dame roster ranked higher than Kraemer in Rivals.com's ratings of the nation's best players coming out of high school. Nelson was rated No. 29 in 2014, while Kraemer was No. 41 when he enrolled last year.
Thus, this is hardly an issue about Kraemer's talent or capability to excel at the job. In fact, Bars was moved from his starting spot last year at right tackle to right guard to make room in the starting lineup for the 6-5 ½, 314-pound Kraemer.
Usually, the modus operandi for sixth-year Notre Dame offensive line coach Harry Hiestand has been to try to place a new starter between veterans. For example, when Nelson was inserted at left guard in 2015, he was sandwiched in between first-round tackle Stanley and second-round center Nick Martin.
This year, Kraemer could have been at right guard between veterans Bars and senior center Sam Mustipher. However, Kraemer has instead worked at tackle under Hiestand, while Bars (who has also started at guard in 2015) has served as a mentor to Kraemer on the right side.
"We've been working through a lot of stuff and figuring it out together," Bars said.
Kraemer's run-blocking skills have received high marks, but the question centers on how well he will play in space — which was compounded by sophomore drop end Daelin Hayes' outstanding spring game performance as a pass rusher while often matched up against Kraemer.
This year, Notre Dame opponents with premier edge players such as Boston College's Harold Landry (16 sacks last year), North Carolina State's Bradley Chubb (15.5 career sacks), the Georgia tandem of Lorenzo Carter and Davin Bellamy, among others, likely will attempt to exploit Kraemer's inexperience.
Back in 2014, another sophomore Irish offensive lineman, Steve Elmer, began the season at right tackle after starting a few games as a freshman guard. A quarter of the way through the campaign, the staff shifted him back to guard, where he was more effective than working in space.
Regardless, plenty of confidence remains in Kraemer's skills.
"Tommy Kraemer needs to worry about Tommy Kraemer and play within himself and stop getting all worked up about things that are out of his control," McGlinchey said. "It's the same things I dealt with when I was his age."
With McGlinchey, though, he didn't even start his first game until the finale of his sophomore year, the 31-28 Music City Bowl versus LSU — also at right tackle. He graded out well in that debut, and he can envision similar prosperity down the road, if not sooner, for Kraemer.
"The way our team practices and the way our coaches coach, there's a lot less stress on Saturdays, because you're so prepared and so ready to play there's a lot less to worry about," McGlinchey said.
The growing pains are inevitable for a first-time sophomore starter along the offensive line. It's a matter of limiting the snafus, or helping mask them, with a seasoned supporting cast.
"We just need to have his great traits flash a little bit more, and they're getting there," Kelly said of Kraemer.
The stage is prepared for Kraemer, even minus the publicity. The performance will do the talking.