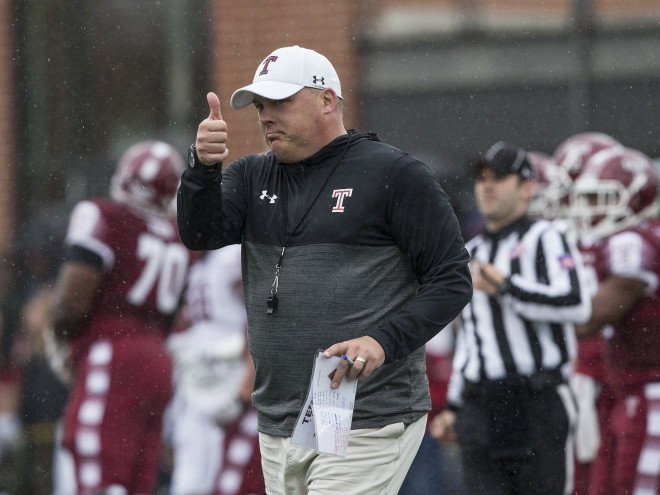 Temple will travel to Notre Dame this weekend to begin the Geoff Collins era. It's the second straight Owl head coach to begin his career in Notre Dame Stadium.
Collins spent the last two seasons as the defensive coordinator at Florida, which followed a four-year stint during which he was in charge of the Mississippi State defense. Temple had a competitive camp, and the coach believes his team is ready.
"It's been a great preseason," Collins said during a Monday teleconference. "We've got a tough group of kids; they're physical, they love playing football, they're disciplined.
"We had a lot of bonding opportunities during preseason; the team came really, really close together."
Collins said all the right things about beginning his career against the Irish.
"It's always exciting to start the season with such a legendary program … in an environment that is one of the most storied environments in college football history," Collins said.
The new Temple head coach heaped a great deal of praise on the Notre Dame offense.
"I think they're a complete offense," he stated. "They've got some really, really good receivers. One of them has really good speed [Cameron Smith], the other one has really good height and ball skills [Equanimeous St. Brown].
"They've got an experienced offensive line, do a great job with pass pro, handling movement and then they're really good run blockers."
Collins saved his greatest praise for Notre Dame junior running back Josh Adams, who went to high school less than an hour away from the Temple campus.
"The tailback [is a] really, really good player," Collins said. "Explosive, physical, he's a big back, but he can still make home run type runs."
He wasn't done heaping praise on Notre Dame.
"Two tight ends that I think are on every single tight end watch list," the Temple head coach noted. "Then a quarterback that's a dynamic playmaker. I think all around offensively they've got dynamic playmakers across the board and then they've got a physical offensive line."
Notre Dame junior quarterback Brandon Wimbush will be making his first start on Saturday, and Temple's quarterback will be doing the same. Who that quarterback will be remains to be seen.
Collins would not say what signal-callers are in the competition at this point, but it would appear that redshirt junior Frank Nutile and redshirt sophomore Logan Marchi are the two battling it out for the starting spot.
"There's two quarterbacks that are getting most of the reps, but then we are also working specialized packages," Collins explained. "Some pretty unique things with some other guys, so it's going to be exciting."
Freshman quarterback Todd Centeio has been the talk of fall camp with many covering the Owls, and he seems to be the player Collins was alluding to when talking about a quarterback getting a special package.
Regardless of who starts, the coach said his team is preparing to do what it takes to make whoever starts at quarterback successful.
"The team is rallying around the [quarterbacks]," Collins said. "I know our wide receiving corps, our offensive line, our running backs and tight ends want to do their part to make sure that we complement whoever's under center throughout the game."
All three quarterbacks believed to be in competition for the starting spot have different strengths. The head coach believes his offensive coordinator, Dave Patenaude, has the experience needed to tailor his offense to fit each of their unique skill sets. Collins noted that injuries forced Patenaude to use seven different quarterbacks in 2016 while at Coastal Carolina.
"His experience of the type of defense you're playing, the way the team is setting up throughout the year, his experience using different guys is huge," Collins explained. "I think the way our guys are preparing … like they're going to play the entire game, like they're the guy, and I think the development of a player accelerates when every kid in the program thinks that way. … We want every single one of our kids preparing and getting ready like it's their shot."