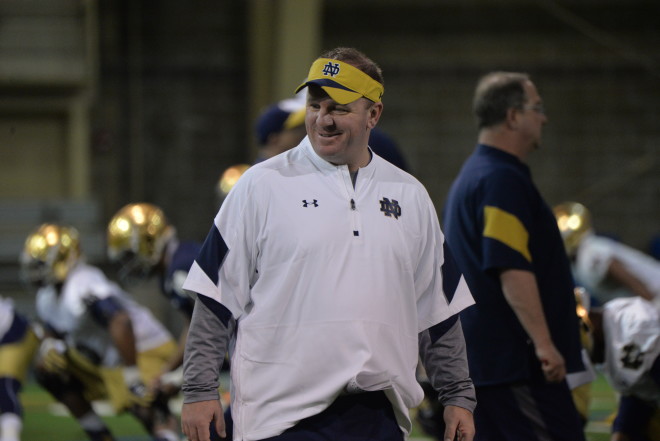 Notre Dame will open its 2017 season against Temple in just four days looking to get off on the right foot.
Defense is a big question mark for the Irish after last season's performance and the hire of Mike Elko. Head coach Brian Kelly likes the approach the unit has taken this season under Elko in reinforcing what Kelly feels are the "basic tenets" of playing good defense: stopping the run, limiting big plays and ball disruptions.
"If you just came to our practice, you would see those three things being drilled at nauseam," Kelly stated during today's press conference. "You'd look at the defensive practice field, and you'd see guys mirroring the off hand of the quarterback, working on stripping the football, run support lanes, tackling and run fits. All of the things that I just mentioned, you can talk about them, they sound great [and] they're great sound bites, but you better do something every single day to develop that.
"What Mike does, he drills that every single day and builds that within the practice schedules. I've even had to adjust our practice schedules to make certain that we get that time in the schedule, so he can drill that to the point where he feels comfortable that we're getting to that fundamental kind of football."
Elko's defense and its performance will be dissected early in the season.
ALOHI GILMAN ELIGBILITY
The Irish were hoping to get some help on the backend of their defense with Navy transfer Alohi Gilman who was hoping to be granted a waiver by the NCAA in order to play this season. Gilman's waiver has been denied by the NCAA, and Kelly is uncertain whether an appeal will be issued.

"We are still in the process of deciding whether to appeal that or not," Kelly said. "We haven't made a final decision on that …
"We obviously feel as though we've got some information that we would like the NCAA to see. I don't make that decision. Our athletic director and senior associate would make that final decision. But I think we have some information that we probably would like to share."
Notre Dame will move forward without Gilman and determine if an appeal is the right course of action.
DEFENSIVE ROTATIONS
Kelly also discussed his defense's depth, and he expects the unit to make use of that this season. He mentioned a couple players specifically, but feels there are players on each level that will make an impact beyond the listed starters.

"Yeah, 11 guys playing 85 snaps is not the kind of defense that we're about," Kelly stated. "I'll give you an example of Andrew Trumbetti. Can play either end position for us, so right away he's a guy that comes to mind as somebody that's going to be sharing both sides of that.
"Te'von Coney obviously with Greer [Martini]. I think we can talk about more than two corners being on the field. We mentioned the two freshmen are going to have to play a role in the defensive line rotation … Just right there, you're talking about 15, 16 defensive players immediately having to be in a rotation."
Temple will be the first opportunity for players looking to carve out more of a role on the defense as the season progresses.
FRESHMEN DEFENSIVE TACKLES
Part of that defensive rotation will feature freshmen defensive tackles Kurt Hinish and Myron Tagovailoa-Amosa who were listed as the No. 2 at the nose guard and defensive tackle positions respectively.

Kelly expressed their roles aren't large, but the freshmen duo will certainly contribute this fall.
"I mean, we're not talking about 50 plays here," Kelly said. "We're talking about a role that we believe that they can fulfill for us, and they have handled it because they have the physical ability to go in there and compete. They're strong. They possess the mental capability to handle what we're throwing at them in terms of picking up the coaching techniques.
"I think, quite frankly, we're not asking them to play 40, 50 plays. These are small roles that we're going to ask them to play, and we think that they can handle that type of role that we're prescribing for them."
Hinish and Tagovailoa-Amosa beat out two juniors to earn the No. 2 spots at their positions. The interior will continue to be a battle.
JULIAN LOVE
The sophomore cornerback has impressed throughout the media viewing periods of fall camp, and Kelly has been impressed with what he's seen from Love this fall.

But Love is also making waves off the field which has caught Kelly's attention as well.
"He has been so productive in the weight room as well," Love said. "We did some speed squats yesterday, which is a real indicator of where you are in terms of neuromuscular firing. In other words, a lot of you people understand what I'm talking about, but it's the ability to fire quickly. Stick your foot in the ground after 25 practices, you tend to slow down a little bit. He's increased by about 22 percent in that area …
"So, we're hitting a young man who's just physically continuing to develop, and that is also translating into his play. So, we're just getting a young man who's physically growing, maturing, and he's already had those character traits to play at such a young age. We're just really blessed that we've got a young man that has it all together right now."
Love recorded 45 tackles, one interception and three passes defended playing all 12 games last season as a freshman.