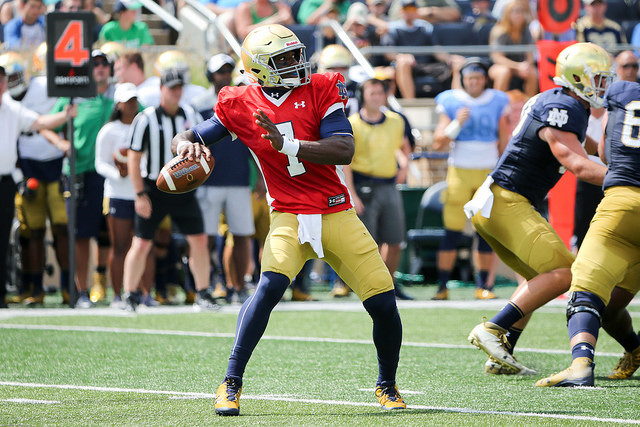 Don't miss out on any of our exclusive football, basketball and recruiting coverage. Click here to get your 60-day free trial!
Many probably didn't expect renowned psychologist and author Angela Duckworth to receive mention at Tuesday afternoon's Notre Dame football press conference, but that's who head coach Brian Kelly referenced when asked what characteristic he most values in quarterback Brandon Wimbush.
It also provided some insight into Kelly's mantra since the end of last year's 4-8 meltdown about the premium he is placing on "grit" in 2017.
Duckworth in 2016 published the popular 333-page book Grit: The Power of Passion and Perseverance, and The New York Times referred to Duckworth as "the psychologist who has made 'grit' the reigning buzzword in education-policy circles."
It's also been the buzzword at the Notre Dame football offices, weight room and practice fields the past eight months.
The junior Wimbush will be making his starting debut this Saturday versus Temple, and his physical characteristics — arm strength, foot speed, maneuverability, etc. — potentially might be the best combination Kelly has had at the position in his eight seasons with the Irish.
Nevertheless, it's the intangibles about Wimbush that elicit the most enthusiasm from Kelly. Some might reference it as "The It Factor," but for Kelly he adds the "Gr" in front of "it."
"He has a passion for the game and he's got perseverance," Kelly said. "I think Angela Duckworth called that in her book 'grit.' He's got grit. He's got such a passion for what he does, and because he loves what he does, he doesn't get down.
"If he makes a mistake, he fights through it and he gets to the next play. That's a great quality to have in anything that we do in life. I'd like to be better at it, too, but he does it at the quarterback position, which is a really fine trait to have for a young player."
Redshirted last season as a sophomore while apprenticing behind DeShone Kizer, now the projected starter for the NFL's Cleveland Browns, and Malik Zaire, who is currently vying for action at the University of Florida, Wimbush will be the seventh straight different starter at quarterback for an opener at Notre Dame, all coming during Kelly's tenure: Dayne Crist (2011), Everett Golson (2012), Tom Rees (2013) — the current Irish QBs coach — Golson again (2014), Zaire (2015) and Kizer (2016). That is a Notre Dame record since the advent of the T-formation in 1942.
The previous mark was six from 1976-81 with Rick Slager (1976), Rusty Lisch (1977), Joe Montana (1978), Lisch again (1979), Mike Courey (1980) and Blair Kiel (1981).
Wimbush did take 27 snaps as a freshman in 2015, highlighted by carrying four times for 92 yards, including a 58-yard touchdown, in a blowout of UMass. However, this Saturday will be his initial exposure to a meaningful game situation, and with it will come inevitable snafus or setbacks, sooner or later.
"There's going to be some things in each and every game that he's going to have to go through and fight through, a little bit of adversity," Kelly said. "But he's got such a great mindset. He's going to be able to handle things quite well. He does a good job of putting something aside and moving on. He doesn't dwell on a mistake and let it affect the next play.
"I'd be more concerned if this was a young man that let mistakes in camp eat at him. He's made some mistakes in camp, but he can put them behind him and move to the next play, because he's going to have that in the first couple of weeks. I'm okay with that."
Kelly wouldn't even mind if Wimbush's resilience does get tested in some fashion versus the Owls — provided the Irish still emerge victorious.
"Where it starts for most quarterbacks that I have coached is their ability to move through a poor play and get to the next play," Kelly summarized.
And get to the next week, and the week after, and the week after …