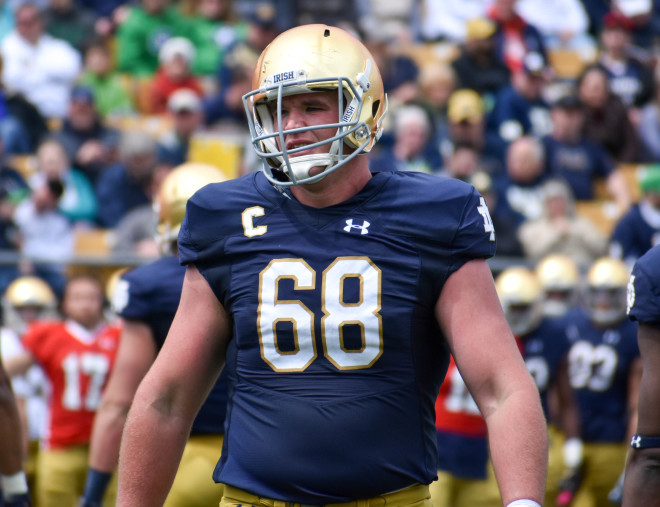 The start of Notre Dame's 2017 season just under 72 hours away when the Irish welcome the Temple Owls to Notre Dame Stadium.
A few of Notre Dame's captains were available to the media today to express their thoughts heading into the team's season opener.
Below you will find the full transcripts from today's afternoon availability which featured starting left tackle Mike McGlinchey, running back Josh Adams, linebacker Nyles Morgan and rover Drue Tranquill.
OT Mike McGlinchey
Q: Considering where you were nine months ago mentally, emotionally, physically, is it hard to grasp where you guys feel you are now nine months later?
Mike McGlinchey: "I don't think it's necessarily hard to grasp because we had so many changes and so many things that have happened since then positively that have completely changed the way that we feel and the way that I feel moving forward. Obviously last December was probably one of the harder times of not only my Notre Dame career but probably my football career, as well, and we've certainly put ourselves in a position, and the staff has done the same thing, to have a chance for success, and that's all you can really do.
"Each week is a chance to have success, and each day is a chance to have success building forward. We've looked at that the last nine months, as to have a day-by-day mentality. We're not looking forward to -- we weren't looking forward in January to Temple. We were looking forward to each training session we had, and then spring ball hit and then summer hit, and now we have Temple on our minds. It's one of those things that it's not hard to understand where we are now and the way that we feel now because of the things that have happened since then, but it certainly has been a good turnaround."
Q: We were talking to Coach Kelly yesterday about Temple's defense, and he probably talked as much about Florida's defense as he did Temple's defense, obviously because of Coach Collins. But how about you guys as players? Did you look at film of Florida for scheme and film of Temple for personnel?
McGlinchey: "Yes and no. I think especially as an offensive lineman, the thing that you really have to worry about is yourself first, and obviously in preparation for the opponent, you look at their scheme. We've looked at Florida. We've looked at Mississippi State. And then just in terms of personnel, you kind of have to -- you really just kind of have to look at the obvious situations, like an obvious run or especially an obvious pass for a tackle, what is the guy's go-to pass rush move when it's 3rd and 10 and everybody knows we're throwing the ball and stuff like that. That's really the only thing I look for personnel is the certain way he plays, but other than that, it's just about defensive structure and the tips that you can see of what they're going to bring and the way they're going to try and combat your offense."
Q: During the course of last month, what have you seen? What have you noticed from the Notre Dame defensive line that you've been going up against?
McGlinchey: "Well, they've certainly improved, and I think I said this last week, I give these guys a lot of credit because everybody, and a lot of people in this room, have given them a ton of crap since we've moved forward from last season, and the guys -- those guys have stuck their nose to the grindstone and certainly improved, and Coach [Mike] Elston has done a good job with them, and I couldn't be prouder of the guys that we have there, and they're going to surprise some people, I think, this year. We've got guys from Daelin [Hayes] to Jerry [Tillery] to [Andrew] Trumbetti to Jon Bonner, anybody that's going to play for us up front is going to play their hearts out, and that's all you can really ask for them. They've done a great job ever since camp started and even in spring ball working on improving and knowing that they kind of have had a target on their back, and I think they've taken that as a challenge, and they're ready to make people wrong."
Q: Brian was saying yesterday that you guys are ready to play right now, like yesterday if you could have played you would have. What's been the vibe like for you guys as the players as we get closer to this game?
McGlinchey: "Well, I think it's just the way you are as a football player. It's been like six weeks, I think, of camp, and I'm tired of going up against Jay Hayes and Daelin. I want to go up against somebody that's different. It's a fun -- obviously it's the best time of the year. You finally get out of camp. You've got the three days away jitters of playing your first college football game of the year, got our new stadium. So it's a perfect storm. It's just super exciting to get the opportunity to start this season and do things that we know that we're going to be capable of and start us off on the right track."
Q: What's the game day experience like for you guys as players? I can imagine what it's like when you guys are sitting in the locker room waiting to take the field.
McGlinchey: "It's one of a kind. You know, it's so exciting. It's why you play the game is the 12 chances you get on Saturday because everything else isn't really that fun. But Saturdays in the fall, especially here, are just so incredible emotionally, and then just as fun as they are. It's just the greatest game in the world, and being able to do it in Notre Dame Stadium and anticipating that with an hour to go while you're sitting in your locker dressed and ready to go, you certainly get the butterflies, and especially for the first one, because you haven't had it in a while and you're certainly ready to go."
Q: What's the anticipation that you expect to see from Brandon in his first start?
McGlinchey: "You know what, I think Brandon is going to be just fine. He's a kid that knows how to control his emotions. He's cool, calm and collected. I think he's the coolest kid I know just in terms of just the aura about Brandon Wimbush. He's going to be fine. He knows exactly what he's going to be doing and knows exactly what he's capable of, and he's going to let it shine on Saturday. We're lucky to have Brandon because of who he is as a person and the type of player that he is for sure, and I don't think Saturday is going to be any different for Brandon than it is on a Tuesday in the fall, either."
Q: How bad of a taste does that 4-8 record from last year sit in you guys' mouths and how much do you want to scrap that and get back onto the field this year?
McGlinchey: "Yeah, I don't even think it sits in our mouths anymore. Like I was talking to Tim about, the last nine months, we know we're a different football team. We know we have different people here and a chance to do something very, very special, and I think that last year was last year, and this year is this year, and that's really all I can say is that we're not looking at last year as a motivational standpoint. We're not looking at it as a learning standpoint anymore because we've done that. We're past it, and we're focused on this one, and we think that we've got a good shot at doing some good."
Q: Obviously you guys will be focused on the game, but how much cooler do you think the atmosphere is going to be with everything that's been added to the stadium and the fans being a part of that as 80,000 plus for the first time?
McGlinchey: "I think it's going to be awesome. Our new stadium is as good as it gets in the country, I think. I think that Mr. Swarbrick and whoever else was involved in making that possible did an amazing job, and it's certainly going to add a different element to what you normally see at Notre Dame Stadium. It gives a little life to the stadium. I think that it's going to be easier to follow the game a little bit when you can see a replay or see something that's going on. Certainly for us, I know Coach Elston likes having the Jumbotron because you can get a full replay of what's happening on the field and doesn't have to rely on our word as much as he used to, so it's going to be fun. It's an incredible atmosphere. The stadium is state-of-the-art, and we're really excited to put on a show for the Notre Dame fans."
Q: Can that added atmosphere also help you guys on the field?
McGlinchey: "I'm sure it can, but I mean -- yes and no, I think. I think it can also be a distraction if you let it. I think that this new stadium is going to bring a lot of energy. It's going to bring a lot of hype. It's going to bring all that and a matter of focusing -- it's a matter of focusing on what you need to focus on, getting your job done and everything else will take care of itself, and I think it'll be a lot more play to play reaction, I think, than just one touchdown every now and again."
Q: Obviously you always want to establish the run, but with the first game a couple days away, how confident are you in your ability to do that, and how is that confidence level different than it has been at this time in previous seasons?
McGlinchey: "I don't think the confidence level is any different from the start. I think each year you kind of always believe and have the confidence that you can pull it off as an offensive line. The five of us up front want the game on our shoulders. We want to be able to have Coach Long call run play when the game is on the line. I think that we're very capable of doing that. I think we have great players up front, not just Q[uenton Nelson] and I, but Sam [Mustipher], Alex [Bars], Tommy [Kraemer] and Rob[ert Hainsey], whoever winds up playing there. It's going to be exciting for us up front because we have an offensive coordinator now that trusts us and means what he says when he says we're going to put the ball in your hands or -- not physically the ball for us, but the game in your hands, and we know he means it, and we know he wants that himself. "We're really confident in our abilities. We've worked really, really hard for the last nine months into giving him the confidence in order to do that and giving ourselves the confidence in order to do that, and I think that it just comes down to execution, and when the play is called, we've got to do our job just like everybody else does, and we're confident that us doing our job is better than everybody else. That's pretty much it."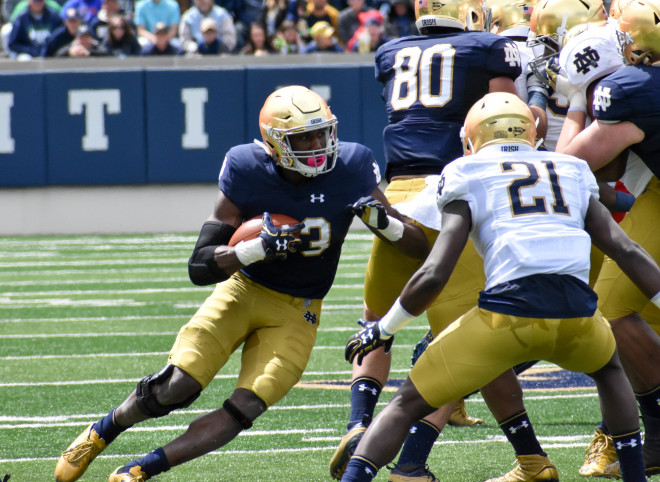 RB Josh Adams
Q: I talked to the senior offensive linemen, they all talked about how they feel they believe the offense will be put on them, that they can carry the offense up front, they've prepared themselves for it. What have you seen from the offensive fronts, and I'm assuming you agree, but what is it you've seen that makes you think they can carry the team?
Josh Adams: "I think it's great as an offensive unit, our offensive line has that type of mentality. I think every guy on our team has taken it upon himself to say, I'm the guy that I want everyone to lean on, and I'm the guy who's going to get my job done. And for the offensive line to take that upon themselves is just amazing and it shows how far we've came as an offense, and it shows the connection that we have between players in order to count on each other when times are rough or just in general, just in a game, you can lean on me. So, I think that's amazing, and it only speaks numbers to the type of offense that we want to be."
Q: I know no running back wants to give up carries, but do you feel stronger when you're getting 18 to 20 carries, or is it a better situation that you have three guys -- there will be a hot hand, somebody will get that many carries in a game, but over the course of the season does it help that there's a three-man crew?
Adams: "Whether it's 18 carries or just two carries, I think every guy in that room has taken it upon themselves to be the best player that they can be overall, whether it's running the ball in pass protection or running routes. We all want to contribute the best that we can to this offense, and we want to help put points on the board, so regardless of how many carries we get, I think each guy in that room has taken it upon themselves to take advantage of the opportunity they have to play and get on the field and to help our offense and to be the best that we can be. I don't think carries really matter, but I think that no matter how many we get, we are going to try to dominate to the best of our advantage."
Q: Kelly said yesterday how much you guys are ready to play right now; do you agree with that assessment? How much do you guys just want to get out on the field?
Adams: "I definitely agree. Obviously, we have a few more days until we get there, but every guy is excited, and we're eager, and we're just ready to play. We're ready to see all the work come forth, all the preparation that we've done, the time that we've sacrificed. We're ready to see that pay off, and it's just exciting. Every first game you've got the jitters, but it's just amazing. It's an amazing feeling. We're definitely ready to go play."
Q: With the new renovations, the atmosphere, how forward are you looking forward to being a part of that on Saturday?
Adams: "Well, the stadium has been being worked on since I got here my freshman year, so it's going to be exciting to see everything finally finished up, just to get back out there with those fans, just to feel the energy, it's definitely amazing. First game, like I said, is definitely going to be a sight to see."
Q: What growth have you seen from Brandon, especially during camp?
Adams: "He's definitely grown a lot. I mean, he's definitely getting a feel for things. He definitely looks more comfortable, and he's having fun, which is an important aspect of this game that people tend to forget about is just to go out there and have fun and just to play with your teammates. A lot of adversity comes with being a first-year quarterback, but I don't think he's let any of that get to him. He's just going out there having fun doing the best that he can. He knows that we're an offensive unit, it's not just him out there. He knows that everybody works together and does their job, so I think he has a good grasp on that, and he allows players to contribute in their own areas, and he's going to do the same. He's going to do his job just like we're going to do our job. In that area, he's definitely matured, and I think that he's definitely ready to go out there and have some fun on Saturday."
Q: McGlinchey said that he has an aura about him; is that something that is needed in a quarterback?
Adams: "Well, I'm not seeing him physically glow, but no, he definitely (laughter) -- there's definitely a confidence about him. He definitely has that confidence. You don't see that in a lot of young quarterbacks, but he definitely carries himself well, respectfully. He's definitely a different type of guy that we definitely enjoy having as our quarterback, and we can't wait to see what he's going to do on Saturday. Yeah, that's definitely my guy right there."
Q: Does this feel like -- do you feel like you're starting the season in a new offense, or was it just tweaks that have been made? How would you summarize that?
Adams: "We have made some adjustments to our playbook, but I think regardless of a new or old offense, I think that the guys definitely have a new attitude approaching this year. We're going to continue to work hard. We're going to continue to perfect our craft. We've made a great adjustment. Every guy has really bought into playing at a high level and playing to that standard we know we have set for ourselves, so it hasn't been too hard of an adjustment, but every guy has been doing great in that area. The offense, of course, with Coach Long is a faster paced offense, and I think that with our conditioning and with our workouts and everything, we've done a great job of transitioning to that."
Q: Is there a run-first mindset with this offense now?
Adams: "I wouldn't say it's a run-first mindset, but I would say that we've taken it upon ourselves as a running back unit to really try to take as much of the load as we can, whether it's in the pass game or the run game. If we're running the ball we're going to try to get positive yards every run. If we're pass protecting we're going to try to lock our man up and make sure our guy is not the one who gets to the quarterback, helping the offensive line out because they do every single play for us, so we're going to do the best that we can to help those guys out. That's our mindset as a unit, just doing the best that we can to help our offense succeed, regardless if it's run or pass first."
Q: We were talking to Coach Kelly about Temple's defense, and he talked more about Florida's defense than anything really because of their coordinator going to Temple. I asked McGlinchey this, and he pretty much said no, but do you look at film of Florida for scheme and film of Temple for personnel?
Adams: "Yeah, I mean, that comes with game planning, stuff like that. Of course you can't 100 percent predict what somebody is going to do, but you can get different tips, and I think that would be great to watch film of them last year just to see what type of players are on the field, and film of Florida just to see tendencies of the defensive plays. All those little things can help, but again, you can't 100 percent predict, so we're just going to game plan on our end the best that we can and definitely be ready for Saturday."
LB Nyles Morgan
Q: I actually wanted to ask you about the offensive line. Talk about all four seniors, they mentioned that they believe there's more faith in them from the staff from everybody that they can be the line they've wanted to be and they can carry things when needed up front. Have you seen that in camp, a change in that offensive front?
Nyles Morgan: "I definitely have, just going through the course of fall camp -- actually starting off in the spring, I watched all those guys develop, Mike, Q, Bars, especially Sam the most I feel like, and those guys really getting out there and honing down on their technique and skill sets."
Q: Where did Mustipher develop the most? Was it a combination of mentally and physically?
Morgan: "I'll say both, with Bailey's help obviously. But definitely just knowing where I would be, where the D-line would be, and actually honing on our new scheme that we have from Coach Elko. He's really bought into taking on little details that matter of a game."
Q: I know you're not looking for any struggles on Saturday but usually they present at some point during a football game. What is kind of your role now? You've been through a lot. What is your role to regroup the defense when it needs it?
Morgan: "I see my role now exactly what you just said, just to regroup guys when things don't go as planned. Throughout a game there will always be ebbs and flows throughout a game no matter what the score is, and just make sure that guys are really level headed whether we're up or down to make sure that we're worried about the next snap."
Q: I'm curious when you're playing a team that is going to run out probably three different quarterbacks, you're not sure who's going to be playing and how much they're going to be playing, does that change your approach, or is that a different challenge for you guys?
Morgan: "In a sense, yes. One, the biggest one is just the first game, you never know what you're going to get, and then having three quarterbacks, obviously yes. We feel like as if we've game planned enough to where if they put 13, 16, or whoever else in there, we should be just fine."
Q: Those guys have basically not played at all except for a couple reps here and there. Have you seen much of those guys on tape at all?
Morgan: "Yeah, we've tried to find as much tape as we could on everybody, but like you said, there's not much tape, so we just kind of go how the first game would go, kind of just see how things play out."
Q: When you guys obviously go out there and put this new defense to the test for the first time, maybe someday when you look back at the game, what are you most looking forward to seeing how it was implemented? Is there something specific about the scheme that you are still curious about?
Morgan: "I wouldn't say anything in detail, but just the first time you're in a new defense, like it's kind of like the first time you're out there in a ballpark playing your first game in a sense because everything is new, and you've seen it work against your own teammates, but obviously you want to test it out against someone new. I think just looking back on Sunday, it'll be fun to see how everything replayed itself out."
Q: And with what you know about Temple at this point, like you said, the quarterback situation is kind of foggy right now, but from what you do know, what do you think about how the scheme matches up with what you guys expect them to do?
Morgan: "I would say that from what I expect and what we've watched, it should be pretty compatible. I would say that we've done a good job -- our coaching staff has done a great job just finding film, finding clips, finding things that they may or may not do, and we try to be ready for as much as possible."
Q: Coach Kelly was talking about -- we were talking about the Notre Dame offense against the Temple defense and their head coach was the DC at Florida. What about on your side of the ball offensively? What film are you watching or what kind of changes are you expecting in Temple's offense?
Morgan: "What do you mean by change exactly?"
Q: Just in terms of approach, style, philosophy, that kind of thing.
Morgan: "I would just say that our philosophy is the same in every game, and that's the way Mike Elko likes to do things. We just game plan accordingly versus every team we play.
Q: It's more about what -- this is something Coach Kelly said yesterday, more about what you guys are doing as opposed to the what the opposition is doing?
Morgan: "I'd say it's a little bit of both. We're watching film, watching what they do good, watching what they don't do good, and we're game planning accordingly."
Q: Considering the way last season ended, nine months have transpired since then, when was the last time you felt that this football team was as confident as it is right now heading into this game?
Morgan: "I'm not sure about that question. But all I can say for right now is that I believe that we're ready to play and ready to get things on a roll for this new upcoming season."
Q: When you think back nine months, just the frame of mind and the confidence with this team, where were you guys as a team emotionally nine months ago, and where are you now?
Morgan: "I would say that nine months ago we were at a different place, but as of right now, we're as close as we've ever been. You should have been there today in the lift we had at 8:00 in the morning. It was amazing. Guys are really bought into what's going on, and it should be a very good year."
Q: What is this first game of the year like for you guys as players?
Morgan: "It's the same as every game day for the first time. It's amazing. Guys are really excited. I can see it in guys' eyes, from I would say last week when we started game planning for Temple, guys are really excited to test out the new defense, new system, and really just to get out there for one more year, for our seniors, at least, one more year."
Q: Going back to what happened last season, you mentioned you are more confident heading into this than you were nine months ago. What does that 4-8 record do for you guys in terms of getting redemption?
Morgan: "Last year has nothing to do with this year. This is a whole new team as it is every single year, and we're only just worried about what's to come, which is Temple, Georgia, Washington College, Michigan State, and so on."
Q: Could you describe sort of the teaching style of Mike Elko?
Morgan: "In what sense?"
Q: Just how he gets his point across, how he runs meetings, what kind of pep talks he tries to give you.
Morgan: "I would say Mike Elko is very tactical is what he is. Not in the sense of you don't know what to expect, but a sense of everything he does and says, there's meaning and reason behind it, and it's meant to push us forward."
Q: Can you give me an example of kind of one of those things over the last four weeks?
Morgan: "I would just say how he's very -- let me get a good word. Hmm. For example, like sometimes you would think that he would yell at us or give us a tough time about our day in practice, but really his goal is really just to get us better, and he does that however he sees fit."
Q: Is it kind of a situation where sometimes if you guys fail in practice or don't have a good practice, that actually can be a positive because he sees that as a good learning tool?
Morgan: "There is no such thing as failure I believe in his mind. The only thing is just to improve and get better on because it's football, things happen, guys fall down, guys miss things all the time offensively and defense. He just wants it to be where it happens as less as possible."
Q: In terms of meetings, his position groups, last year at the beginning of the season it was more like everybody meets together. Later in the season everybody breaks up. What's his approach with that?
Morgan: "His approach is we'll all start together and then we'll usually finish in position groups and then go out to practice and so on."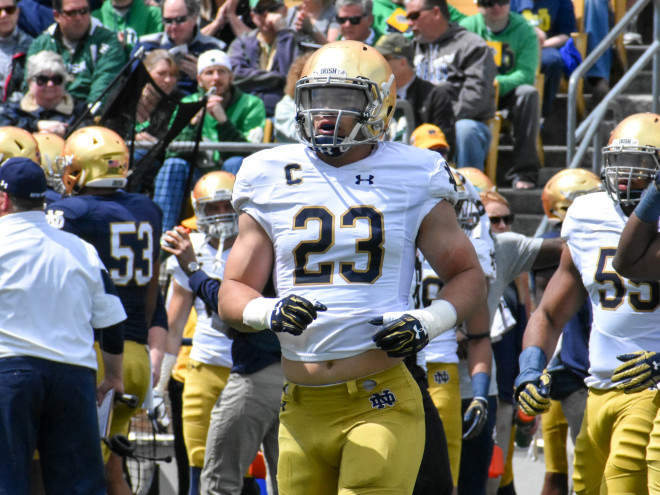 Rover Drue Tranquill
Q: Sort of in general terms, describe Mike Elko as a teacher.
Drue Tranquill: "I would say he's very to the point. He likes to keep things simple for his players so they can play fast, play free. I guess, for example, in my play, I'll be out there trying to make checks that are the safeties' calls, and he'll stop practice and say, like just be quiet, just worry about your job, and so he likes to keep things simple and to the point."
Q: How were his meetings in terms of energy, the way he tries to get his point across?
Tranquill: "I mean, I think there's a lot of passion and energy. I think starting out, we have a big defensive meeting to kind of review the day before, and there's obviously passion and teaching points there, but then he kind of allows his coaches to kind of take their players positionally and allow them to detail their work. I spend a lot of time with the linebacker coaches, more so than I do him, but he definitely does bring a lot of passion and energy."
Q: Last year's defense, I think early on at least, you guys didn't rotate a whole lot. How is that different now in terms of the number of guys you expect to sort of be part of the rotation on Saturday?

Tranquill: "Yeah, I think you're always looking for depth, obviously, to keep guys fresh, and I think last year in order for guys to play, they have to understand the defense. They have to understand the schematics behind what you're doing, and when you have a complicated defense, not a lot of guys can grasp it, so you've got to leave guys out there who know what they're doing and can make the checks and calls, but when you simplify things, it allows a lot more guys to get out on the field and keep your guys fresh."
Q: I think sometimes when people describe a defense as simple, that can be a negative. I don't know if you see it that way. Is that a positive?
Tranquill: "Yeah, I wouldn't see it as a negative at all. I think it allows your players to play fast, and the defensive scheme in and of itself isn't necessarily simple, but in terms of like the play calls you're going in with, there isn't a check to every type of motion. There's a general check to how we're going to play X or how we're going to play Y, instead of complicating things, having to see Orbit versus Jet and having to recognize the small details within a game. I think he greatly simplifies the responsibility for each individual player and each individual player has his own checks, but I don't necessarily have to worry about checking for the linebackers and checking for the safeties, like the safeties check for the safeties, the linebackers check for the safeties, the defensive line for the D-line, and so it simplifies each player's game, not necessarily the schematic of the whole defense."
Q: How much are you guys looking to redeem yourselves after what happened last year?

Tranquill: "I don't think there's necessarily a redemption mindset in us. I think it's been more of a kind of idea of total preparation and controlling what we can control. We can't control what happened last year. It is what it is, and we can't necessarily even control what's going to happen tomorrow or the next day. We can really only control what's going to happen now, our attitude now, our focus now. And so I wouldn't say it's as much a sense of redemption as it is a ready to show what we've done this off-season, an opportunity to showcase our total preparation."
Q: How special are these game days to you guys as players?
Tranquill: "Incredibly special, and I think in the past three years, it's something I haven't realized how special it is. You know, I think I've gone to things like the Irish walk and been so just locked in and engaged on all the ins and outs that I haven't necessarily taken it in. Coach Kelly has kind of provided a fresh perspective on -- when you're on that Irish walk, breathe it in. This is like Notre Dame. This is everyone who's played before you, that will play after you. This is the tradition of Notre Dame. You don't have to be ready to play the game walking on the Irish walk. We talk about getting into our optimal zone, and I think I'm really looking forward to this game day because I'm going to approach it a little bit differently in terms of my mindset and how I get locked in and ready for the game, and I'm really going to breathe it in and take it in, but it's a special thing, yeah."
Q: From a defensive player's perspective, what have you seen from Brandon? What can make him a special quarterback for you guys this year?
Tranquill: "Yeah, I mean, obviously we all know Brandon's athletic ability and his ability to extend plays, get outside the pocket. He's a proficient passer, got a strong arm, but I think -- when I think about Brandon, I think about the intangible qualities I've seen in him this off-season, his ability to get a group of guys rallied around him, even a guy who hasn't necessarily taken a lot of snaps, really any in that regard, but guys believe in him, and you look for that in a leader."
Q: With all the changes within the stadium, I know you guys will be focused on the game, but how much are you looking forward to seeing what that atmosphere and environment is going to be like with the fans coming in there for the first time?
Tranquill: "Yeah, I'm honored. I'm honored to be the first team to be able to play in this new stadium. You know, the pride and tradition of Notre Dame just continues to grow. We always say the house that Rockne built with new modern amenities, whatever they say. But I'm really looking forward to taking a lot of pride in being the first team to step out on that field and not taking that lightly. I mean, it's incredible what Notre Dame can do, not only for us but for its fans and its communities, and so looking forward to coming in to the new home and playing."
Q: Do you think that added atmosphere can help you guys in some form on the field?
Tranquill: "I guess we'll see on Saturday. I don't really know too much about how that atmosphere is going to change, but I know to win a football game, you've still got to go out there and execute. I guess we'll feel the atmosphere for the first time on Saturday. Looking forward to it."