It was a scary moment.
When Notre Dame linebacker commit Jack Lamb limped to the sideline during his season opener at Temecula (Calif.) Great Oak Friday night, his father Dan Lamb didn't immediately fear the worst.
However, he would come to over the next several minutes as coaches and trainers surrounded the player who Rivals ranks as the No. 65 overall player in the country.
"It's not the first time Jack has hobbled off the field, so I wasn't too worried about it," Lamb explained. "But he came over to the sideline, sat down and started watching some film. I saw the trainer come over and put some ice on his knee and I just saw his head go down. I was like 'oh no.' I'd never seen that before from him in 11 years playing tackle football."
Next thing he knew, Dan Lamb was down on the field next to his son, something he hadn't done since the Notre Dame commit started playing football.
"I went over to him and said 'You ok bud?," Lamb said. "He just looked up at me and said no. I hadn't heard that before either."
The next several hours were a whirlwind of nerves and prayers in the Lamb house. Uncertainty abounded, but luckily a family friend was able to get Lamb in for an MRI on Saturday morning.
That MRI and a further evaluation from an orthopedic doctor reveled that there was no damage to Lamb's ACL or MCL, and the pain was stemming from a deep bruising of the patella.
It wasn't good news, but it certainly could have been worse. Lamb and his son breathed a sigh of relief.
The doctors suggested that Lamb sit out at least the next six weeks then return for a reevaluation.
Notre Dame
Temecula
RR: 5.9
Ht: 6'4.0"
Wt: 224.0
Class: 2018
Again, it wasn't positive, but it wasn't a season ender either.
According to the elder Lamb, his son has taken things in stride, but it's also easy to tell how disappointed he is for himself and his team.
"It's kind of tough," Lamb stated. "You're a senior, you led the team out of the tunnel and you've waited a long time to be able to do that and now you're hopeful you'll get back out there, but there's a chance maybe he doesn't even come back on that field again. I know that's eating him up on the inside."
After the diagnosis was cleared up, the only question that remained was Lamb's status with Notre Dame.
There are always stories of prospects losing scholarships due to injuries, but any worries Lamb or his father had about that happening at Notre Dame were quickly cast aside.
Lamb and his father got on the phone with linebackers Coach Clark Lea Saturday morning, and their minds were quickly set at ease.
"You could tell he was just crushed for Jack emotionally," Lamb said. "Coach Lea told him 'I don't care if you tore your ACL. Notre Dame is committed to you and you're committed to us. Even if it was a serious injury, we don't walk away from people."
Hearing that from Lea not only let the Lambs relax, but according to Dan Lamb, it significantly brightened Jack's mood.
"To see how Coach Lea handled a tough situation with my son and how he brought his spirits up from a 2 to a 9 was just incredible for me," Lamb said. "It makes me feel so blessed to be a part of this program and it makes me feel really good about Jack's decision."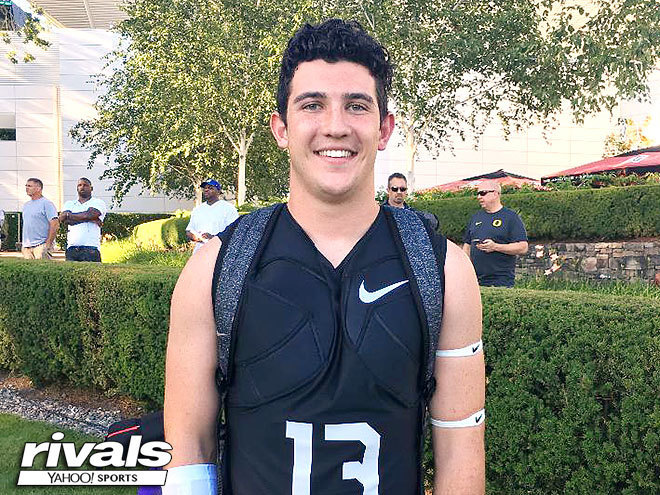 Since the injury, Lamb said there has been an outpouring of support from all over the program.
Coaches, fans and fellow commits have all gotten in touch with the Irish pledge to let him know they're thinking about him.
That support, the elder Lamb said, has been huge for his son, and has reaffirmed his belief that Notre Dame is the right place to send him.
"I firmly believe that things happen for a reason and you can't just look at the bad news," Dan Lamb said. "The good news is that my son is going to an amazing place with amazing people. The fans are rooting for Jack, and it just makes life a lot better."
But the biggest support has come from Lea.
Lamb told Blue & Gold Illustrated that he'll tell the parents of any recruits that will listen that trusting Lea and the rest of the Irish coaching staff with your child's wellbeing is a wise choice.
"If I'm a parent of a recruit and I see how a coach handles himself in this type of situation, I'll tell you, it makes me feel a lot better about Notre Dame and what they have to offer other than just football and academics," Lamb said. "There's a lot of compassion on that staff, and at the end of the day, these guys aren't merchandise, they're people. Coach Lea is a special, special guy, and I can't wait to get to know him even better."