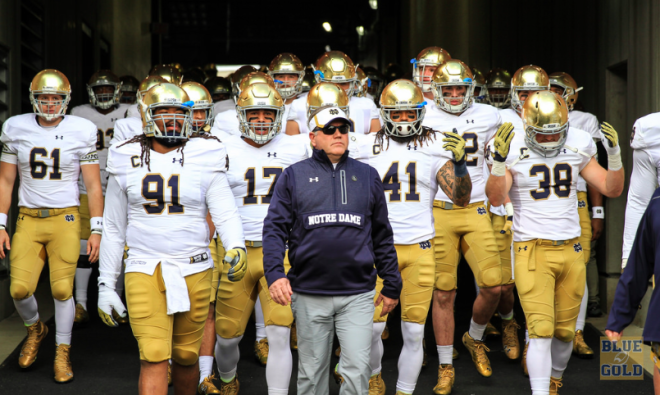 Notre Dame kicks off the 2017 season with a home contest against the Temple Owls. The Fighting Irish are looking to bounce back from a disappointing 4-8 season while the Owls are looking to repeat as American Athletic Conference Champions.
The Blue & Gold Illustrated staff has broken down the two teams, and now we make our predictions.
Lou Somogyi, Senior Editor
If Matt Rhule, now at Baylor, were still the head coach, I'd be more apt to make this a single-digit victory for the Fighting Irish. With back-to-back 10-win seasons he infused a positive mentality that can't be overlooked and could still carry over into this season. Both teams are inexperienced at QB, but Temple's issues there might be more acute.
PREDICTION: Notre Dame 31, Temple 16
Bryan Driskell, Football Analyst
It would be nice to see Notre Dame come out and just steamroll Temple on both sides of the ball, but that would be a bit surprising. Temple is going to come out and fight Notre Dame early, and I expect the Fighting Irish players to be ready to meet the challenge. Notre Dame will play hard early, but they'll be a bit sloppy, which lets Temple stay in the game early.
Sometime late in the second quarter or early in the third quarter Notre Dame will start to truly establish the line of scrimmage on offense, which will open up some big play opportunities on the ground and in the air. The defense will cash in on the lead and really take it to the Temple quarterbacks.
PREDICTION: Notre Dame 34, Temple 20
David McKinney, Recruiting Reporter
A common theme in the media room this week has been the fact that this Notre Dame team is ready to stop hitting each other and lay a few licks on someone in a different colored jersey. I don't take any of that as coach speak, either. Players we've talked to in the last two weeks are almost literally twitching to get their hands on an opposing team.
I think the biggest thing to watch in this game is Notre Dame's pass catchers against Temple's secondary. The Owls have a solid defensive backfield, but the Irish have a laundry list of receivers who all bring unique skills to the table. And if that group gets shutdown, I expect the Irish to feed their three running backs and let their elite offensive line control a Temple defensive line that is replacing a lot of experience. I don't think this will be the "Notre Dame is BACK" game, but the Irish will start 1-0. We'll talk about being BACK in a few weeks.
PREDICTION: Notre Dame 42, Temple 20
Corey Bodden, Recruiting Reporter
I could see the Irish taking some time to settle in and Temple taking an early 3-0 or 7-0 advantage. But eventually Notre Dame's offense and defense will find their rhythm and take over the game. I wouldn't be surprised to see a heavy dosage of the running attack to set the tone and then use play action to open up the passing game for Brandon Wimbush.
It'll be interesting to see if the Irish secondary can keep the Temple wide receivers in check if one of their multiple quarterbacks can find some success through the air. Especially if it were to happen early on and quiet what figures to be a loud Irish crowd. Notre Dame gets a solid win to begin its 2017 campaign and builds momentum with Georgia rolling into South Bend next week.
PREDICTION: Notre Dame 34, Temple 17