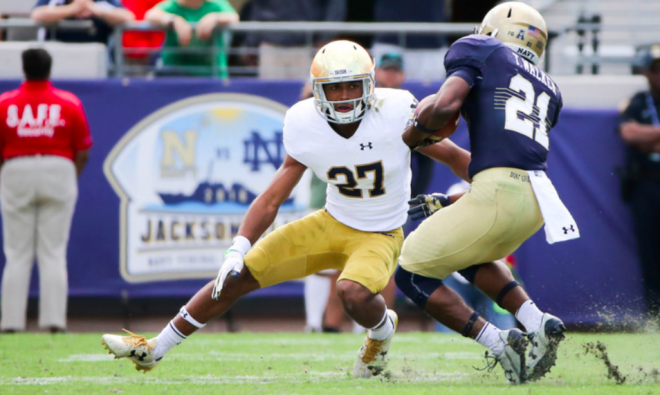 All summer and throughout fall camp the Blue & Gold Illustrated staff has brought you all the latest when it comes to Notre Dame team and recruiting coverage. The analysis and coverage has been as fair as possible, but with the season just a day away it's time to have some fun, and it's time to make some bold predictions!
LOU SOMOGYI, SENIOR EDITOR
1. Notre Dame will defeat Stanford this year: The Cardinal is 6-2 against the Irish the past eight seasons and have won four straight against them at home. I say the law of averages is on Notre Dame's side this time and it avoids losing a school record fifth consecutive regular season finale. They need this one bad for winter momentum, and I believe they will get it.
2. The Fighting Irish tight ends will at least triple their receptions output from last season: Maybe that's not as bold as it sounds considering Notre Dame tight ends snared only 12 passes last season, the lowest in 15 years. I expect a healthy Alizé Mack to snatch at least 30 himself in new offensive coordinator Chip Long's tight end friendly offense, especially because he also mentors that position group.
3. New coordinator Mike Elko's defense will force 26 turnovers, the most in the Brian Kelly era: The most under Kelly actually came his first season in 2010 with 25, 18 of them on interceptions (seven by Harrison Smith, three in a span of about 6 minutes in the Sun Bowl win over Miami). The Irish had only 14 last year, whereas Elko's Wake Forest unit finished 10th nationally with 27. If the Irish can average two per game — a tall order — it will get to 26.
4. Notre Dame will finish no worse than 9-3 in the regular season: Vegas has it at 7.5 but I'm bullish on the over because I think a pride factor takes over this year, just like going from 5-7 in 1999 to 9-2 in the 2000 regular season, from 5-6 in 2001 to 10-2 regular season in 2002, from 8-5 to 12-0 regular season in 2012 … Plus, the worst situation is to go 8-4, because now you remain in "no man's land."
Season Prediction: 9-3, but with a victory over Georgia I think it will be similar to 2015 with ND going no worse than 10-1 into Stanford on Thanksgiving weekend.
BRYAN DRISKELL, FOOTBALL ANALYST
1. Josh Adams will set the single-season rushing record at Notre Dame: Of course, the caveat is that he will eclipse the mark of 1,437 yards set by Vagas Ferguson (1979) in the bowl game, a luxury Ferguson did not have. Notre Dame is going to have three productive backs this season, but Adams is going to be the main man. He's shown flashes of home run ability throughout his career, but this year he becomes more of a workhorse. Even more impressive about that statistic is it will come against a schedule that has eight teams that finished in the Top 50 of rushing defense last season. At the very least, Adams will top the best season we saw from his position coach Autry Denson, whose career high was 1,268 yards in 1997.
2. Notre Dame will set the Brian Kelly era high for sacks in a season: This isn't incredibly bold, considering the fact Notre Dame has only topped the 30-sack mark once during Kelly's first seven years. That came in 2012, when Notre Dame registered 33 sacks. Notre Dame will top that mark in 2017, registering at least 35 sacks on the season. It will fall just short of the 41 sacks Elko's defense racked up at Wake Forest last season. The boldest part about this prediction is I won't be surprised if Notre dame tops that mark without having a single player posting double-digit sack totals, although Daelin Hayes has the best chance at making that happen.
3. Notre Dame will go undefeated against the Pac 12 and the SEC: I'm sticking with my 10-2 prediction, but I think Notre Dame beats USC, Stanford and Georgia this season. Brian Kelly is 2-1 at home against the Trojans and he's due for a West Coast win against the Cardinal, something that hasn't happened since 2007. Georgia will give the Irish a strong test, but I really believe Notre Dame will be up for that game.
4. The current team will produce the second best draft results in school history: The most players Notre Dame has had chosen in the first 7 rounds of the NFL Draft is 10, which happened back in 1994. That class, led by first round picks Bryant Young, Bobby Taylor and Jeff Burris won't be surpassed by the next class, but the current team will come close, with nine players getting selected. Offensive linemen Mike McGlinchey and Quenton Nelson are no-brainers. Offensively, Josh Adams, Alizé Mack and Equanimeous St. Brown will all leave school early and get picked in the first three rounds. Durham Smythe will join them as a late round selection. Linebackers Nyles Morgan and Greer Martini will both get drafted, and one more defender will get selected that we don't anticipate right now.
Season Prediction: 10-2 – I'm not as confident as my recruiting compadres in regards to knowing who Notre Dame will lose to, but I see the Irish dropping two games during the season. What I am confident in saying is that they won't lose to Georgia, USC or Stanford.
DAVID McKINNEY, RECRUITING REPORTER
1. Robert Hainsey Carves Out A Starting Role: He's not redshirting, and he's right in the thick of things for playing time at right tackle. Tommy Kraemer has had a good preseason camp, but struggled a bit in pass sets. Every time the right tackle position has been brought up, Brian Kelly has always made a note to mention Hainsey and the progress he's made at the position. In captain interviews Wednesday, Mike McGlinchey mentioned Hainsey as well. It seems like the freshman could be in a position to make a move here.
2. Julian Love Will Be An All-American: Love has shown he has the ability to be an elite defender and I think we're going to see a lot more of that this season. The standout corner is itching to get back on the field, and based on what I've seen from him during preseason camp I think opposing wide receivers are going to have a tough time dealing with him in 2017.
3. Three Notre Dame Players Will Be Selected In The First Round Of The NFL Draft: Mike McGlinchey and Quenton Nelson are already first round talents, and I think after this year, Equanimeous St. Brown will be too. St. Brown is without question the No. 1 receiver on this team, and he and Brandon Wimbush seem to already have solid chemistry on and off the field. St. Brown had his coming out party of sorts in 2016, but I believe 2017 will be much, much bigger. St. Brown will head to the NFL after this season and be picked on Thursday night
4. Chris Finke Will Have Multiple Touchdowns: He'll get them somehow. Kick returns, wheel routes, etc… It's obviously a crowded depth chart at wide receiver, but I think Finke is going to catch some people off guard and be a big-time contributor to this team. Just wait and see.
Season Prediction: 8-4 with losses to Georgia, USC, Stanford and Michigan State.
COREY BODDEN, RECRUITING REPORTER
1. Notre Dame will more than double its sack total from 2016 (14): With the addition of Mike Elko and his disruptive scheme and improvements to the strength program, Notre Dame's defensive line will take a big jump in production in 2017 and reach the 30-sack mark. A lot of the improvement will depend on the production of defensive end Daelin Hayes and nose tackle Jerry Tillery.
2. Notre Dame will rush for 200-plus per game: The Irish ranked 80th nationally last season in rushing yards per game (163.3). With a talented trio returning, Notre Dame will rely on its All-American duo on the left side (Mike McGlinchey and Quenton Nelson) and rely on the run. The Irish will flip the script and go from the bottom third to inside the top 40 rushing attacks.
3. Notre Dame will lose to either Michigan State or Navy: Talk about a trap game with Navy heading to South Bend sandwiched between road games at Miami (Fla.) and Stanford. Surely, after last season the Irish won't be overlooking Navy, but if Notre Dame is sitting at 8-2 or even 9-1 heading into Nov. 18, that matchup with Stanford will be magnified. East Lansing will (should) be rocking for that Sept. 23 matchup which will be the program's first "big-game" of the season. No matter how dysfunctional things seem to be for the Michigan State program, the Spartans will be ready for that matchup.
4. Brandon Wimbush will account for more yards passing and rushing and total touchdowns than DeShone Kizer in 2016: No pressure Brandon. Last season Kizer threw for 2,925 yards and 26 touchdowns while rushing for 472 and eight touchdowns. Going out on a limb here and saying Wimbush eclipses those marks hitting around 3,000 yards passing and 500 rushing while accounting for 35 total touchdowns. I see Wimbush besting both first-year starting quarterback marks for passing yards (Everett Golson – 2,405 in 2012) and passing touchdowns (Ron Powlus – 19 in 1994).
Season Prediction: 9-3 with losses to USC, Stanford and either Navy or Michigan State.