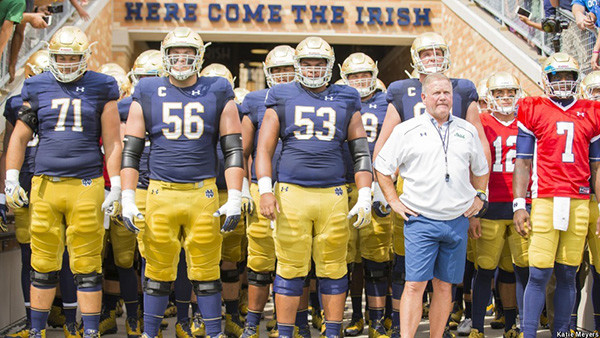 Don't miss out on any of our exclusive football, basketball and recruiting coverage. Click here to get your 60-day free trial!
10 Victories recorded by Temple each of the past two seasons, a first in school history, although neither was with first-year head coach Geoff Collins. Notre Dame has not had back-to-back 10-win campaigns since the three in a row from 1991-93, and it has reached the double-digit mark only four times the past 23 years. The good news is two of them were fairly recent in 2012 (12-1) and 2015 (10-3).
9 Temple players wearing the nine single-digit numbers available, which is considered one of the highest honors an Owl can earn. They are awarded to the student-athletes who are deemed by teammates to be the toughest members — "Temple TUFF" — on the squad. Among them are the top two playmakers, receiver Ventell Bryant (No. 1) and running back Ryquell Armstead (No. 7).
8 This will be head coach Brian Kelly's eighth season at Notre Dame, and he enters with a career 59-31 record, or an average of 8.4-4.4 per year — with 8 defeats last year marking only the fourth time the Irish have had that many in a season. The other Fighting Irish coaches to reach an eighth season were the Mount Rushmore quartet of Knute Rockne (13), Frank Leahy (11), Ara Parseghian (11) and Lou Holtz (11).
7 Brandon Wimbush is the seventh straight different opening-game starter at quarterback for the Irish: Dayne Crist (2011), Everett Golson (2012), Tommy Rees (2013), the first-year QBs coach, Golson (2014), Malik Zaire (2015) and DeShone Kizer (2016). That surpasses the previous school mark of six from 1976-81 with Rick Slager (1976), Rusty Lisch (1977), Joe Montana (1978), Lisch (1979), Mike Courey (1980) and Blair Kiel (1981).

This also is the first time since Kelly's first season in 2010 the Irish don't return a single career start at quarterback.
6 New on-field assistants for the Notre Dame coaching staff, a school record when not hiring a new head coach as well. The sextet is comprised of offensive coordinator/tight ends coach Chip Long, who will call the plays, defensive coordinator/safeties coach Mike Elko, special teams coordinator/recruiting coordinator Brian Polian, linebackers coach Clark Lea, receivers coach Del Alexander and the aforementioned quarterbacks coach Rees.
5 Games lost by Notre Dame last season in which it held a lead in the fourth quarter, a dubious school record (and it also was tied in the fourth quarter in a sixth). Of the 90 games played during the Kelly era, 43 of them — 47.8 percent — have been decided by eight or fewer points. The Irish are 23-20 in such contests.
4 This is the fourth time Notre Dame is opening a season on Sept. 2. The first resulted in a stunning 17-15 loss to four-touchdown underdog Northwestern in 1995 (although the Wildcats would go to the Rose Bowl that season). Next was a 24-10 victory over No. 23 Texas A&M in 2000 en route to a Fiesta Bowl bid one year after finishing 5-7. Finally, second-year head coach Charlie Weis' 2006 No. 2-ranked Irish rallied for a 14-10 win at Georgia Tech in 2006.
3 Over the past three seasons, Temple leads the nation in blocked kicks with 17 (BYU is second with 15), with five of them last season. Defensive end Sharif Finch leads the block party with five in his career.
2 Notre Dame and Temple have met two previous times, starting in 2013. The Irish won the 2013 opener 28-6, with current quarterbacks coach Rees passing for a career high 346 yards in Kelly's 200th career victory as a college head coach. Notre Dame then rallied for a 24-20 victory in 2015 when DeShone Kizer found Will Fuller on a 17-yard touchdown pass with 2:09 remaining in the contest, and a KeiVarae Russell interception on the next series sealed the verdict.
1 There is only one time a Notre Dame head coach lost the season opener in back-to-back years, Gerry Faust in 1984 (Purdue) and 1985 (Michigan). The Irish also opened with a loss to Michigan in Lou Holtz's first season in 1986. After the 50-47 double-overtime defeat at Texas in last year's opener, Kelly is aiming not to become the second. The last time Kelly was trying to avoid becoming the second to lose back-tot-back openers, the Irish finished the regular season 12-0 and No. 1.