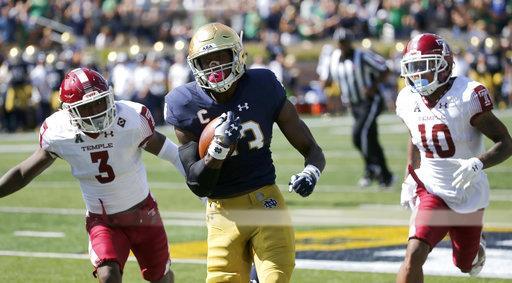 Don't miss out on any of our exclusive football, basketball and recruiting coverage. Click here to get your 60-day free trial!
First-year Notre Dame offensive coordinator Chip Long said he would not sleep well this year if the Fighting Irish couldn't run the football.
He should sleep peacefully at least this Saturday night.
Notre Dame romped for 422 yards rushing (606 total offense) against the Owls en route to a 49-16 rout of the Temple Owls in the grand opening of the Campus Construction Project at Notre Dame Stadium. It was the second-most rushing yards amassed by the Irish in the eight-year Brian Kelly era, eclipsed only by the 457 during a 62-27 drubbing of UMass in 2015.
Three Fighting Irish players eclipsed the 100-yard rushing mark, led by junior Josh Adams' 161 yards on 19 carries with two touchdowns. In his debut as a starter, junior quarterback Brandon Wimbush carried 12 times for 106 yards — he was 17 of 30 passing for 184 yards, two touchdowns and an interception — and a late surge by junior running back Dexter Williams resulted in 124 yards on merely six attempts.
"Having a good run game, you have to have big plays," said Notre Dame head coach Brian Kelly. "They crowded the line of scrimmage. When you drop your safeties down and decide that you're going to play eight, nine guys on the line of scrimmage, if you break through, those are the things that come with it. "Now if you play two safeties back and play second level and third level defense, you can probably get five yards, six yards, seven yards. But when you play that kind of defense, you're going to get some big runs. We were able to do that."
The veteran Irish offensive line has been rated among the nation's elite, and it asserted dominance early, building a 28-3 cushion with 11:09 still left until halftime and never were seriously threatened thereafter.
Especially gratifying to Kelly was the left side of the line with preseason All-Americans Mike McGlinchey at tackle and Quenton Nelson at guard was not the centerpiece.
"I love the fact that when we needed to run the ball, we could go behind [guard Alex] Bars and [tackles Tommy] Kraemer and [Robert] Hainsey and not have to just rely on Quenton Nelson and Mike McGlinchey," he said. " That's pretty good that you've got the confidence that you can go on either side of the ball."
The Irish asserted their dominance early, building a 28-3 cushion with 11:09 still left until halftime and never were seriously threatened thereafter.
Defensively, first-year coordinator Mike Elko's troops bent some by allowing 330 yards total offense, but the most vitally effective stat was his troops limited the Owls to 5-of-17 on third-down conversions (29.4 percent) and 0-of-2 on fourth down.
FIRST QUARTER: Notre Dame 21, Temple 3
Top Moment: With just 33 seconds elapsed in the game, Notre Dame went ahead 7-0 when its opening series took only two plays, a 33-yard toss from Wimbush to junior Equanimeous St. Brown on the first play and Adams romping for a 37-yard score.
Top Performance: Adams amassed 112 yards on six carries in the first quarter alone, his ninth career 100-yard rushing output at Notre Dame.
Stats: Notre Dame outgained Temple 199 (152 rushing, 47 passing) to 99 (34 rushing, 65 passing). The 17 Irish plays averaged 11.7 yards. Temple won the time of possession 9:21-5:39, but that's because two of Notre Dame's touchdown drives of 70 and 72 yards required only two and three plays.
Items: With 5:50 left, Wimbush capped a 59-yard drive with an eight-yard scramble into the end zone on third-and-goal. He accounted for 28 yards on four carries during the drive to make it 14-0
Temple got on the scoreboard with a 36-yard field goal by Jones with 2:23 remaining to cut the deficit to 14-3.
Notre Dame answered the Temple tally when Wimbush found leaping senior tight end Nic Weishar in traffic and past the goal line for a 12-yard score, Weishar's first career touchdown for a 21-3 lead. The play was set up by a 60-yard scamper by Adams.
SECOND QUARTER: Notre Dame 28, Temple 10
Top Moment: Notre Dame made it 3-for-3 on touchdowns in the red zone with 11:09 left when Wimbush's fade to the back-shoulder of St. Brown resulted in a five-yard score and a 28-3 lead.
Feature Performer: Wimbush's abilities as a dual threat showed when he passed for 133 yards in the first half while also rushing for 61 on nine carries.
Stats: Notre Dame accounted for 340 yards total offense on 37 plays, 207 on 20 rushes, and 9-of-16 passing by Wimbush for 133 yards. The Owls' 38 players garnered 207 yards (127 passing, 80 rushing).
Items: Temple's first touchdown reduced its deficit to 28-10 when quarterback Logan Marchi connected with Keith Kirkwood on a 12-yard tally to end a 75-yard drive at the 6:09 mark. On the final play of the half, a 44-yard field-goal attempt by junior Justin Yoon hit the right upright.
THIRD QUARTER: Notre Dame 35, Temple 10
Top Moment: After a 43-yard interception return to the Notre Dame 14-yard line by Temple cornerback Mike Jones with 6:47 remaining and the Irish ahead 28-10, Notre Dame's defense dug in, highlighted by a sack by junior linebacker Te'Von Coney on third-and-five. The Owls then missed a 36-yard field goal.
Feature Performer: Notre Dame's defense forced a three-and-out on the first three series to keep the Owls at bay. Temple had only 39 yards total offense in the quarter.
Stats: The Irish had 472 yards total offense (308 rushing, 164 passing) through three quarters.
Items: Notre Dame's opening possession ended with a 47-yard field-goal attempt by Yoon sailing wide right. The lone score in the quarter came on a seven-yard run by sophomore running back Tony Jones Jr. — his first career score — with 1:22 left. Earlier in the drive a lost fumble call on Jones was overruled.
FOURTH QUARTER: Notre Dame 49, Temple 16
Top Moment: With the score 35-16, Temple faced fourth-and-one at midfield. Running back Ryquell Armstead was met behind the line of scrimmage, with senior linebacker Greer Martini forcing a fumble that classmate and rover Drue Tranquill returned to the Temple 34. That set up a one-yard scoring run by Adams with 5:44 left to build the advantage back up to 42-16.
Feature Performer: Junior Dexter Williams was the third Notre Dame running back to score, a one-yard run with 2:29 left to make it 49-16 that Williams set up with a 66-yard burst.
Stats: The Irish averaged 8.2 yards per play while racking up 606 yards total offense. Temple finished with 330 yards total offense, 85 rushing, 245 passing.
Items: Temple's final score came with 12:05 left on a 10-yard screen from Marchi to wideout Brodrick Young. A fourth-and-2 running play by Notre Dame at the Temple 42 resulted in only a one-yard gain by Jones, giving the ball back to the Owls at the 9:36 mark.