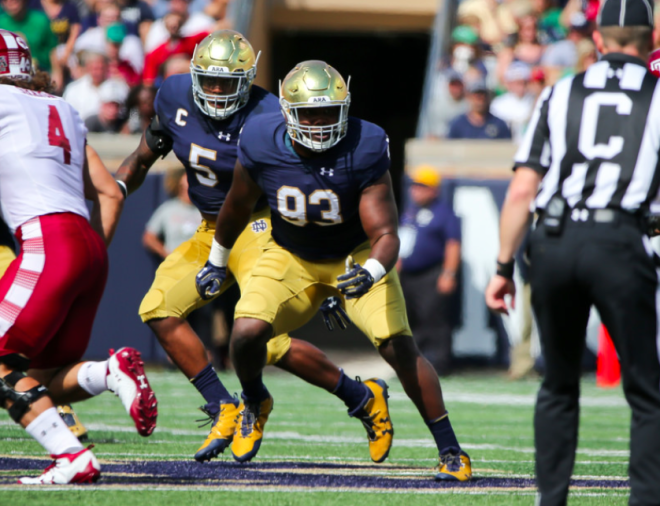 A look at Notre Dame's top performers, a look at what worked and a look at what didn't in the 49-16 victory over Temple for the Fighting Irish. More detailed analysis will come following a full examination of the game film.
TOP PLAYERS
Offense: RB Josh Adams - 19 carries, 161 yards, 2 TD's
The junior running back was awarded the game ball following Notre Dame's 49-16 win over Temple, and for good reason. The Warrington, Pa., native racked up 161 yards and two touchdowns on 19 carries.
Adams' 37-yard touchdown run on the second play of the game gave Notre Dame an early 7-0 lead. He then scampered for 60 yards to set up another touchdown that put the Irish up 21-3 in the first quarter. With Notre Dame up big, Adams carried the ball just twice in the fourth quarter, which prevented him from having an even bigger game.
Defense: DE Jay Hayes - 5 tackles, 1 TFL, 1 QB hurry
The senior end was a major factor in Notre Dame's strong defensive performance against Temple. The Irish were especially stout against the run, holding junior running back Ryquell Armstead to just 67 yards on 19 attempts.
Hayes was physical at the point of attack and got very good movement when Temple tried to run in his direction, which threw off the timing of the ground game. He contributed five stops of his own, including a tackle for loss, and he had an early pressure that forced redshirt sophomore quarterback Logan Marchi out of the pocket and into the arms of end Daelin Hayes.
Special Teams: CB Julian Love and RB Tony Jones Jr.
With one exception — a 30-yard return late in the third quarter — the Notre Dame coverage units played well in the win over Temple. The Irish special teams constantly put the Owls inside its own 30-yard line, and both freshman running back Tony Jones Jr. and sophomore cornerback Julian Love played a big role.
Jones led the special teams with three tackles, and Love added two stops, including an excellent open-field tackle of fifth-year senior punt returner Mike Jones for no gain.
WHAT WORKED
Dominant Run Game Performance: The numbers for the Notre Dame offense were staggering, especially when it came to the ground game. The Irish racked up 422 rushing yards (9.6 per carry) and five touchdowns against a Temple defense that ranked 25th in the nation in rushing defense a season ago.
The Owls brought a lot of pressure, and their safeties were heavily involved near the line of scrimmage. The Irish had to chip away at Temple, but in the end it paid off.
Eighteen of Notre Dame's 31 carries by its running backs went for three or fewer yards, although two of those carries were one-yard rushing touchdowns.
The Irish backs continued to pound away at Temple, and when they got creases they took advantage. Five of the running back carries went for at least 22 yards, including a 66-yard run from junior Dexter Williams and a 60-yard run from classmate Josh Adams.
Notre Dame offensive coordinator Chip Long mixed in enough running by junior quarterback Brandon Wimbush to keep Temple off balance. The Irish signal-caller added a career-high 106 yards on the ground, although not all were designed runs.
Defensive Pressure Proves Impactful: There is still plenty to improve upon with the Irish defense, which is expected after just one game in new coordinator Mike Elko's system. However, the increased pressure that Elko wants to bring was obvious — and impactful.
Notre Dame sacked Temple quarterback Logan Marchi three times, with one each coming from sophomore defensive ends Julian Okwara and Daelin Hayes. It marked the first career sacks for both players.
Notre Dame had just one sack from its ends in 12 games last season and only 14 for the entire 2016 campaign.
Although the sacks were a welcome sight, the Irish defense consistently pressured the Temple quarterback, adding four pressures and three passes broken up to the final tally. Even when the defenders weren't getting hits on Marchi, they were forcing him to rush throws or make attempts off his back foot.
That pressure was a key reason why Marchi completed just 19 of 35 passes, an accuracy rate of 54.3 percent, well below the 61.7 percent mark the Irish allowed in 2016.
Irish Play Good Situational Football: Big issues for Notre Dame in 2016 were its struggles on third down — on both sides of the ball — and its offensive failures in the red zone.
Notre Dame converted six of its 13 third-down opportunities (46.2 percent), and it held the Temple offense to just 5 of 17 on third downs (29.4 percent). The Owls were also stopped on both of their fourth-down chances.
The Irish saved its best football for the red zone, converting all six of their trips into touchdowns. It marked the first time they achieved that feat since a victory over North Carolina on Oct. 14, 2014.
WHAT DIDN'T WORK
Communication Issues And Missed Assignments Prove Costly: There were some positives for the Notre Dame secondary, but it was far from perfect and continued improvement will be needed quickly with Georgia coming to town Sept. 9.
A mistake by sophomore cornerback Julian Love opened up the outside for Temple redshirt junior wide receiver Brodrick Yancy to score from 11 yards out in the fourth quarter. That came a play after sophomore safety Jalen Elliott left a Temple tight end wide open in the end zone, only to see the pass get dropped.
In addition, a misalignment on the outside allowed Temple wideout Isaiah Wright to convert a third-and-11 with a 29-yard gain on a screen play in the second quarter.
Wimbush Plays Well, But Improvements Are Needed: The junior quarterback from Teaneck, N.J., played will in his first start. He passed for 184 yards, added another 106 on the ground, accounted for three touchdowns and showed off his playmaking ability.
He was far from perfect, which is to be expected. Wimbush locked in on his first receiver too often, which is exactly what he did when he threw a pass that fifth-year senior Temple cornerback Mike Jones intercepted. Wimbush missed too many open targets and also put a little too much extra sauce on some of his throws, making them hard to catch.
Notre Dame's coaches will likely be quite pleased with his first start, but there is plenty of room for improvement.