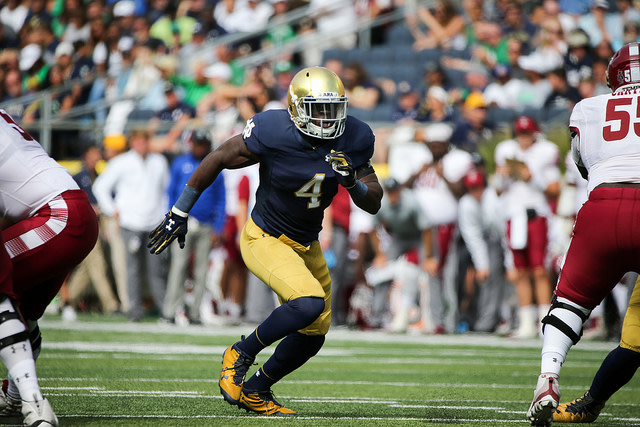 Don't miss out on any of our exclusive football, basketball and recruiting coverage. Click here to get your 60-day free trial!
If there is one position in football other than quarterback where a rotation is not recommended, it's along the offensive line. Continuity and chemistry among those front five players is at a premium.
Nevertheless, the snaps at right tackle were split relatively evenly between sophomore starter Tommy Kraemer and freshman Robert Hainsey during the 49-16 victory in Saturday's opener against Temple.
For now, neither head coach Brian Kelly nor offensive line coach Harry Hiestand feel compelled to play only one of them among the four other established senior starters in the lineup.
Kraemer was the top-ranked Irish recruit in the 2016 class (No. 41 nationally) while Hainsey was at No. 108 this past cycle, behind only tight ends Brock Wright (No. 44) and Cole Kmet (No. 95). The competition between Kraemer and Hainsey is beneficial for now.
"I think we'll leave that open-ended in terms of whether we'll have two guys there or not," said Kelly, who lauded the performance of both in their college football debuts.
Hainsey committed the only two penalties on offense with illegal procedure infractions, but the early entrant from superpower IMG Academy has made his presence felt with advanced technique for his age.
"I kind of like playing both of them right now, but we'll see how that goes," Kelly said. "I don't want to be married to one concept there. I think we'll let that kind of play itself out and see where it goes."
Meanwhile, on defense, Kelly estimated that approximately 24 players were in for a minimum of 10 snaps against Temple. Both the Buck linebacker spot with Greer Martini and Te'von Coney and rover with Drue Tranquill and Asmar Bilal had a tag team feel, and the line utilized 12 players.
"We'll continue to do that," Kelly said.
His most pleasant dilemma is at running back, where earlier in the week he noted that juniors Josh Adams (19 carries, 161 yards, two TDs) and Dexter Williams (six carries, 124 yards, one touchdown) and sophomore Tony Jones Jr., (six carries, 19 yards, one touchdown), also from IMG, all possess NFL level talent down the road.
When and how often they play comes down to specific skills sets against in certain situations, personnel groupings or alignment.
"It starts with Josh," said Kelly of the lone Notre Dame player to rush for at least 800 yards each of his first two seasons. "Then Tony specifically, we like his versatility coming out of the backfield, catching the football. But in terms of running the ball, all three of those guys are going to get opportunities … we'll use in certain situations a particular player to match their skills. But all three of them are going to get a chance to contribute to the run game.
"We like to get Tony in there when we're in two backs, whether that's with Dexter or Josh. And we want to keep the backs fresh. If they're on a long run, the next back is going to go in."
Injury Update
• Fifth-year senior tight Durham Smythe, who caught two passes for 34 yards versus Temple, went through concussion protocol on Sunday and showed no symptoms of any such injury. If he displays the same during Monday's conditioning work, then the signs will be very encouraging that he will practice this week.
• Junior defensive tackle Micah Dew-Treadway was held out of action against Temple because of a knee strain. Kelly is not ruling him out from possibly seeing action next week.
• Overall, the Irish came out "clean" injury-wise versus Temple, other than the typical assortment of bruises and soreness.
Georgia QB Situation
Georgia Bulldogs sophomore starting quarterback Jacob Eason suffered a knee sprain during the first quarter of the Bulldogs' 31-10 victory against Appalachian State and appears doubtful for Saturday night's showdown at Notre Dame.
He was replaced by freshman Jake Fromm, who finished 10 of 15 passing for 143 yards, one touchdown and no interceptions.
Both were five-star Pro-style quarterbacks, with Eason ranked No. 1 by Rivals.com in 2016 and Fromm No. 3 this past recruiting cycle. To Kelly, Georgia can succeed with either mainly because of the supporting cast, especially the dynamic running back duo of Nick Chubb and Sony Michel that rivals Alabama's as the best in the nation.
"Georgia has built their offense around two outstanding senior running backs, and they're not going to put either quarterback in a position that they have to go out and win the football game," Kelly said. "They're going to be certainly asked to take care of the football, be smart, make good decisions
"[The quarterbacks are] really good players, but this will come down to featuring two outstanding running backs."
Irish Items
• Notre Dame allowed 207 yards total offense in the first half, but forced Temple into three consecutive three-and-out series at the start of the second half and limited the Owls to 39 yards in the third quarter and 123 in the second half.
Kelly said the defense had problems getting into the right fits versus the speed stretch play in the first 30 minutes.
"We, quite frankly, didn't see it," Kelly said. "They ran a lot more fullback than we thought. Mike [Elko] did a couple things at halftime. We made some adjustments in how we were fitting the play."
• With play-calling duties deferred to offensive coordinator Chip Long, Kelly said he is more of a game manager now for the offense, defense and special teams. He will alert Long on when the Irish are in four-down mode or ball-possession mode, among other things, and handle clock management.
"This is his game to call," Kelly said of Long. "I'm certainly, as the head coach, going to continue to manage as I see appropriate during the game."
• When asked by a Cleveland reporter about 2015-16 Notre Dame starting quarterback DeShone Kizer getting named the starter of the NFL Browns as a rookie and Kelly's "statement" last winter that he wasn't quite ready yet for the NFL, Kelly took a couple of seconds to comport himself, especially after talking and encouraging his former QB yesterday.
"Probably the 700th time that I've responded to this question," Kelly said. "What I said was that he was the best quarterback in the draft, and he had the biggest upside, but would benefit from staying at Notre Dame. Once that decision was made, we were all for DeShone seeking out what his dream was — play in the NFL. That's what he's done.
"In a very short period of time he's gotten himself into a great position to be the starting quarterback. We're thrilled for DeShone. We're big fans. Hopefully he's surrounded with guys that can get Cleveland back into championship caliber."