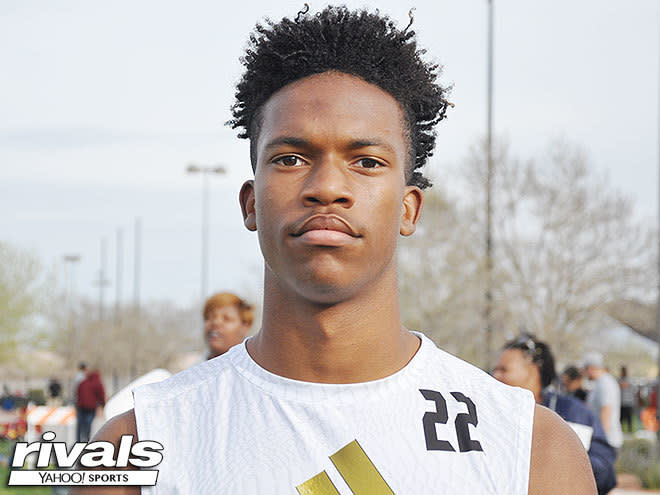 Several big-time 2018 prospects will be in attendance for Notre Dame's game against Georgia, including Etiwanda (Calif.) High wide receiver Geordon Porter.
Porter, a three-star prospect, will travel to South Bend with both of his parents on Saturday morning and will be in town until Monday morning.
Heading into the visit, Porter said Notre Dame is one of the four schools he's focusing on going forward. Joining the Irish on that list are Arizona State, UCLA and Utah.
Porter took an unofficial visit to UCLA Sept. 3 and plans to officially visit the remaining schools on his list before making a decision near the end of his football season.
Porter has high expectations for the weekend and knows he won't be disappointed.
"I'm expecting to see great football, a great school with academics and a great environment," Porter said.
The 6-2, 175-pounder said he's looking forward to getting a closer look at one of his top schools.
"I'm really excited," he noted. "It's going to be a great game with two great teams and great tradition on Notre Dame's side. It's going to be a packed house, and I can't wait to see what it's like around there."

Ht: 6'2.0"
Wt: 175.0
Class: 2018
Commitment status:
undecided
Notre Dame became a major player for Porter as soon as it offered June 14, and the California talent said a trip to South Bend immediately became a priority.
"It's an amazing place, and you've got to take an official if you have the chance," Porter said. "That's a great school and a great football program.
"I like the way people just love football around there."
Since picking up the offer, Porter said he and the Notre Dame coaching staff have stayed in contact regularly, and the message the coaching staff is sending is resonating heavily.
"They're telling me that they want me in the offense to throw the ball deep," he said. "They think I can be the athlete to get down the field and catch those balls. I really like how they're approaching me in the recruiting process."
The two main recruiters for Porter have been receivers coach DelVaughn Alexander and special teams and recruiting coordinator Brian Polian.
Porter has bonded well with both coaches, though different things stick out about each of them.
"He played the game as a receiver at USC, so he knows how it is to be a receiver," Porter said of Alexander. "I like the way he coaches and some of the things I've seen from his receivers. Equanimeous [St. Brown], he's balling out this year and most likely going to the NFL. He's doing good work with those guys."
Of Polian, Porter said he appreciates the way the Irish coach has made him a priority.
"He's a great guy," Porter stated. "I like the way he's staying in contact with me and always talking to me about how my games are. He's always there and is just a great coach."