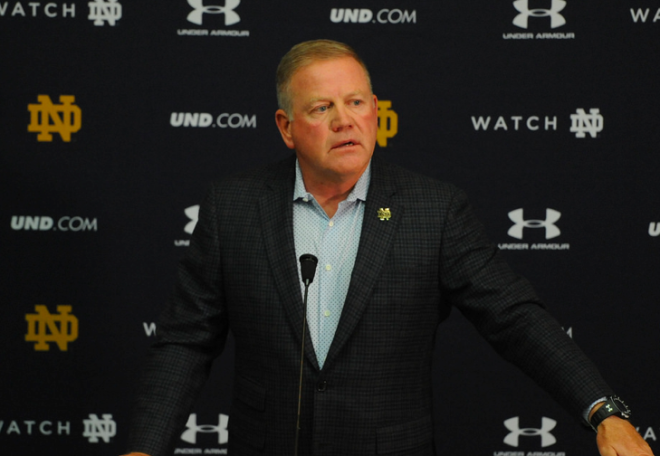 Notre Dame kicked off the 2017 season in impressive fashion, beating Temple — the defending American Athletic Conference champion. The team's 49-16 victory over the Owls got the Irish off on the right foot, but head coach Brian Kelly knows his team still has a lot of work to do.
It starts with the defense.
"I jstill think our fundamentals have to get better," Kelly said during his Georgia week press conference. "We have to tackle better. That will start with all phases of our tackling."
The message of improvement goes far beyond the defense, which gave up ground early before settling in and handling the Temple rushing attack. Notre Dame's entire team, including its potent offense, has areas where improvement is needed.
"I told our football team its situational awareness has to get better," Kelly said. "We have some situations where we've got to react quicker. In the screen game, for example, our situational awareness wasn't great.
"We backed up in the end zone on a throw," he continued, referring to junior quarterback Brandon Wimbush. "We have to know where we are on the field. So some of the fundamental things and then some situational awareness, I think, have to get better."
Tackling was a major area of concern for Notre Dame in recent seasons, especially in 2016. Kelly liked the improvement his team has made, but expects more moving forward.
"It can get better," he said. "I thought for a first game we held onto some tackles. We'd like to be a little bit better in terms of positioning on our tackling.
"When you're in that first game and it's a little faster, your aim is a little off. I think we'll be a better tackling football team in week two."
Part of the need for improvement comes from the fact Notre Dame played so many new players, or players who had not seen significant minutes in the past.
"I thought Brandon Wimbush, as a first-time player, first-time starter, was pretty good," Kelly said. "… [Freshman defensive lineman] Myron Tagovailoa-Amosa was pretty good. He was explosive and did some really good things … [Freshman safety] Isaiah Robertson on special teams was really good as a true freshman.
"I thought there were some nice things from first-year players. There were some nice things from [sophomore running back] Tony Jones, as a first-year player, and then some of the true freshman were able to show themselves. [Freshman defensive lineman] Kurt Hinish played a lot of football. I thought he learned a lot in his first start and got a lot of action."
Te'von Coney's Offseason Improvements Show Up On Saturday
One of Notre Dame's defensive standouts was junior linebacker Te'von Coney, who came off the bench to rack up six tackles, 1.5 tackles for loss and a crucial third-down sack that kept Temple out of the end zone.
Coney played at a high level in the opener, which followed a fall camp in which he received his head coach's praise. But it's not the physical improvements alone that have made Coney such a key part of Notre Dame's talented linebacker rotation.
"His physicality and his strength is certainly there," Kelly said. "What has changed in Te'von is his traits. I'll give you the example. Last year the back goes away, he probably follows the back and doesn't blitz off the edge. But with his attention to detail, he's locked in, he does his assignment, we cut loose the tight end, and he covers up for a mistake on a play. We were covering up for his mistakes last year.
"So it's not just the physical talent. He really had that in a large degree. Where he's taken the huge jump is in his traits. His attention to detail, his focus. He is a locked-in football player, and that's where he's making the jump."
Physical Improvement Proves Beneficial To Jay Hayes
While Coney had the physical traits, senior defensive end Jay Hayes was a player that needed to develop as a person and a player.
"There's no question that he has matured both on and off the field. But his is different," Kelly explained, drawing a contrast between the rise of Coney and Hayes. "His has been in correctives in the weight room and mobility and his agility and his footwork.
"This is a big, strong football player. He's 285 pounds, and he needed to match that strength and size with his footwork and change of direction. He committed to that in the offseason. [Trainer] Rob Hunt and the trainers did a great job on correctives with his footwork and his feet in particular to get him where his change of direction now matches and meets his physicality."
Gilman Denied Transfer Waiver
Sophomore safety Alohi Gilman had hoped to gain immediate eligibility after transferring from Navy during the summer. His initial waiver request was denied the week prior to the home opener against Temple. Notre Dame appealed his case to the NCAA, but with no luck.
"Alohi's appeal has been denied," Kelly said during his pre-Georgia press conference. "We have put that one to the side and we'll move forward.
"Alohi will be obviously eligible next year, and we're excited about his involvement in our program. But that is now something we can move forward with."
Updating Injuries
Kelly mentioned that fifth-year senior tight end Durham Smythe, who left Notre Dame's win over Temple after taking a hard hit over the middle, is working towards getting on track to play this weekend after going through the concussion protocol.
"Durham Smythe is progressing well," the head coach noted. "He'll be out at practice today in a non-contact format, and if he does well today, we'll initial him to the full status. "
Junior defensive tackle Micah Dew-Treadway missed the opener with a knee injury, but Kelly expects him back for the Georgia contest.
"Micah Dew-Treadway will practice today," he said. "He had a great day in the weight room yesterday. We feel like he's ready to get out there and compete for us."