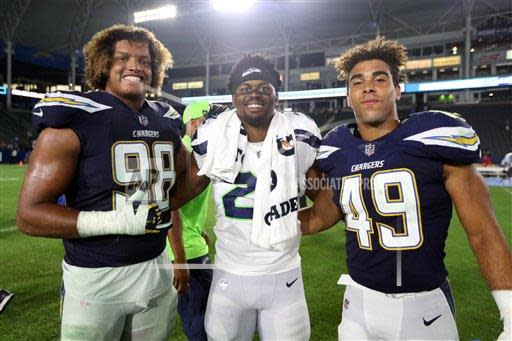 In previous years during the NFL preseason, multiple deadlines occurred for teams to cut their roster to a certain size before eventually getting down to the 53-man roster for the regular season.
However, this year the league adopted just one deadline which occurred this past Saturday (Sept. 2).
A multitude of players were cut by their respective organizations with some finding new homes.
Here is a look at where things stand with former Irish players in the NFL as the league heads into its regular season. An MLB update follows.
NFL UPDATES (OFFENSE)
• George Atkinson (2011-13), RB, Oakland Raiders: Atkinson registered 13 rushes for 81 yards in three preseason games for the Oakland Raiders after being waived by the Browns in late July. Added three catches for 40 yards. Did not make the 53-man roster.
• Chris Brown (2012-15), WR, Cincinnati Bengals: Did not make the 53-man roster for the Bengals after catching three passes for 14 yards in the preseason.
• Tyler Eifert (2009-12), TE, Cincinnati Bengals: Arrived at training camp healthy, after injuries limited him to eight games a year ago … Aims to play 16 games for the first time in his career and re-establish himself on one of the league's top tight ends … Caught one pass for four yards in the Bengals' preseason contests.
• Anthony Fasano (2002-05), TE, Miami Dolphins: Signed on for his second tour of duty with the Dolphins and will split playing time with Julius Thomas … Did not catch a pass in the Dolphins' preseason contests.
• Michael Floyd (2008-11), WR, Minnesota Vikings: Suspended for the first four games of 2017 by the NFL due to his DUI arrest in December and subsequent 24-day jail stint, but was a standout during training camp and is playing his way into the team's plans … Notched five receptions for 46 yards in Minnesota's preseason games.
• Will Fuller (2013-15), WR, Houston Texans: Began the year as Houston's No. 2 receiver … Showed improvement early in training camp, but suffered a broken collarbone Aug. 2 that is expected to sideline him until late October or early November.
• J.J. Jansen (2004-07), LS , Carolina Panthers: Will once again handle all the team's long snapping duties in 2017.
• Jarron Jones (2012-16), OT, New York Giants: The undrafted free agent was moved to offensive tackle during offseason training activities and did not make the team's 53-man roster. Has signed to be part of Seattle's practice squad.
• TJ Jones (2010-13), WR, Detroit Lions: Added muscle during the offseason and impressed early in training camp and earned a roster spot… Caught two passes for 33 yards in Detroit's preseason games.
• DeShone Kizer (2014-16), QB, Cleveland Browns: The second-round draft pick was competing for the starting job in Cleveland, with veteran Brock Osweiler serving as his toughest competition, but has since been named the starter. Completed 11 of 18 passes for 184 yards and connected on a game-winning 45-yard touchdown throw in the fourth quarter of the Browns' preseason opener … Also ran three times for 12 yards. Has went 14 of 31 for 167 yards and an interception in the previous two contests. Also rushed for 35 yards and a touchdown on five carries. Did not play in the final preseason game.
• Ben Koyack (2011-14), TE, Jacksonville Jaguars: Vying for the starting tight end job, but regardless of whether or not he earns it he figures to be a lot more involved in the team's passing attack this year … Caught five passes for 62 yards in Jacksonville's preseason games.
• Nick Martin (2011-15), OL, Houston Texans: Missed all of last season due to an ankle injury, but didn't waste any time reasserting himself in 2017 … Was named the Texans' starting center prior to their first preseason contest and was expected to maintain that role all year.
• Zack Martin (2009-13), OL, Dallas Cowboys: The Cowboys were working on signing the All-Pro guard to a lucrative long-term extension during training camp, but will resume negotiations after the season concludes … He is expected to become the highest-paid guard in the league, with an annual salary exceeding $12 million and anywhere between $30-40 million guaranteed … Started the last three games of Dallas' preseason games before fourth game was cancelled due to Hurricane Harvey.
• Troy Niklas (2011-13), TE, Arizona Cardinals: Trying to fulfill his potential after injuries limited him to 26 games and eight catches his first three seasons … Has impressed in training camp, but needs to stay healthy to carve out a role … Caught four passes for 45 yards and one score in Arizona's four preseason contests.
• C.J. Prosise (2012-15), RB , Seattle Seahawks: Projected to handle a large portion of the Seahawks' third-down backfield duties … Had one rush for three yards and one reception for eight yards in the Seahawks' preseason opener, but missed their next two exhibition games due to injury … Notched three carries for five yards in final preseason game against the Raiders.
• Theo Riddick (2009-12), RB, Detroit Lions: Still recovering from offseason wrist surgery, but is expected to form a one-two punch with fellow running back Ameer Abdullah.
• Kyle Rudolph (2008-10), TE, Minnesota Vikings: Entrenched as Minnesota's starting tight end following his best season as a pro (83 catches for 840 yards and 10 touchdowns) … Did not catch a pass in the preseason.
• Ronnie Stanley (2012-15), OT, Baltimore Ravens: Locked in as the Ravens' starting left tackle … Missed the team's last three preseason contests with an undisclosed injury after starting the opener.
• John Sullivan (2003-07), C, Los Angeles Rams: Was the frontrunner to be the Rams' starting center, but must fend off a couple of younger players to secure the job … Started each of the team's first three preseason games before sitting out the last.
• Golden Tate (2007-09), WR, Detroit Lions: Will serve as Detroit's No. 1 receiver for the second straight year … Figures to get more work in the slot this season, a position where he has flourished in the past … Pulled down seven receptions for 96 yards in the preseason.
• Sam Young (2006-09), OT, Miami Dolphins: Entered training camp as Miami's No. 3 tackle, swinging between the right and left sides as needed. Was cut on Saturday by the team before being resigned after another team attempted to sign the veteran tackle.
NFL UPDATES (DEFENSE)
• Robert Blanton (2008-11), DB, Dallas Cowboys: Recorded six tackles in the Cowboys' preseason contests before being cut.

• Sheldon Day (2012-15), DL, Jacksonville Jaguars: Looking to land a spot in Jacksonville's defensive line rotation … Registered seven tackles and one sack in the Jags' preseason games.
• Matthias Farley (2011-15), DB, Indianapolis Colts: Had a strong offseason … Made eight stops (seven solo), one sack and forced one fumble in the Indianapolis' preseason games.
• Kapron Lewis-Moore (2008-12), DE, Chicago Bears: Signed with the Bears in January and is battling for a roster spot … Made one tackle in Chicago's preseason contests before not making the team's 53-man roster.
• Cole Luke (2013-16), CB, Carolina Panthers: The undrafted free agent is doing his best to earn a roster spot during training camp … Due in part to some injuries in Carolina's secondary, he has taken some reps as the team's No. 1 nickel corner … Notched 18 tackles (nine solo) in the Panthers' preseason games.
• Romeo Okwara (2012-15), DE, New York Giants: Has established himself as one of the Giants' more promising young players … Will open the season as a backup, but will be an important part of the defensive end rotation … Recorded three tackles in the preseason.
• James Onwualu (2013-16), LB, Los Angeles Chargers: Made seven tackles in the preseason helping him earn a spot on the 53-man roster.
• Cody Riggs (2014), CB, Tampa Bay Buccaneers: Recorded five tackles in for the Buccaneers. Did not make the team's 53-man roster.
• Isaac Rochell (2013-16), DT, Los Angeles Chargers: Battling for a roster spot with the Chargers after being drafted in the seventh round … Registered 11 tackles, including half a sack, in the preseason helping him land a spot on the roster.
• KeiVarae Russell (2012-15), CB, Cincinnati Bengals: Making the bid for a spot on the Bengals' 53-man roster with a strong summer … Made 14 stops and defended one pass in an effort to secure a spot on the Bengals' 53-man roster.
• Harrison Smith (2007-11), S, Minnesota Vikings: Remains a fixture in the Vikings' secondary after making his second Pro Bowl appearance last season … Notched three tackles (all solo) in the Vikings' preseason games.
• Jaylon Smith (2013-15), LB, Dallas Cowboys: Continues progressing in his recovery from a devastating knee injury in January 2016 … Has shown improvement on the practice field and even taken some reps with the first-team defense … Made his Cowboys debut in their preseason game versus Indianapolis Aug. 19, seeing action on 12 plays and making one tackle. Made three tackles in his second preseason contest against the Raiders. Final preseason game was cancelled due to Hurricane Harvey.
• Manti Te'o (2009-12), LB, New Orleans Saints: Made a pair of tackles in the Saints' preseason opener, and then racked up nine stops (seven solo) and one sack against his former team, the Chargers, in his second exhibition outing. Added six tackles over the final two preseason games.
• Stephon Tuitt (2011-13), DE, Pittsburgh Steelers: Regarded as one of the league's top young 3-4 defensive ends … The Steelers were attempting to lock him up with a contract extension before the start of the regular season … Made four tackles including one for loss during the preseason.
• Ishaq Williams (2011-14), DE , New York Giants: Currently on the Giants' injured reserve list while rehabbing from a May 4 knee surgery.
MLB UPDATES
• John Axford (Played at Notre Dame from 2002-05), RHP, Free Agent: Was released by the Oakland A's Aug. 1, and had yet to hook on with another team … Struggled in 22 relief appearances, notching a 0-1 record and 6.43 ERA … Recorded 21 strikeouts in 21 innings, but also allowed 44 base runners (27 hits and 17 walks).

• Trey Mancini (2011-13), 1B/OF, Baltimore Orioles: Seen action in 123 of the Orioles' contests … Hitting .290 with 56 runs scored, 23 home runs and 72 RBIs.
• David Phelps (2006-08), RHP, Seattle Mariners: Was traded to the Mariners July 20, with three prospects going to the Miami Marlins … For the season, had made 54 relief appearances while registering a 4-5 record with 21 holds, 62 strikeouts and a 3.40 ERA in 55.2 innings.
• A.J. Pollock (2007-10), OF, Arizona Diamondbacks: Has played in 90 games… Hitting .265 with 59 runs scored, nine homers, 32 RBI and 18 stolen bases.
• Jeff Samardzija (2003-06), RHP, San Francisco Giants: Currently holds an 9-12 record with a 4.31 ERA in his first 28 starts of the season … Whiffed 184 batters in 183.2 innings of work. Has made 178 quality starts.