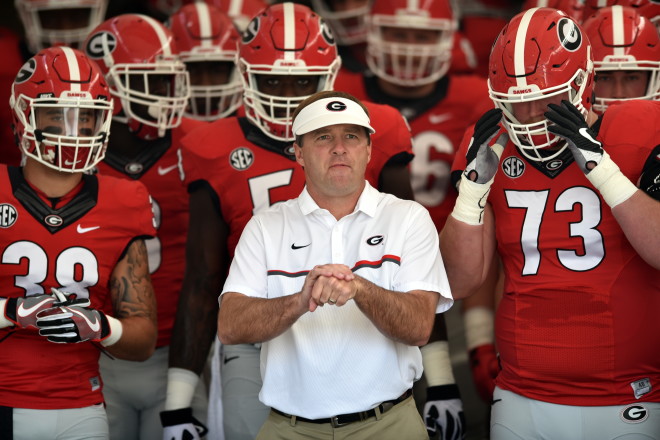 Notre Dame and Georgia are two of the more storied programs in the country, and despite the tradition of championships, All-Americans and Heisman Trophy winners for both programs, this Saturday will mark just their second-ever meeting.
Their first came in the Sugar Bowl on Jan. 1, 1981, a game Georgia won 17-10 en route to the national championship. Saturday's meeting will mark the first time Georgia has trekked to Notre Dame, and the first time since 1965 that it travels above the Mason-Dixon line for a regular-season game.
Georgia head coach Kirby Smart, now in his second year at his alma mater, is very well aware of the historical nature of this matchup and what the current Irish program will bring into the game.
"We are excited to play a program of that much prestige," Smart said during his Monday press conference. "I think a lot of Brian Kelly and his staff. They do a tremendous job. They have a very storied program of which our players have been made aware of and understand."
Comments made by several players on Monday showed they had been schooled on the history of Notre Dame football.
"That's the place growing up that you always want to play at," senior outside linebacker Davin Bellamy said. "Very legendary; the way it's built, the infrastructure of it. I think it'll be really cool to play in."
Senior wide receiver Javon Wims concurred.
"Being from Miami, I remember watching the 30 for 30 on Miami versus Notre Dame, and that stuck out to me," Wims said. "But also just knowing the history they've got. They've got the most national championship wins. They've got the huge beautiful statue, the Touchdown Jesus. They've got a lot of rich history."
Smart knows that his team won't be playing against the great players from Notre Dame's past, and that the ghosts of championship teams will have no impact. His team will have to be prepared for the latest collection of talent.
"They have some really good football players," Smart said of the Fighting Irish. "They played a really good game Saturday and did a lot of good things with their program. So, we are excited for the opportunity."
Smart was the defensive coordinator at Alabama from 2008-15, and during that time he was involved in the recruitment of a talented defensive back from St. Peter's Prep in New Jersey, the home of Notre Dame quarterback Brandon Wimbush. The Georgia defense knows the test it has in the Irish signal-caller.
"I know quarterback-wise the … quarterback they have now is a really special and talented player," Smart said. "Extremely fast, extremely athletic. I was aware of who he was because he was at the same high school as Minkah Fitzpatrick when we recruited Minkah, so I got to see him there."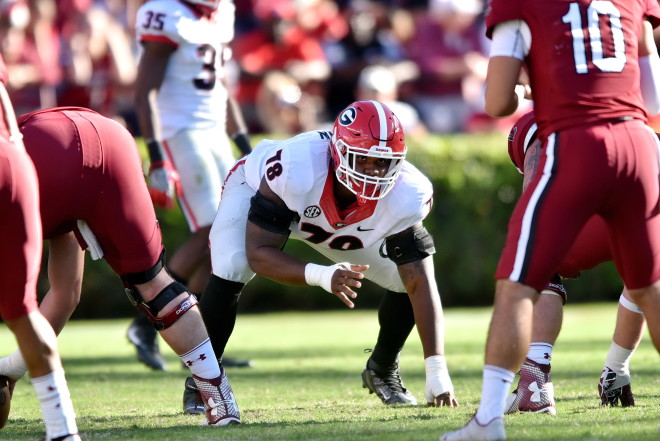 Georgia will have to be ready for a Notre Dame offense that in Wimbush's first start racked up 49 points and 606 total yards, including 422 on the ground, in its own season-opening victory against AAC champion Temple. It is an offense that has weapons all over the field, according to the Georgia head coach.
"First of all, [Wimbush] is an explosive athlete, he looks as fast as any player on their team," Smart explained. "Maybe a couple of the wideouts are faster, but he is a very explosive player. They do a good job of the RPO [run-pass option] system. I've had a lot of respect for [Notre Dame offensive coordinator] Coach [Chip] Long for a long time.
"When he was at Memphis, I watched a game one night and I think they scored every single possession of the game once. It was like score, score, score, score, score. He does a good job of using the dual-threat quarterback, but the backs are big and physical. I mean bigger than our backs and physical. They run downhill at you."
Notre Dame's offensive line also caught the Georgia head coach's eye, but he believes he has a defense that can match up.
"They have four offensive linemen who have played for a long time and they are as good looking an O-line as you will ever play," Smart noted. "They are all big and they do a good job of running the ball, but the quarterback's dual threat, which you saw the guy last week scramble around, this guy is going to be much faster and more athletic doing that.
"I think [fifth-year senior left tackle Mike] McGlinchey is going to be a first-round pick, if not, he's going to be really close. That whole left side is really strong and powerful. They have as good an offensive line as you see. We are excited for the challenge. Our defensive line has to step up and play well because they are going to play against some big, physical guys."
The game will be played in Notre Dame Stadium, but the environment is likely to be less hostile than what Georgia is used to when it travels on the road in SEC play. It is expected that a large contingent of Georgia fans will have tickets in hand on Saturday.
"I know a lot of our fan base is planning on going up there," Smart said. "I think these kind of games in college football are really cool because you get to go play somebody that you don't normally play. I know our fan base is really excited, our team is excited.
"I mean, it will be the first team ever from Georgia to get to go to South Bend and play, and we are excited for the opportunity."
Georgia will have a talented quarterback of its own in the game, with true freshman Jake Fromm making his first career start. Fromm, a former five-star recruit, came off the bench in Georgia's 31-10 victory over Appalachian State Sept. 2 after sophomore starter Jacob Eason went down with a knee injury.
Fromm completed 10 of 15 passes for 143 yards with a touchdown, but Notre Dame presents a different kind of test for the talented, young signal-caller.
"I thought he came in and managed the situation well," Smart said of Fromm's performance. "Every situation will be different because App State obviously wasn't planning for him, so the next team will be.
"Jake Fromm is a mature freshman that's going to be able to take over the offense and hopefully go out and execute. … Jake is a gamer. He is a kid that grew up around the game. I look at him and compare him to a coach's son, a football junkie. He likes it, he loves being around it, he's always cheering and fired up out there."
Smart knows that emotion will aide Fromm, but in an environment like the one he will be in on Saturday and against an opponent like Notre Dame, the young quarterback will have to harness that energy.
"He is really passionate about the game," Smart said. "He can't let his emotions get in the way for him because for him, it's just an excitement. He's kind of that way. He's just competitive."