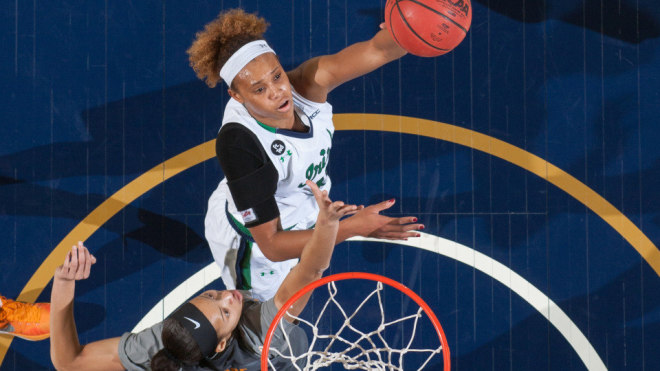 Don't miss out on any of our exclusive football, basketball and recruiting coverage. Click here to get your 60-day free trial!
Notre Dame women's basketball head coach Muffet McGraw, who will be enshrined in the Naismith Basketball Hall of Fame this Saturday, confirmed on Tuesday that senior All-America center Brianna Turner will be sidelined for the 2017-18 season while rehabbing from an ACL tear she suffered March 20 during Notre Dame's second-round NCAA Tournament victory versus Purdue.
"We discussed it with Bri, we discussed it with her parents, and we all agreed that it's in her best interest to sit out this year," McGraw said. "She'll continue rehabbing but she won't be playing."
The rehab has been progressing fine, even to the point where Turner was on pace to possibly suit up by January. However, McGraw believed it would be unfair to Turner to use up a year of eligibility while trying to get back into a flow after her injury.
McGraw added that the plan is for Turner to return as a medical redshirt in 2018-19 while enrolled in graduate school.
A two-time All-American who also has twice been the ACC Defensive Player of the Year, and the ACC Player Of the Year in 2016, the 6-3 Turner's absence will leave a huge void with low-post scoring and with her defensive presence.
"It's going to be a different kind of team," McGraw said. "You saw what we did against Ohio State in the tournament. I think we will be a much more perimeter oriented, three-point shooting team."
Minus Turner, the Irish still defeated Ohio State in the Sweet 16, 99-76, with six different players scoring in double figures while collectively shooting 12 of 24 from three-point range. Notre Dame then lost by one point in the Elite Eight to Stanford.
The likely four-guard lineup features juniors Arike Ogunbowale and Marina Mabrey, who averaged 15.9 and 14.6 points per game last season, respectively, plus two-time All-Pac 12 point guard Lili Thompson, a graduate transfer from Stanford.
McGraw is especially anticipating a huge breakout year by sophomore guard Jackie Young, the Naismith Player of the Year in 2016, who thrived on occasion last year while averaging 7.3 points and 4.6 rebounds per game, but battled a few health setbacks and deferred to older players.
Senior forward Kathryn Westbeld, who has been most effective as a 6-2 high-post passer, will round out what is projected to be the starting five.
Fifth-year 6-4 senior Kristina Nelson and 6-3 freshman Mikayla Vaughn will be the main candidates to help as low post players.
Meanwhile, former top-5 recruit and two-time All-Big Ten 6-4 forward Jessica Shepard submitted paper work to the NCAA late last week appealing for a waiver to be eligible at Notre Dame this season as a junior. A reply is expected later this month. This past summer Shepard transferred from Nebraska, where she averaged 18.4 points and 9.7 rebounds per game last season for the 7-22 Cornhuskers.
If Turner, Shepard, Ogunbowale, Mabrey and Young all return in 2018-19, Notre Dame will be projected to challenge the Connecticut dynasty for the national title.
McGraw noted how the 2001 national champion Irish had fifth-year senior and now current Notre Dame assistant Niele Ivey at point guard after she too had to battle back from an ACL injury. A couple of years ago, Madison Cable had a marvelous fifth season after bouncing back from stress fractures in her feet.
"These injuries can be life-changing," McGraw said. "To now have to sit out a year and not have basketball, it's changed a lot of things. She's attacked it, she's determined to come back healthy, but it's been difficult. I think she's now able to kind of look at other things, I know she's trying to get involved in some other things — she's going to be a coach on the bench. She's going to have a different role, but she's still going to have a big role for us."