A trio of Notre Dame's captains addressed the media today to review the team's 49-16 win over Temple and preview their highly anticipated matchup with the Georgia Bulldogs.
Below you can read what each player had to say to each question asked. Running back Josh Adams, offensive tackle Mike McGlinchey and rover Drue Tranquill are featured.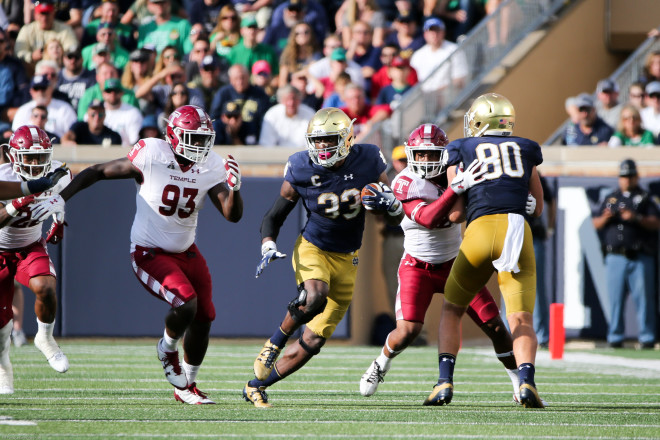 RB JOSH ADAMS
Q: Last week I guess you ran for 160 yards, and then you guys ran for obviously 422 yards. How does the challenge maybe evolve against Georgia's defensive front? JOSH ADAMS: "Well, I think we have a challenge each week that we go out there on game day to get better and to improve from the last game. I think that was one of our biggest things was trying to get better learning from the film and trying to top what we did the previous week. I think that's what makes us a great team is we constantly want to push ourselves and we constantly want to get better each day."
Q: Everybody talks about SEC defenses and they're bigger and more dominating than others. What have you seen watching them this week?
ADAMS: "I think that we're just mainly concerned about our behalf of the game. We're more concerned how we can do better as an offense, not so much who we're playing. We play a different team each week, and they're going to come with new things, so we have to focus on our half of getting better and improving. Each team is going to go out there and bring their best, and of course that's what we expect is for them to bring their best, so we have to bring our best, and we're going to have to prepare likewise."
Q: How forward do you guys look to a game with this type of atmosphere come this weekend?
ADAMS: "It was great to get out there last week finally in front of our fans. This will be our second home game. Atmosphere is going to be similar. It's going to amazing to get out there in front of those fans, in front of our family and play. Each week we have a new challenge, and that's great to go towards our goal that we have set for ourselves. So it's definitely going to be a great opportunity. It's going to be a lot of fun getting out there again in front of these fans before we get on the road. So we're just preparing for that, preparing like we have been doing in the past. We're on Wednesday already, so we're getting closer, but we're definitely still focused on getting better and improving."
Q: And how you guys look at this as sort of a -- kind of an early season, one of the biggest tests that you're going to have early on, what are the stakes of this game, a little bit more higher compared to what it was last week?
ADAMS: "I think at the end of the day, it's another game playing a great opponent. We face a lot of teams that will bring their best and will bring 100 percent, so we have to meet that expectation, and we have to continue to practice hard, continue to prepare hard. We can't take any team lightly, no matter who we play. Again, it's another great opportunity for us to go out there and have fun and go in and improve on the mistakes that we made and do better on the things that we did good. We're definitely looking forward to it, and we just can't wait."
Q: You mentioned 161 yards last week. What does that do for your confidence just heading forward here?
ADAMS: "I mean, it's another mark that we have to try to push. Each and every guy in that room wants to do better, us as running backs, like I mentioned before last week, we want to get out there and do good in all aspects of the game, not just run the ball. We want to try to contribute as best as we can to the team, and our end goal is to win at the end of the day. So whether it's two rushing yards or 160, we want to get that win, and however we can do that, we're proud to do it."
Q: From your perspective just being on the field with Brandon last week, how he was able to handle his first live game?
ADAMS: "Oh, it was a lot of fun. Just going out there and seeing him progress and seeing him grow from the first quarter to the end, you know, his first real live action as starter, I mean, it's just amazing how far he's come. Just going out there and having fun, it's good to see your fellow teammates just enjoy the game and just show love for the game and his teammates, so that was amazing."
Q: From what you know about Georgia right now, what type of things do they do defensively that could challenge the way you guys want to run the ball compared to what Temple did defensively and how they tried to stop you guys?
ADAMS: "I mean, you know, they're a four-down defense, might go a little three-down. We're just preparing for it like we would each and every game. We have to limit our mistakes. We have to, in a sense, chase perfection in the way that we run our offense, and I think what makes us a great offense is we want to continue to get better and we want to kind of dominate on our side of the ball. Again, it's an amazing opportunity to play whoever we play each and every week. I don't think that we should get too concerned about the other side of the ball as far as what we're doing, but in that sense, we're excited."
Q: Obviously against Temple you got into their secondary a few times, got into the open field. The expectation, of course, with Georgia is that they're going to have a little bit more athleticism. Does that excite you, if you get that opportunity in the open field, just to kind of show case that you guys are on the same level or another level athletically that you can try to make some people miss? Does that excite you, that expectation?
ADAMS: "I think that we're going to try to take it one play at a time. We're going to try again to score as fast as possible. We're going to continue to play at that tempo that we want to play, what we've been practicing for all off-season. Again, it's another great opportunity this week to go and play a great opponent. Next week we'll have another big opportunity to improve on what we've done this week, so I think that us as an offense, we're mainly focused on how we can improve and how we can do better not so much as who wants to stop us or anything like that because we're only as great as we want to be."
Q: And then just lastly really quickly, what was it like kind of getting the handoff and seeing those holes that you were seeing against Temple on a few of those runs? ADAMS: "I mean, we have a fantastic offensive line. It's just amazing to run behind those guys. We have a lot of love for each and every guy up front, and like I mentioned last week, we want to repay them for all the hard work they're putting in, so it's only right that we go 110 percent just to repay them and just to show our love for those guys. I mean, they do an amazing job each and every week coming to practice, playing hard, being physical. It's just amazing to be around those group of guys."
Q: Since you've been at Notre Dame, what's the quickest, best pursuing defense that you've played against?
ADAMS: "They're all pretty fast to me."
Q: I'm sure they are.
ADAMS: "No, every team brings something new to the table and they bring something different. I mean, they're all athletic. That's why they're playing college football."
Q: There's got to be one or two that stand out.
ADAMS: "No, I think it's mainly about the schemes. Anything can happen in college football. You know, things change day-to-day. You just never know, and that's what's amazing about it. I just try to go out there and have fun with my guys and try to improve. I obviously want to do better than the game before. I mean, that's always been my mindset is to improve and help my team in any way that I can. But every defense brings something new, and that's what makes it so exciting about game planning is you can craft up something new on the offensive side of the ball and try to execute it to the best of your ability."
Q: A lot of No. 1 backs will say they need to get a few carries before they really get a sweat going and are at their peak, but your first carry, 37-yard touchdown, exploded by some DBs on the back end of it. Generally speaking, do you feel like you're ready to go that first carry, or do you need a few generally to really get into full gear? ADAMS: "I mean, that was my first carry, but that was my second play of the game, so I was in the game for two whole plays, so I think if we had a drive that went five plays and I only got my first carry on the fifth one, I've been in there for a full series now. So I've had plenty of time to get my feet wet, get physical, pass protection, try to hold up somebody as long as I can. I've been in the game for a while, and I've had time to really get physical and get used to the game play. I don't think it matters how many carries you have because you're out there playing football, and that's what's so great about our team is that we want to contribute in any way that we can. Yeah, that's just always been my mindset."
Q: I wonder what it's like in the running back room when you're going over the previous game and Dexter Williams has a chance for like a 70-yard run, and 35 yards from the end zone he's looking behind him to see who might catch him. Especially with a guy with that kind of speed, do you give him a little trouble about looking behind him or how did you look at that?
ADAMS: "I mean, we're all competitors in that room, so we want to push each other and we want to challenge each other. We all know that if we get a chance to get in open space that we have to finish. I had some runs where I didn't finish, and he had some where he didn't finish. We definitely get on each other about that because we want to be great as a unit, and we want to improve each and every week, and we want to continue to compete against each other. Any time that one of us has a chance to be successful, we want to see the other succeed and to do his best. "I think we're on each other hard about all those type of things, and that's what makes us a great unit."
Q: That play aside, how are you guys taught that when you break away -- you had a 60-yard run but they had an angle on you. How are you taught to deal with that? Are you not supposed to worry about who's behind you or if you do look, use a straight arm or what's the technique used there?
ADAMS: "I mean, Coach Denson says that we can't be wrong with the ball in our hands, so once the ball is snapped and we have the ball, we've just got to go out there and play football. At the end of the day, it's a game that we've been playing for a while. It's a game that we love. So you've got to go out there and have fun. Obviously touchdown is the name of the game on offense, so whatever you can do to get in the end zone and score is what we want to do, so just going out there and just playing with confidence, playing with the intent to score and to dominate is what we focus on anyway that you can do that. Of course we practice different moves throughout the week, so we want to kind of use those things that we've been practicing and we've been working on and try to simulate that in the game. Just going out there and finishing is our mindset."
Q: Are you aware of Georgia's running back tradition, and was that a place that you knew about or were recruited or knew thinking about when you were coming out of high school?
ADAMS: "Tradition?"
Q: Georgia's running back tradition, producing great running backs who go on to NFL careers.
ADAMS: "No, I'm not aware of that. I wouldn't know. We're only concerned about what we're doing right now. We've just started game planning, so I don't know if that was something that will come up later or what."
Q: Have you ever heard of Herschel Walker?
ADAMS: "I have, yeah. Herschel Walker is a big guy."
Q: You have heard of that?
ADAMS: "Yeah."
Q: What do you think about Georgia's tailbacks that are going to play on Saturday? Do you keep up with other running backs around the country, and do you know anything about Nick Chubb and Sony Michel?
ADAMS: "I actually just had a class end at 2:20, so I didn't have a lot of time to think about that. I rushed right over here. I have to get ready to lift. After that I have to go to practice, so my schedule is kind of tight. But you know, what we're concerned about is on the defensive side of the ball because I'm not on defense and I can't play the offense. We're just thinking about how we're going to produce our game plan and how we can get better."
Q: Did you hear about Dominique Sanders and some other Georgia players saying they intended to punish you?
ADAMS: "No, I'm not big on social media. I only have an Instagram, so I don't really search for a lot of that stuff. No, that's interesting. I haven't heard anything about that."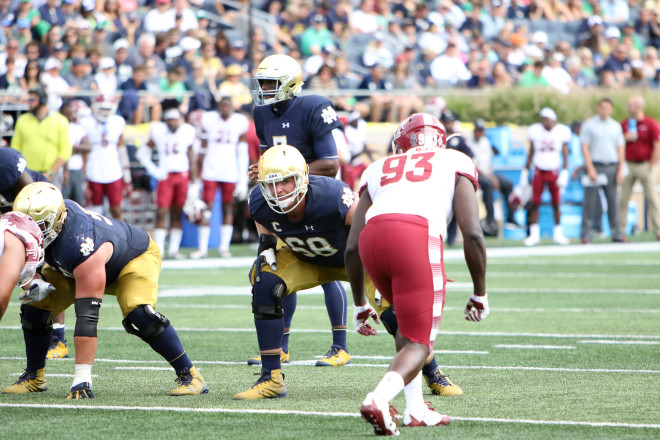 OT MIKE MCGLINCHEY
Q: Mike, how would you evaluate pass protection in the game against Temple?
MIKE McGLINCHEY: "It was solid. We definitely did a good job for the most part all day. But definitely wasn't where we wanted to be. We want to pitch perfect games, and we didn't do that, so that's all we can do is keep improving and try and do our best to keep Brandon upright."
Q: What makes Georgia's front different? McGLINCHEY: "They're big, they're strong, they're fast, and they are play sound football. They're going to do a great job of using their hands, getting off blocks, and we just have to do our job to stay on them. They're going to be a group that plays real hard and a group that plays real fast, and they're just going to bring it on Saturday, and we've got to do the same.
Q: Just you envisioned what Brandon was going to look like on the field, now that you've seen him in a game situation, were you surprised the number of hits he took in that game?
McGLINCHEY: "I don't know if I'm surprised by it. Part of Brandon's game is running the ball, and obviously the hits that he took in drop-back pass protection can't happen. Again, like I was just saying earlier, we've got to do our job to keep Brandon upright as much as possible, but I think part of his game is opening up the field and using his legs, as well. I don't know if it's necessarily surprising, but I mean, we obviously would like to keep Brandon healthy."
Q: You said you were sound in assignments. As the season progresses, as you kind of settle in, does that get better, generally speaking, as far as just being assignment sound?
McGLINCHEY: "Absolutely. I think the more experience you get throughout the year, the more preparation, the more that you're used to preparing throughout the week, and being able to see looks that you are going to get in a game, the more assignment sound you become. We got to knock off the rust with the first week. It was tough because we didn't actually watch a whole lot of Temple film because of them having a new staff and new scheme to be put in place. But there's no -- we've just got to keep grinding at it, keep preparing as hard as we can, keep studying our opponents the best we can and put ourselves in a position to be on our jobs at all times on Saturday."
Q: Brandon made his first start last week, but he's a junior, so I'm sure you don't look at him like a new guy. On the other side, your opponent will be blocking for a true true making his first start. You probably have to concern yourself with protections and stuff like that when you're blocking for a very inexperienced quarterback?
McGLINCHEY: "In terms of offensive line, like taking over the protection?"
Q: Yeah, that, and just in general do you have to be more conscious of, hey, we're blocking for a guy that doesn't have nearly as much experience?
McGLINCHEY: "I don't think you need to be too conscious of it. I think you just need to trust him. They've gone through -- we've gone through a whole nine months with Brandon, and I'm sure that Georgia's freshman quarterback has gotten his fair share of reps, as well. His teammates are going to trust him, and whatever the game plan is, they're going to stick to it. I don't think you need to be more conscious no matter who's taking snaps at quarterback they're a pretty valuable guy to your offense, so you need to block as hard as you can and as well as you can, no matter who's back there.
"In terms of just seeing things together, that's probably where the gray area comes a little bit because you're used to a voice behind you that's different or the quarterback might see things a certain way that you've worked on for a long time that maybe you don't have the same kind of sync in just a week's preparation. But in terms of being conscious of just having a true freshman back there, I don't think that they're going to have anything different."
Q: You guys are obviously accustomed to playing ACC teams. You know a couple Pac-12 teams. You've played against Big Ten and now SEC. We in the business are always speculating about who has the better conference. When you go up against a team or a couple of those teams from a conference, do you get a feel for who the better conferences are? Can you recognize that?
McGLINCHEY: "Well, being at Notre Dame, I think you align yourself with teams, not conferences. I've never put a lot of stake in that. You get good teams in every conference, and Georgia certainly is one of them in the most hyped conference in college football. They're going to be a great opponent, but no, I don't really -- I have no opinion on which conference is better. There's great teams in every single one of them and great teams that have given us a fair share of pains and problems over the years. "I can't really speak to which conference is better, but there's a lot of great teams in the SEC, and Georgia is one of them, and they're going to bring it on Saturday for sure."
Q: Are you of the same opinion, I guess a lot of people -- it's changed a little bit, the ACC gets more publicity now, especially with Clemson's rise, but do you ascribe to the thought that the SEC is the best conference?
McGLINCHEY: "I guess that's kind of the general consensus. They normally have a great amount of top-25 teams finishing the year. But you know, there's great -- like the National Championship team came from the ACC, the Rose Bowl team came from the Pac-12. It's kind of all over the place. "I think there's a certain number of teams that are consistently that great every year from that conference, which is probably why the SEC stays as the top conference in college football. Well, and like I said, it's because of the teams that are in it, not necessarily because of the conference."
Q: I know you're on the other side of the line with the two young tackles, but have you had an opportunity to have a conversation with them after their first game, and what kind of advice do you give them as they start the game a little bit more experienced?
McGLINCHEY: "Well, I think the only advice you can keep giving them is to just be that. They don't have to be the next Ronnie Stanley, Zack Martin, Mike McGlinchey; they have to be Rob Hainsey and Tom Kramer. The better they can get at that, the more success is going to come their way. They need to worry about doing their job. They need to worry about working their butts off throughout the week, and that's really all you can ask from them. They've done a great job in taking coaches from Coach Hiestand, from listening to anything I can throw their way, to anything that has been thrown at them, and they've done a great job in their preparation, and they're going to only keep getting better. "It was a solid first week for the two of them, and I only expect nothing but better stuff to come from the two of them, as well."
Q: When you hear Coach Hiestand talking to the two of them, does it bring back any memories from things he said to you when you were young?
McGLINCHEY: "Definitely. I see a lot of myself in those two. They're at that point where -- in your career with Coach Hiestand, it's kind of the make-or-break point. They're getting thrown into the starting lineup. They're the youngest guy on the line, and it's a -- they take their lumps for sure each and every day at practice. But it's about how you respond to that, and I joked with them before the game because Tommy and Rob both asked me last week, like what's it like, man, what's this going to be like on Saturday, and I said, to be honest with you, it's a lot easier than Tuesday, Wednesday and Thursday, because the stress that you're dealing with isn't really hard-nosed stress that we deal with throughout the week. "But it's easy because you're free. You can play on Saturdays, and the two of them, I see a lot of myself, and not necessarily my game, but definitely the things that they're experiencing right now for sure."
Q: Same process?
McGLINCHEY: "Exactly."
Q: You were just talking about Notre Dame plays in huge games all the time. Georgia and Notre Dame playing for the first time in 37 years, supposedly tens of thousands of Georgia fans are coming up here for the game, how does that resonate for you guys as players? Are you aware of it? Do you care that these two played in a game 37 years ago for the National Championship?
McGLINCHEY: "I mean, I do. I'm a Notre Dame history buff, so I guess I kind of love that, that aspect of it. But in terms of the collectively as the two teams, I don't think it's going to have much effect of what's going to happen on Saturday. We're very excited just because of the historic nature of not just our program but Georgia's, as well. They're a top-notch program just like we are, each and every year, and this is one of those games that when you see it come out, you circle it on your schedule, like that's going to be a big one, and I think nationally that's been responded. I think it's the highest priced ticket in all of college football this year. It's one of those things that Georgia is coming to town, we're really, really excited about it, I know they're excited to come play us here, and it's going to be one of those games that people are going to be watching and people are going to be excited, and Saturday is going to be a hell of a time for sure."
Q: You said you're a history buff. Are you aware of the dynamics of that game that happened 37 years ago? Do you know anything about it beyond maybe the score? McGLINCHEY: "I don't, not much. I haven't done much digging into that, but I probably will, depending on how this outcome goes."
Q: A couple of Georgia players were I don't know if you'd call it trash talking or whatever, but they said they want to punish Notre Dame. Did that reach you guys? Do you hear that kind of stuff?
McGLINCHEY: "Yeah, you certainly hear it. You know, it's just one of those things that they can say what they want to say, and we'll just stick to what we're doing. We're not going to sit here and talk about what Georgia is saying or what they're doing. We're going to worry about Notre Dame. That's all I can really say about that. We're going to go and play our hearts out on Saturday, and whatever team wins wins. We hope it's us, and we're definitely going to work our butts off this week to make sure it's us, but other than that, we don't pay too much attention to it."
Q: What do you think it's going to come down to, your offense versus their defense, your impressions of their defense, and what it's going to take to be successful? McGLINCHEY: "I think the same things it's going to take to be successful every single week. You've got to be disciplined in your assignments, be consistent throughout the day with your emotions and trust your teammates and make sure everybody is doing their job. It's a game of the most consistent team and the team that makes the fewest mistakes wins. That's how football is, and I don't think it's ever going to change no matter who the opponent is. So we're going to do our darndest to make sure we don't make more mistakes than Georgia, and hopefully we can come out on top."
Q: I know that throughout the preseason at least you guys talked about how the offensive line wants the ball, the onus is on you guys to run the ball to win. How does the challenge kind of evolve against this kind of defensive front to run the ball? McGLINCHEY: "I don't think the challenge evolves, but it's certainly a bigger one. You know, they have a great front, and they're ready to play ball, and so are we. You know, we want this kind of a challenge up front. We want to be able to say, hey, we're going up against the best in America, and I think that's -- Georgia is certainly in that upper tier of teams and certainly defenses that is ready to play football and play it well. Up front, the five of us or the six of us, I guess, want that job, and we want to be able to respond to that kind of adversity. And I think that we have a great game plan in place, and we're going to keep working at it all week with Coach Long and Coach Hiestand, and we're going to do our job and play our hearts out and hopefully -- not hope, but work to the fact that we're ready for this challenge and going to see what happens on Saturday and just play well."
Q: I realize that everyone is always like, oh, the preparation is the same, but there's always this talk about SEC defenses. Is there anything that you have to do not differently but as far as maybe just kind of facing these guys that is special or unique?
McGLINCHEY: "I don't think like from the football aspect, I don't think it's very different. They're going to play a defensive front that we've -- it's not creating something new, but they do it extremely well, so we're going to have a little bit more of an attention to detail on specific things that we're going to try and do to exploit their defense and try and score points. But I think that the biggest adjustment comes in with the emotions and that kind of a thing, and that's what you've got to do a little bit differently this week. You've got Georgia, one of the biggest opponents we've ever had here at home, coming to down, and certainly especially for guys -- I'm excited, and I've almost started 30 straight games. I can't imagine what a Brandon or a Tommy or a Rob is kind of going through in their mind. My first start was against LSU, so I kind of had the same deal. "But it's one of those things that it's going to be a big week. People are talking. Everybody is talking about this one, and you've got to -- the biggest adjustment is staying true to what we do each and every week and your preparation and staying smart and stay consistent with your emotions throughout the week and not letting this be bigger than it is. The more you can control that, the better you're going to be on Saturday."
Q: How fun was it for you guys as offensive linemen last Saturday putting up over 422 yards and then with Josh able to give you guys the game ball after that one? McGLINCHEY: "Yeah, it was awesome. It was a lot of fun. You know, that's the kind of game we like to play, we want to play. 400 some yards is no small feat, but we had a lot of mistakes that we need to clean up, and if we don't clean them up, it's going to be a longer Saturday against Georgia. It's just one of those things that, yeah, we had a great job on Saturday, we rushed for whatever many yards, we had three guys, whatever. But it doesn't guarantee anything against Georgia, and we've just got to go back and try and do it again."
Q: I know that you said how the demeanor of Brandon throughout practice and throughout the entire off-season, always calm and confident, but was he the same way during that game type atmosphere last Saturday?
McGLINCHEY: "He was exactly the same way. He was a great leader, great with his communication, great teammate, he was great on the sidelines, and never faltered. He was the same guy the whole day, and that's who Brandon is, and that's who he's going to continue to be."
Q: After 300 yards rushing last week and from what you know about Georgia right now, what gives you guys as an offense confidence that you can have another good day running the football against them, however you guys define a good day, whether it's maybe not 300 again, but however you guys would qualify that. McGLINCHEY: "Well, I think the success just comes in how you look at the film on Saturday and whether or not you had a successful day or not. But I think the confidence comes in just ourselves. You know, I think we've built ourselves to the point where we have a lot of confidence in our abilities up front, and we've got a lot of guys that can make a lot of plays behind us. That's where our confidence comes in. It comes in with us, and it certainly comes in from Coach Long and Coach Hiestand. They've done a great job of building that confidence throughout our entire offense, and certainly within our group in the O-line. And that's kind of where it comes from. We're going to have a great game plan for them. Coach Long is one of the best in America at doing that, and we're really excited for the opportunity, and just got to make sure that that confidence turns into success."
Q: Do you go into a game like this with a goal number saying we want to get X amount of rushing yards?
McGLINCHEY: "No, not at all. Whatever wins us the game will win us the game. We don't really care about the total number of rushing yards as great as it is to talk about afterwards. But we're just going to go out there and do our best to beat Georgia. No matter if it's through the air, through the ground, whatever it is, whatever gets the job done that has more points on the Notre Dame column, that's all we want to do."
ROV DRUE TRANQUILL
Q: Obviously there's expected to be a lot of Georgia fans here, a lot of red in the stands. How important is it for your fans obviously to bring their very best, as well, to counteract that?
DRUE TRANQUILL: "I mean, I think it's important, but I think they bring their best every week, at least in the time I've been here. There hasn't been a game even in our downtimes when our fans weren't there filling our stadium, bringing a lot of excitement and enthusiasm, so I expect them to be rocking because in my opinion we've got some of the best fans in the country."
Q: What do you think this atmosphere will be like overall, and how much is this a game a reason why you come to a place like Notre Dame?
TRANQUILL: "Yeah, I think the atmosphere will be great. I think any atmosphere at Notre Dame is incredible, from the walk to the tailgating to just the fans outside the stadium to the fans inside the stadium. When you add the lights in the nighttime a little bit, obviously there's an added aspect to that, and so, yeah, I expect it to be really exciting. A lot of fun."
Q: Does the opponent add to that, as well, being one of the premier programs in the country?
TRANQUILL: "Yeah, I mean, obviously Georgia is a great historic program, and it's an opportunity for us to test ourselves against a conference who has proven itself over the years in the SEC, and so we're excited to go against a tough, physical opponent in Georgia, and you know, see where we stand and also compete against some of the best competition in the country."
Q: How big of a litmus test do you feel this is in the early part of the season? TRANQUILL: "I mean, we talk a lot about benchmarking ourselves based on the last week, and if we can move the needle each and every day and focus on getting better a little bit each and every day, we're going to be in a good position at the end of the season, and so we look at every game as a test. Every week kind of as studying and preparation, and so it's just another opportunity to see how our preparation stacks against our opponent. Obviously, we've got a good opponent this week, and so it'll be a good test for us."
Q: Coach Elko's defenses at Wake Forest were great at creating negative plays. You guy had problems with that last year, but opening week, 11, or about double what you guys averaged per game last year. What is it about his scheme, the way he coaches that allows his players to make so many negative plays, tackles for loss? TRANQUILL: "I mean, I think when you talk about negative plays, it happens because the defense is able to react fast, and they're able to react in a way that they're confident in their job. And so I've said this time and time again, I think what I appreciate about Coach Elko most is he allows his players to play fast and play free, and he really puts things in a way that allows his players to organize their jobs and their checks in a way that allows them to play fast. And so I think when you see a stat like that, that's the first thing that jumps to my mind is a group of guys who isn't out there necessarily thinking of X, Y and Z, but I know my assignment and I'm going to go play fast and exhibit the traits, the physicality, the speed, the quickness that is why I'm at where I'm at."
Q: And it's not necessarily a big blitzing defense, I don't know how much you guys maybe compare it to last year as far as bringing blitzes. Can you give us a sense of how much of that is part of his schemes?
TRANQUILL: "Yeah, I mean, I think when you say it's not a blitzing scheme, I mean, I think it's well-balanced in a sense that we have our pressures, we have our base defense, we have our heavy defenses. And so it's very balanced in a sense, and I think maybe in a sense of disguising things, and confusing the quarterback and giving him different looks maybe contributes to that, but we still bring our pressures, and we'll bring four, and I think a lot of that probably goes to our defensive line able to move the line of scrimmage and just their development this off-season, and so I think that would be a good thing for our defensive line rather than necessarily just our scheme. I think our defensive line moved the line of scrimmage well and was able to get pressure on the quarterback."
Q: They've got two really good running backs. I think Coach Kelly said yesterday he thinks they'll both end up playing in the NFL. Can you talk about the added challenge that presents, that they can bring in a fresh back several plays into the game and be just as good?
TRANQUILL: "Yeah, I think depth in any college football program, you're going to see success. I think you saw that with our defense last week and just our ability to rotate guys in and keep guys fresh. Whenever you're able to go from first string to second string and rotate guys in and not lose a beat and a step, you're going to be successful and you're going to present a challenge for the opponent."
Q: In terms of you guys, is it more important to prevent them from having sustained drives, trying to get them up the field quickly, because they have that depth? TRANQUILL: "I think that's one of our goals each and every week is to be successful on 3rd down. If you can make stops on 3rd down and get your offense back on the field, you've obviously got a chance to score more points, which is going to help you win football games."
Q: After the game you mentioned tackling, Greer mentioned it, Coach Kelly mentioned it. When you watched the tape, what was good about it, where do you feel like it can be adjusted or tweaked or improved from last week?
TRANQUILL: "Yeah, I thought our pursuit to the ball was great. I thought on initial contact we struggled at times. Maybe in open space, over-pursuing and taking bad angles, so just improving on our angles in the open field, improving on stepping to contact at first contact and wrapping and not allowing them to use their great balance to spin out of tackles. But I think where we were good was our pursuit to the football. I think you see plays like Jerry Tillery making a tackle 35 yards down the field. I think our pursuit was there. I think our initial contact and stepping into contact could be better and bringing our feet."
Q: Pete asked you a little bit about Georgia's back. I was curious about Chubb in particular. I think he broke seven or eight tackles last week, and that's sort of been his MO. Specifically with him, what does he do well and why is he hard for guys to bring down?
TRANQUILL: "I mean, I think you look at a back that's very balanced. At about 5'10", 230, he's got a little bit lower center of gravity, so he's able to kind of maneuver tackles and exhibits great balance, and also great explosiveness in the hole and great vision. Whenever you have a back with all those traits, he presents a challenge.
Q: In terms of like sort of the big game atmosphere here, what's the biggest that you've played in, either in your career here or just at Notre Dame Stadium? TRANQUILL: "I think first thing that probably comes to my mind is probably just because I was a freshman and I had never played in such big games before, but being down at Florida State, I just remember like not being able to hear. Obviously that was a big game, but it was probably more so I was just a freshman and hadn't been on necessarily the big stage before. You go from playing in high school to college, but every stage it seems like here week to week just seems to be incredible. The fans are always rocking, and it seems that Notre Dame always gets their opponents' best. We expect that from Georgia. Doesn't matter who they bring in here. Jacob Eason, freshman quarterback, doesn't really matter. I think we are going to get their best. So yeah, it's going to be a challenge."
Q: For games here, I know you don't practice any differently based on the stature of the opponent, you probably don't watch film any differently, so at what points in the week does it feel different, does it feel like, oh, it's Georgia or it's Texas or a bigger name opponent, whether in class or going to the stadium on Saturday, some of those types of moments?
TRANQUILL: "I mean, I'd say the only way it feels different is in the ticket demand and trying to get tickets for our family and guys are like, I don't have any tickets left this week. And so probably just the fan demand for tickets is what I'd say."
Q: You were just talking earlier about what you guys hope to clean up tackling wise, you like the pursuit but not finishing those tackles. Yesterday Coach Kelly was talking about how he sees that as an improvement that's kind of made as the season goes on as guys get used to the angles. Is that how you see it being in the trenches there, just as the season progresses you get a little more used to where your body is going and where you can expect the running back to go?
TRANQUILL: "Yeah, you've always heard the cliché that practice makes perfect, and obviously in fall camp and during the week in practice, you're not going to be pursuing your guys the way that you're going to pursue the opponent in a game. Obviously those angles are going to get better as you play more games and get more snaps under your belt and also just the initial contact there, as well. Definitely something that improves as the season goes on, but we want to accelerate that process as fast as we can."
Q: Not having that time to really clean it up because you have these big games early in the schedule, how do you try to accelerate that process?
TRANQUILL: "I think a big thing that we've practiced on this off-season has been mental rehearsal, and so just running those snaps through your head and being able to physiologically actually get your muscles prepared through mental rehearsal, that's been a big key for me at least, and so although you might not be getting as many physical reps in practice at tackling, just running those plays through your head and seeing yourself make those tackles is a big way that guys have been able to prepare."
Q: I know you said you as a group pursued the football well, but I imagine in game 1 no matter how much you practiced and went live, it's just a pace and a different feel than anything that you can really be prepared for that first time fully live. TRANQUILL: "Yeah. To that note, though, I think we've got a lot of great backs on our team. Obviously you see that last week. They just crushed it, along with our offensive line. So the chances we did get to go live against their offense, they presented an enormous challenge for us as a defense, which really helped us, I think, prepare and head into the first game, but obviously game speed is something you try to simulate in practice but you'll never quite get there, and so obviously it was great to get our young guys some experience in the first game heading into week 2 here, but you're absolutely right, it's not necessarily something you can simulate in practice."
Q: I know you said it doesn't matter to you really which quarterback is in there, but when you have a guy that's making his first career start and based upon what he did against App State, looks like a lot of three-step drops, getting rid of the football. Is it frustrating when a quarterback, if that's the approach where it doesn't really give you guys a chance to get in his face with the pass rush?
TRANQUILL: "I mean, I think Georgia's coaches are probably listening to that same stuff, and I'm going to think that they're going to bring a pretty balanced game plan in here that might have him in the three-step early to get him comfortable, but the kid is a talented kid. He didn't go to Georgia for nothing. He's got a great arm, and so obviously we don't have a lot of film on him, but we hear the kid is a gamer, and I'm assuming his coaches and his staff are going to do a great job having him ready to play, having him feeling confident. I'd imagine you have to feel confident with the guys surrounding you on offense, so it's going to present a challenge nonetheless, and I expect him to come in with a balanced approach and still throw the football.
Q: With their two running backs, Chubb and Michel, do you have to be aware who's in the game pre-snap just because their styles are a little bit different?
TRANQUILL: "Yeah, I mean, obviously I think it's something as you study film throughout the week, you see the different styles, how they approach the line of scrimmage, the moves they're making in space, is he a speed-to-power guy, is he moving laterally. So that's kind of stuff that you study on your own and have in your own back pocket. I think we're more concerned with personnel groupings and not so much as is Chubb on the field versus Michel. I think they're both great backs, and I think whoever is in, we're going to have to bring a great sense of physicality and understanding to our play."
Q: You guys play against a bunch of ACC teams. You're a little bit familiar with the Pac-12 and Big Ten, but you've never played SEC. Do you have an opinion as to what the best conference in the country is like we tend to have an opinion in the media? TRANQUILL: "I mean, growing up I was an Auburn fan, and so I always rooted for Auburn and the SEC. But I'm going to stick one out there for the independent conference and say that's the best conference in football."
Q: You, BYU, Army?
TRANQUILL: "Exactly, yeah, Notre Dame."