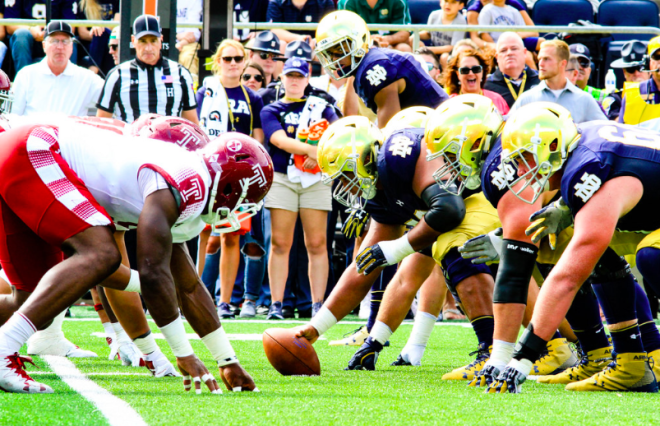 Notre Dame opened the season with a 49-16 victory over Temple. Below are the snap count totals for the Irish players in the win.
OFFENSE
A few notes:
* Notre Dame ran 74 official offensive plays, but a defensive penalty on Temple negated a play that will count toward the total of 75 offensive snaps that is mentioned below.
* Junior quarterback Brandon Wimbush, fifth-year senior left tackle Mike McGlinchey, senior left guard Quenton Nelson, senior center Sam Mustipher and senior right guard Alex Bars played all 75 offensive snaps in the game.
* Eighteen different players took at least 14 snaps against
* Last season, Notre Dame starting quarterback DeShone Kizer only took 75 snaps in one game, the team's 38-35 loss to Duke.
* Junior wide out Equanimeous St. Brown led all skill players with 58 snaps in the game; junior running back Josh Adams was next with 50 snaps in the game.
* Six different wide receivers played at least 14 snaps and three tight ends played at least 22 snaps in the game.
* Notre Dame's two right tackles split series in the game, with sophomore Tommy Kraemer playing 43 snaps and freshman right tackle Robert Hainsey playing 32 snaps.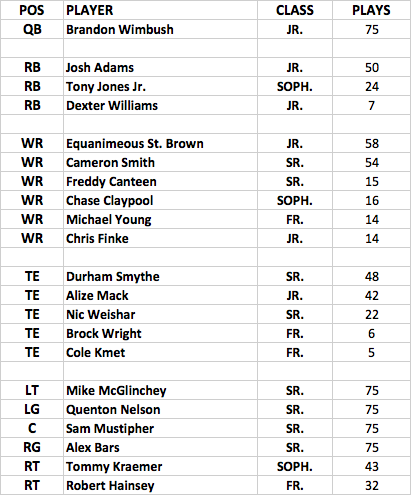 DEFENSE
A few notes:
* Nineteen different defenders played at least 20 snaps in the game.
* Senior cornerback Nick Watkins led all defensive players with 58 snaps in the game. Sophomore cornerback Julian Love was next with 52 snaps, and senior Mike linebacker
* Five different linebackers – including the rovers – took at least 34 snaps in the game.
* Eight different defensive linemen played at least 20 snaps, with junior nose tackle Jerry Tillery leading the way with 45 snaps. Sophomore end Daelin Hayes was next with 43 and senior end Andrew Trumbetti was third with 40 snaps.
* Four true freshman got defensive snaps against Temple, with nose tackle Kurt Hinish getting the most snaps (24).