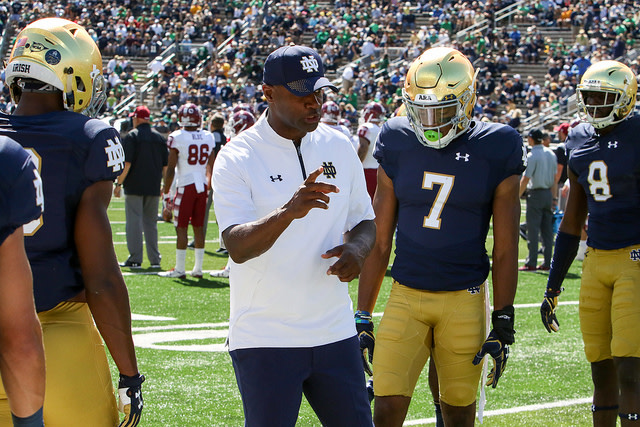 Don't miss out on any of our exclusive football, basketball and recruiting coverage. Click here to get your 60-day free trial!
Senior cornerback Nick Watkins has been a study in contradiction after one game this season.
On one hand, he entered the season as the oldest corner on the team. On the other he also was the youngest and least experienced in career starts there with one, primarily because of sitting out all of last season with a broken arm.
In last Saturday's 49-16 victory over Temple, Watkins again became an interesting study in contradiction in that he received the most activity on defense — but also in some ways was the least active.
He played 58 snaps as the boundary corner (short side of the field to the hash mark) out of possible 72. The next two with the most snaps were senior Mike linebacker Nyles Morgan and junior safety Nick Coleman with 50 apiece on a defense that saw 27 players see action, with 25 of them in for at least 10 snaps.
Yet, Watkins' stat line was one solo tackle, mainly because he was hardly ever challenged. Based on film review by Blueandgold.com analyst Bryan Driskell, the ball was thrown to Watkins' side only twice, with one of them in the end zone in which he had textbook position and coverage, resulting in an incomplete pass.
Like a great referee, the best cornerbacks often are the ones who are the least conspicuous in a game. They supposedly are doing their jobs so well that they're never noticed.
On the flip side, Notre Dame head coach Brian Kelly added that it was more a product of how the defense was set up by coordinator Mike Elko.
"Into the short field you can get into a lot of half-coverage scenarios where you don't want to go there," Kelly explained. "You get a lot more quarter coverages to the field side [where sophomore Julian Love starts] which prompts more throws. I thought [Temple's] game plan was outstanding to take the kind of throws that weren't challenged much, and the quarterback was smart in terms of what he did with the football. He didn't put them in some challenging positions.
"Nick did a very good job, don't get me wrong, but I wouldn't read too much into it that he's a lock-down corner. There's no lock-down corners in football. They all can get beat. But I think it's just the circumstances a little more than anything else that he had only a couple of attempts his way."
Against No. 15-ranked Georgia this week, the rangy 6-1, 207-pound Watkins does not anticipate a repeat.
"I didn't get a lot of work," Watkins said, "but I expect that to change… Every week is different, everyone is going to game plan differently, every offense is different — and this is a great offense we're facing …Teams are going to take their shots and I'm looking forward to the challenge."
The Bulldogs offense is led by the elite running back tandem of Nick Chubb and Sony Michel, which rivals Alabama as the best 1-2 punch in the nation. That in itself has to keep Watkins alert not only about runs to his side of the field and staying physical, but never losing sight of the play-action pass with true freshman quarterback Jake Fromm, a five-star recruit making his collegiate starting debut.
Like Watkins, Fromm hasn't had much of a collegiate sample size to have any kind of reputation.
"I feel like he's going to come out and play," said Watkins of Fromm while downplaying the freshman angle. "For us, it's great team and great challenge."
In addition to Fromm's youth, the Bulldogs are relatively unproven at wideout as well. Senior Javon Wims provides excellent size at 6-4, 215, and he paced the Bulldogs with three catches for 81 yards, notably a 34-yard TD, in last weekend's 31-10 win over Appalachian State. Yet Wims caught only 17 passes last season for 190 yards and one score.
Like Notre Dame, tight ends are integral to the Bulldogs offense success this year with the tandem of 6-4, 246-pound Isaac Nauta (who caught 29 passes for 361 yards as a freshman last year) and 6-5, 245-pound Jeb Blazevich. The two combined for three catches and 36 yards last week.
A primary message being delivered to his troops by Notre Dame cornerbacks coach Todd Lyght, a two-time consensus All-American for the Irish and long-time pro, is maintaining consistent focus because of the ground attack (Fromm attempted only 15 passes last week) and the play action.
"Coach Lyght preaches on it," said Watkins of constantly keeping vigilant against the big play via either route. "That's one of our big emphasis as corners. You've got to be able to forget bad plays and go out and make the next play. I feel like I'm good at that, just focusing on what I can control."
When asked about Kelly's comment that there is no lock down corners in football and whether he agreed, Watkins took the prudent approach while laughing it off and maintaining his own control.
"That's none of my business," said the son of seven-year NFL defensive back Bobby Watkins, a second-round pick from Texas State in 1982. "I can only control what I can control, and that's just playing the type of football I know how to play, that I've been playing since I was five.
… I'm my hardest critic, so I feel like I can improve on everything, become a better player, a better teammate."
After getting shelved last season because of the injury, Watkins is now just reveling in the opportunity to compete weekly on the big stage and was elated to make his first career start in Notre Dame Stadium last weekend. The extra juice he feels preparing for a team the caliber of Georgia is a bonus.
"It's a different buzz when you have a big opponent coming in, plus it's prime time, lights turning on, the stadium is going to be packed, and I heard it's one of the highest tickets," Watkins said.
"Enjoy the present moment, because you never know when it can be taken away from you. I try to enjoy every bit of it, and do the best I can."
It's staying active and engaged, no matter how much activity comes his way.