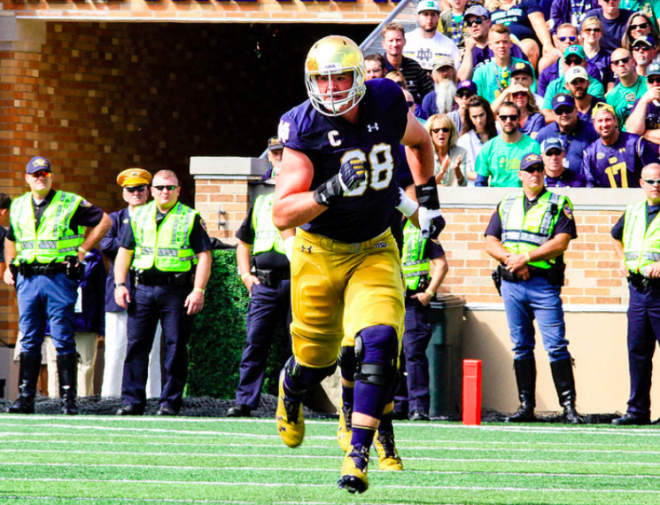 Notre Dame has an opportunity to make a statement on Saturday when the Irish host the Georgia Bulldogs of the mighty Southeastern Conference. Many project the Bulldogs to win the SEC East, and Georgia will pad its postseason resume with a road win over the Fighting Irish.
After starting the season with a 49-16 victory over Temple, the defending American Athletic Conference Champions, Notre Dame has a chance to begin building its own resume.
In order to make that happen, Notre Dame will have to win several individual matchups on offense and defense. It must also execute at a high level and have success in several key areas.
Here are the keys to a Notre Dame victory, beginning with the offense:
1. PLAY WELL AT THE LINE OF SCRIMMAGE: The matchup between the Notre Dame offensive line and the Georgia front seven is without question the marquee matchup in this game. Notre Dame's offensive line has two potential first-round picks in Mike McGlinchey and Quenton Nelson, and two more starters were Rivals100 players (Alex Bars, Tommy Kraemer) coming out of high school.
Georgia's defensive line is equally as deep and talented, and its one of only two or three defensive lines on the schedule that can matchup with the Irish line. Georgia is big, it is physical and it won't be intimidated by the Irish big men.
The biggest key in this game comes down to Notre Dame's ability to do three things up front.
One, get consistent movement at the line. If Georgia can stalemate the Irish linemen all game it is going to be a win for the defense. If Notre Dame can get consistent movement it will gash the Georgia ground defense and will allow for blockers to get to the second level.
Two, limit mistakes. Notre Dame can't afford to give up negative plays, especially on early downs. Getting behind schedule against the Georgia defense is a recipe for disaster. If Notre Dame can stay on schedule in this game it will be able to effectively move the ball and score enough points to win.
The third and final point is the biggest, Notre Dame's line must set the tone with its physicality. It must take the fight to Georgia and not be reactive to what Georgia does. If Notre Dame can be the stronger and more physical team it will have a very good chance of winning, assuming it can do points No. 2 and No. 3 below.
2. PROTECT BRANDON WIMBUSH: Part of the first point is being able to protect quarterback Brandon Wimbush. The ultra-talented junior was electric on the ground against Temple, but he needs to be more effective with his arm in this game.
Notre Dame needs Wimbush to make plays down the field with his arm, and it needs him to be able to attack the intermediate zones effectively (outside comebacks and stops, over the middle digs and in routes).
If Wimbush gets time to throw, and if he plays a clean game, the Irish offense will be hard to stop. Part of this is about the line doing its job effectively. The other is offensive coordinator Chip Long finding ways to move the pocket and help his young right tackles find success from a protection standpoint.
If Georgia is able to get consistent pressure on Wimbush with its talented outside pass rushers the Irish offense is going to have a hard time moving the ball consistently enough to win this game. If Wimbush can stay up and get into a rhythm the offense will be effective.
3. TAKE SOME EARLY SHOTS: Notre Dame went down the field on the very first play of the game against Temple, and that got the Owls out of sync early. If Notre Dame can find similar early success against Georgia it will once again prove beneficial.
Obviously there isn't a need to go for a home run on the first play, as Georgia will likely be prepared for that, but during the game Notre Dame needs to be willing to take some risks and take some shots. Be smart, but also be aggressive.
When those calls are made, the line has to give Wimbush time and the receivers need to win the majority of their battles. Georgia will have very little chance at beating Notre Dame if the pass game starts ripping off big plays with any kind of consistency. Notre Dame, however, will have very little chance at winning if it can't make plays in the pass game.
Junior wideout Equanimeous St. Brown and sophomore Chase Claypool have a significant size advantage against Deandre Baker and a talent advantage over Aaron Davis. Big games from those two wideouts, or even just one of them, will give Notre Dame a huge advantage in this game.
4. AVOID THE BIG MISTAKES: Notre Dame simply cannot allow Georgia to work with multiple short fields. It cannot have an interception that gives the Bulldogs the ball at the 14-yard line like we saw against Temple. Notre Dame must force the Georgia offense to go on long drives all game long.
If a freshman quarterback can beat you doing that, you tip your hat and call them the better team. If you get beat because you gave a freshman quarterback with a shaky line a bunch of short fields to get points, that's more about you beating yourself than it is your opponent outplaying you.